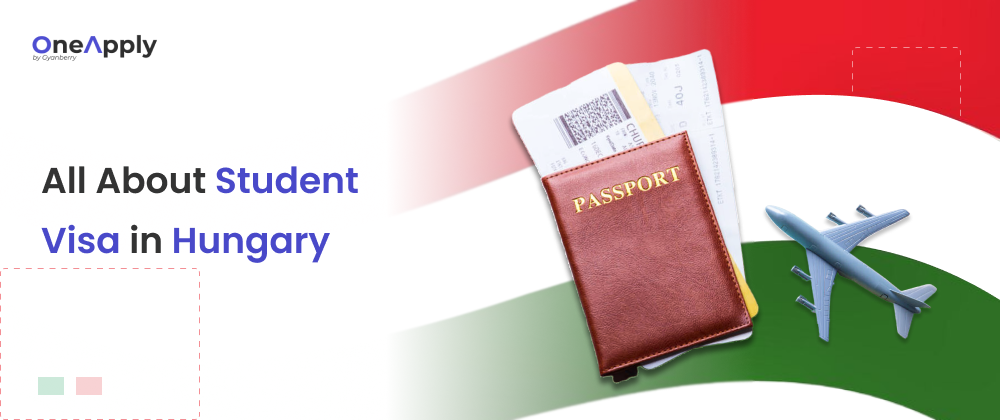 With its high-quality education and welcoming culture, Hungary is becoming a favored destination for higher studies. As per recent statistics by the Hungarian Central Statistical Office, there are over 40,300 international students pursuing higher education in Hungary. To be able to enter Hungary, international students need a student visa in Hungary. 
With this student visa, they can stay for up to 90 days within a 180-day period. If they wish to stay for longer periods, like until the completion of their bachelor's or master's, then they need to apply for a residence permit. The permit allows them to stay in the territory of Hungary for a minimum of 90 days but not exceeding two years. For periods exceeding 2 years, they can apply for a renewal of their residence permit, provided they meet all the requirements. International students can submit their Hungarian visa applications to the Hungarian Consulate in their home country.  
About Student Visa in Hungary
EEA (EU + Norway, Iceland, and Liechtenstein) and Switzerland nationals do not require a visa to enter Hungary. They can just show up with a valid travel document or personal identification document and stay in Hungary for 90 days within a 180-day period. If they wish to stay longer for the purpose of higher education, then they must be enrolled at a Hungarian university offering accredited programs. Within 90 days they have to get themselves registered at the regional directorate of the Office of Immigration and Nationality. At the time of registration, EEA nationals need to produce a certificate of admission issued by the Hungarian university or other verification of student status in Hungary. With this, they can stay in the country until the completion of their studies and the registration certificate has no expiry. 
Non-EU/EEA citizens on the other hand require a visa to enter the territory of Hungary. There are two types of visas for students in Hungary: Schengen visa and visa type D. The Schengen visa is for a short-term stay of less than 90 days and visa type D is for a long-term stay of more than 90 days. Since the majority of international students travel to Hungary for higher education, we will be talking about long-term stay visa D for the purpose of education throughout this article. Type D visa enables international students to enter the Hungarian borders and stay for up to 90 days within a 180 days period. For periods beyond 90 days, they need a residence permit to verify their purpose of entry and stay. To verify this, international students must submit a valid travel document, accommodation, health insurance, and financial resources to cover living costs in Hungary. A residence permit is offered as a single permit and allows them to stay for up to 2 years only. They must renew it in order to extend their stay till the completion of their study program.  
Application Procedure for Student Visa in Hungary
For submitting a student visa in Hungary, international students must contact the Hungarian Consulate in their country of residence or a country where they are residing either temporarily or permanently. Similarly, the application for a residence permit must be submitted to the respective Hungarian Consulate. Non-EU students who are already residing in the country can submit their application directly to the competent regional directorate.
Students are required to submit documentation including a visa application form to the respective Hungarian Consulate. All the documents submitted must be scanned and in PDF format. They must forward these documents to the e-mail address consular.bku@mfa.gov.hu 5 working days prior to their visa appointment.
The consular section of the Embassy of Hungary only accepts visa and residence permit applications. The applications are reviewed and processed by the competent National Directorate-General for Aliens Policing (Migration Department) of Hungary. Thus, the final decision on the visa is made by the Migration Department of Hungary.  
Required Documents for Student Visa in Hungary
Here is a detailed list of required documents for a long-term visa D application and a residence permit with the purpose of education.
Valid foreign passport: The student's passport must have two free pages, be issued within the last 10 years, and be valid for at least three months after the date of leaving Hungary.
Visa application form: Students must carefully read and fill out the visa application form and duly sign it without omissions with a precise indication of the length of stay in the country.  
Photos: The visa application requires non-EU students to submit two color photos (size 3.5 x 4.5). They must be clicked on a white background and taken within the last 6 months. One photo must be submitted with the documents and the other must be glued to the application. 
Health insurance: Hungarian universities offer medical insurance to their international students; thus, this must be noted in the letter of invitation. A 30-day travel insurance policy covering 30,000 EUR in medical expenses must also be included with the application.
A valid reason for stay: This includes the letter of invitation/acceptance from an accredited Hungarian university mentioning the date of start of classes, payment information, etc. 
Accommodation provision: If the student is offered accommodation by the university, then it must be noted in the acceptance letter; if the student rents out accommodation, then an agreement with the owner and a property document issued within the last month are required.
Financial provision: This can be confirmed by the acceptance letter from the university, which states payment information and how the fees are paid. Students can also include a letter of sponsorship about coverage of all costs from their parents with a notarized copy and a bank statement.
For the extension of their residence permit, students must submit an application electronically via the EnterHungary system 40-45 days prior to the expiry. The following documents are required
Copy of passport 

A certificate confirming the active status of the student at a Hungarian university

Receipt of program tuition fees 

Bank statements

Health insurance 

Filled application form
It costs HUF 39,000 for the issuance of the first residence permit and HUF 23,000 for the renewal. 
Note: If the student receives the "Stipendium Hungaricum" state scholarship, he or she is not required to present the documents for financial provisions. 
The visa application review process takes from 2 weeks to one month. Hence, students should submit their applications beforehand to avoid delays and cancellations. 
For students under 18, a letter of consent to travel and live in Hungary from both parents is required. The letter must be notarized and drafted in English.
All the documents submitted must be notarized in English. 
Conclusion
All international students require a student visa to study in Hungary. This visa termed as the long-term visa or type D visa allows students to enter the Hungarian borders and stay for 90 days. Once they are in Hungary and if the course exceeds 90 days duration they need to apply for a residence permit that allows them to stay for over 2 years in Hungary. They can get the permit renewed till the completion of their studies. At Gyanberry Gyanberry, we help students with all the admission-related processes, including visas. If you are interested in knowing more about the student visa in Hungary, contact our experts. You can book a call by clicking on this link. We have been in this business for ten years, which has given us the experience necessary to offer students an easy admissions procedure. We wish you luck getting a student visa in Hungary!