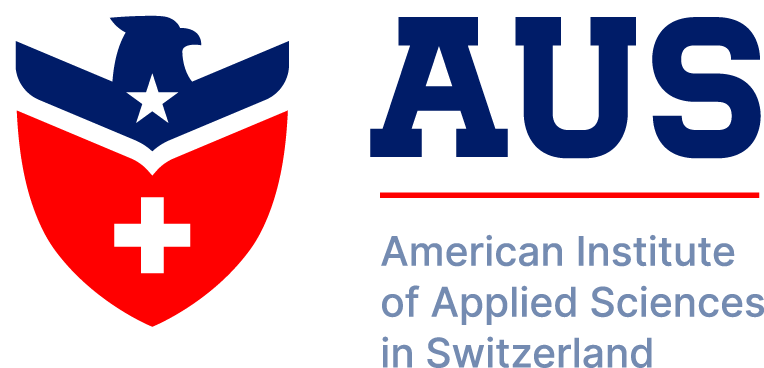 Situated on campus in La Tour-de-Peilz, the American Institute of Applied Sciences in Switzerland (AUS) is a private institution established in 1963. It is known for its student-centric research and teaching environment aiming to provide American graduate education with the Swiss work ethic. Its campus is located on the beautiful shores of Lake Geneva, close to the Olympic Capital Lausanne, and the city of Geneva, the center for diplomacy. 
Adding to its universal mode of teaching and offering courses in English, AUS has a diverse curriculum that exposes students to the global business world. Having small-sized classes with students from across 40+ nationalities, the university emphasizes hands-on experience with professional guidance in the business field. If you are looking to study in Switzerland, AUS is an exquisite choice as it offers world-class education with a student-centered curriculum.
Why Study at the American Institute of Applied Sciences in Switzerland?
Learning that is both experiential and student-centered

The classes are small and exquisite, keeping a 1:7 student-to-faculty ratio for students and professors have a close working relationship

Lively and interactive classrooms

Guest lectures from industry leaders, bringing additional practical experience and expertise

AUS teaches its bachelor's and master's programs in English with relevant specializations

Dual-degree programs are offered by Tiffin University and Professional certificate courses from Cornell University (eCornell)

Its programs are inclusive of sustainability competencies and prioritize environmentally conscious and sustainable practices in daily operations
American Institute of Applied Sciences in Switzerland: Rankings & Accreditations
| | |
| --- | --- |
| Particular | Ranking (2023) |
| QS Business Master's Rankings 2023: Management | 121-130 |
| QS Global MBA Rankings: Europe 2023 | 71-80 |
| Best Institution in Switzerland | 3 |
Programs & Courses Offered by the American Institute of Applied Sciences in Switzerland
AUS offers English-language business education programs at the undergraduate and master's levels. These programs are primarily focused on business administration, with specializations in Sports Marketing, International Business, Leadership, and Change, Human Resources Management, Data Analytics, and Aviation.
The university offers dual degree programs in collaboration with Tiffin University allowing students to obtain a dual degree from both institutions. The collaboration provides BSBA and MIBA degrees with a variety of alternatives. The BSBA degrees would include a specialization, and students would also obtain a certificate from the MIBA. Students can thus take on an extra volume of courses and credits and graduate with two degrees at the same time. 
The university also provides a range of English preparation courses for the IELTS that may be taken individually or in small groups.
AUS programs are accredited by the International Accreditation Council for Business Education and the institution is also recognized as an official IATA (International Aviation Transportation Association) Authorized Training Center, as an Apple Authorized Training Center for Education, and has a collaboration with the IBM Academic Initiative that allows students to acquire professional certificates alongside their degrees. In addition to these, AUS also provides its students with a number of facilities and access to various activities to engage in such as an e-library, cafeteria, multi-sports court, reading hall, and computer room.
Undergraduate/Bachelor's Programs
Students can enroll in a Bachelor of Science in Business Administration (BSBA) which includes specializations such as
| | |
| --- | --- |
| Program Name | Duration |
| Accounting | 3 years |
| Athletic Administration | 3 years |
| Human Resource | 3 years |
| International Business | 3 years |
| Business Management | 3 years |
| Marketing | 3 years |
| Sports Management | 3 years |
Graduate/Master's Programs 
After completing your undergraduate studies, you can choose to upgrade your skillset by pursuing a Master's degree in International Business Administration with a specialization in:
| | |
| --- | --- |
| Program Name | Duration |
| Aviation Management | 2 years |
| Data Analytics | 2 years |
| Finance | 2 years |
| Healthcare Administration | 2 years |
| Human Resource Management | 2 years |
| International Business | 2 years |
| Leadership and Change | 2 years |
| Marketing | 2 years |
| Sports Management | 2 years |
Campus and Accommodation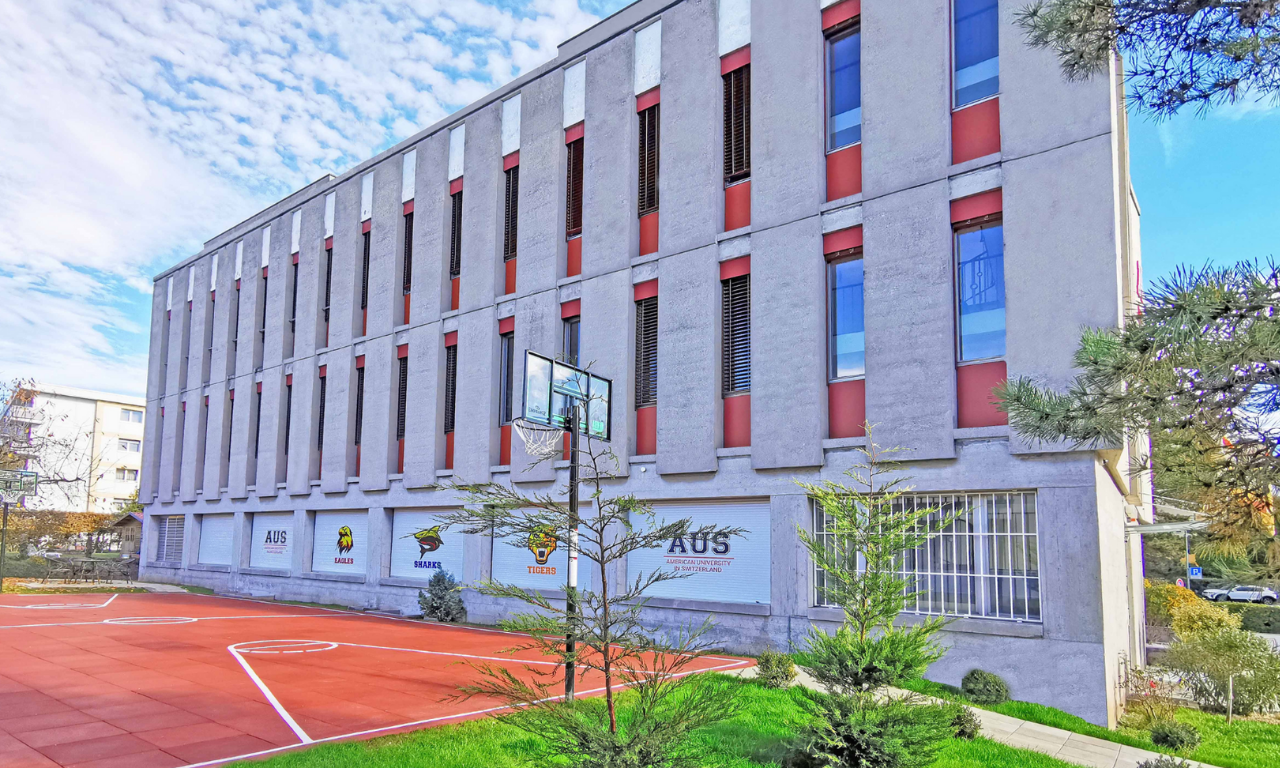 Located in the heart of the Swiss Riviera city of La Tour-de-Peilz and surrounded by the world's popular Swiss cheese, the AUS campus provides its students not only with the opportunity to learn about the global business market and trends, but also with cutting-edge education, multicultural and multinational diversity, networking and exposure, and experiential learning opportunities.
The university offers student success advising which provides course scheduling, curriculum information, and the development of life and academic skills in and out of the classroom.
AUS is a home away from home. The university provides living accommodations around La Tour-de-Peilz with fully furnished single and shared rooms within a five-kilometer radius. Rental costs range from 750-1,500 CHF per month, depending on the student's choice and room availability. All charges are included in our university accommodations. The university also assists students with private renting and rental requirements.
Admission Requirements for International Students 
To be eligible for admission to American University in Switzerland, students should have a decent academic record and provide all the requisite documents
Secondary education (diploma and transcript)

Digital passport-size photographs

Passport

Residential permit

Proof of English language proficiency

Evidence of sufficient financial means

Official High School and/or University Certificates

Recommendation letter 

Motivation letter

Resume

All students must have health insurance when studying in Switzerland

Non-EU/EFTA students will need to apply for a visa to enter Switzerland
Additionally, for master's programs, students must produce a bachelor's degree from a higher education institution or an equivalent foreign higher education institution accredited in the country of origin
Note: Students must meet the special TU admission requirements if they want to pursue a dual degree with AUS academic partner Tiffin University.
Application Deadlines for International Students 
Admissions at AUS are on a rolling basis, thus students must submit their applications at least ten weeks before the beginning of each term. 
Fall Term: August 1, 2023
Winter Term:
September 1, 2023
Spring Term 2024:
January 1, 2024
Undergraduate Admissions
To enroll in an undergraduate course, students must complete the following steps.
Fill in the online application given on the university website

Alternatively, to ensure the timely completion and submission of appropriate documents, you can

apply via OneApply Gyanberry

, an official partner of AUS.

Attach your high school diploma, a copy of your passport, a scanned photograph, a language certificate, and a certificate of extracurricular activities or personal achievements such as internships, volunteer work, cultural activities, hobbies, etc.

Pay the application fees (1,746 USD

)

Apply for a Switzerland visa and accommodation via the university website.

Ask to be allotted a mentor before you arrive in Switzerland.
Graduate/postgraduate admissions
The eligibility criteria to apply for a graduate course are the same as the undergraduate program. The only additional requirement is that students attach a copy of their Bachelor's Diploma with the relevant academic transcripts.
Tuition Fees and Total Cost of Attendance
Tuition Fees
Type of Program
Program Name
Annual Tuition Fees CHF
Annual Tuition Fees USD*

Bachelor's program

Bachelor of Science in Business Administration (BSBA)

24,000 

27,950

BSBA + TU Specialization

28,050

32,667

Master's program

MIBA

Masters of International Business Administration

22,050

25,679

MIBA +

TU Specialization

25,050

29,173

MIBA in Aviation Management

25,050

29,173
Additionally, students have to pay an admission fee of 1,500 CHF or 1,746 USD*. 
Cost of Living
In addition to paying annual tuition fees, students enrolled in AUS will have to incur the following expenses:
| | |
| --- | --- |
| Particulars | Annual Expenses in CHF |
| Rent & Accommodation | 8,400 |
| Utilities | 1,800 |
| Health Insurance | 1,080 |
| Food | 7,200 |
| Clothing | 1,800 |
| Transport | 720 |
| Supplies | 1,200 |
| Total | 22,200 |
Note: The average expenses are taken from the official website of "Study in Switzerland."
Thus, the cost of attendance for international students enrolled at AUS will include yearly tuition fee charges, accommodation and dining charges, and one-time expenditures such as application fees, health insurance, etc.
The average annual cost of attendance for an international student pursuing an undergraduate program at AUS is 48,225 CHF or 56,163 USD*. 
For a master's program, the average annual cost of attendance for international students is 46250 CHF or 53,863 USD*.
Scholarships for International Students
AUS offers partial scholarships that can cover up to 20% of tuition fees to celebrate students' academic achievement and to aid students from socioeconomically disadvantaged backgrounds. The student must agree to participate in institutional administrative tasks that do not interfere with their academic obligations. The institution maintains the right to cancel the scholarship for the academic term if the student fails to fulfill this requirement.
*1 Swiss franc or CHF = 1.16 USD