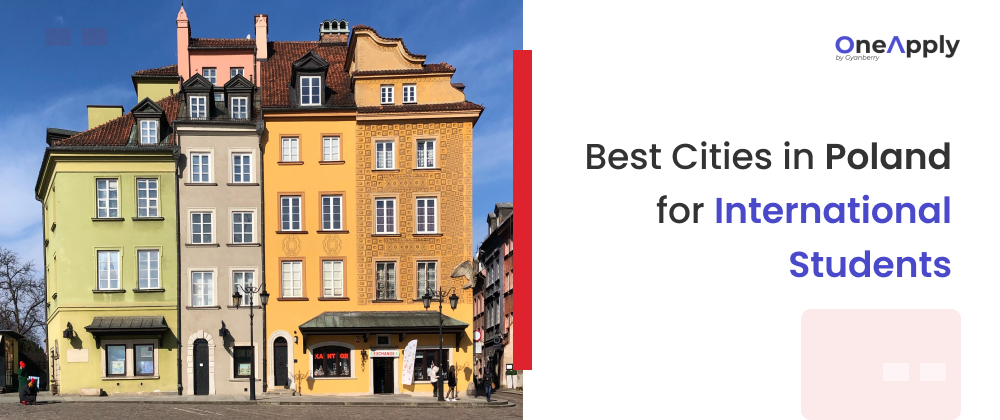 Poland, a country in Central Europe, is renowned for its long history of higher education, dating back to the 14th century. The Jagiellonian University is the oldest university in the country which was established in 1364. Poland is also one of the most affordable places to live in, thus several students come to Poland for higher education. As per the current statistics provided by the Perspektywy Educational Foundation, nearly 89,420 foreign students from 180 countries are studying in Poland. Want to know which cities in Poland are student-friendly? Here is a list of the best cities in Poland for international students. 
Warsaw

Wroclaw

Poznan

Kraków

Łódź
These cities are known best for the highly ranked universities they host, plus the hospitality and friendly nature that ease getting settled in. They offer tons of things to do, from visiting cultural and historical places to the trendiest cafes to Michelin-starred restaurants. These Polish cities are full of fun and frolic, and international students can enjoy their weekends hanging out with friends in cities' nightclubs or pubs. Explore this extensive guide to find out which city suits your taste and aspirations. 
Warsaw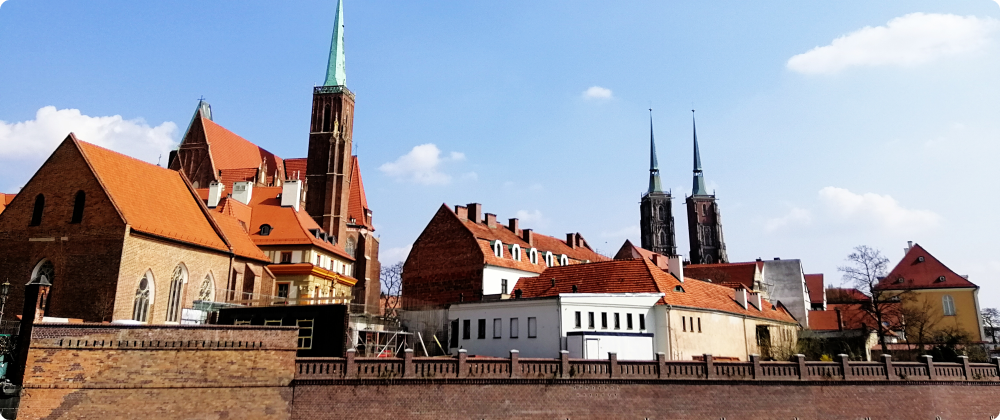 Poland's largest city is its capital city, Warsaw. Between the Baltic Sea and the Carpathian Mountains, it is situated along the banks of the Vistula River. With 2.666 million dwellers, it ranks as the seventh most populated capital city in the EU. Warsaw is an economic, cultural, academic, and political hub and is thus named the "Alpha" global city. It has an array of tourist and historic sites that can captivate anyone who visits it. 
Some places worth visiting are the Old Town Square, a UNESCO World Heritage Site with 700+ years of history; the Royal Route, which houses all the former royal residences; the Palace of Culture and Science; etc. This city is also the culinary capital of Poland and offers a range of restaurants, bars, local bakeries, and cafés. Foodies can check out the trendiest food spots in the Hala Koszyki and Hala Gwardii areas of the city. Besides, Warsaw has a number of delightful parks, museums, libraries, and other cultural centers. This city is rated as one of Central Europe's most livable cities and offers great nightlife. It ranks 58 in the QS Best Student Cities 2023. 
| | |
| --- | --- |
| Top universities in Warsaw  | The University of Warsaw, Warsaw University of Life Sciences, the Medical University of Warsaw, Warsaw University of Technology |
Wroclaw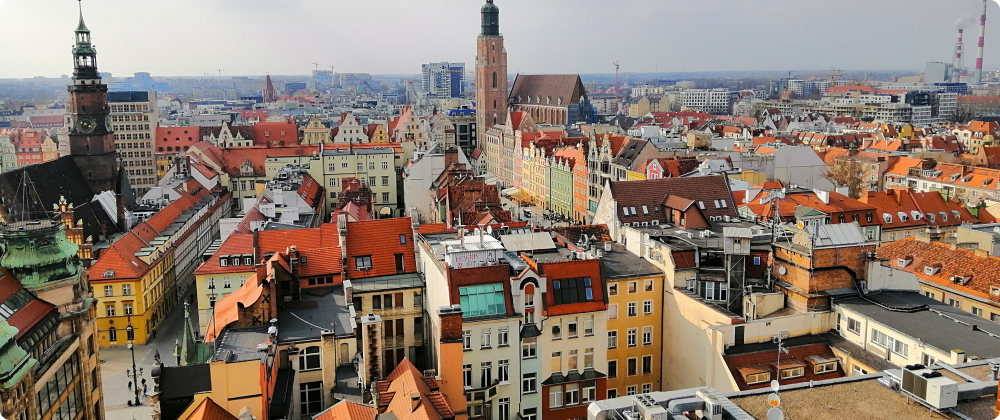 Situated on the River Oder, Wroclaw is the fourth-largest city in Poland. There are many theatres, concert halls, galleries, museums, and film festivals, which make it the cultural hub for international students. Wroclaw's old town, with its beautiful medieval architecture and colorful buildings with a Wes Anderson vibe, is worth visiting. Cathedral Island, the market square, the riverside promenade, and the Bridge of Penitents are also worth checking out. The city has a plethora of cafes, restaurants, and shops to explore. Wroclaw also has some of the best nightlife in Poland. 
| | |
| --- | --- |
| Top universities in Wroclaw  | The University of Wroclaw, Wroclaw Business University of Applied Sciences, Wroclaw University of Environmental and Life Sciences |
Poznan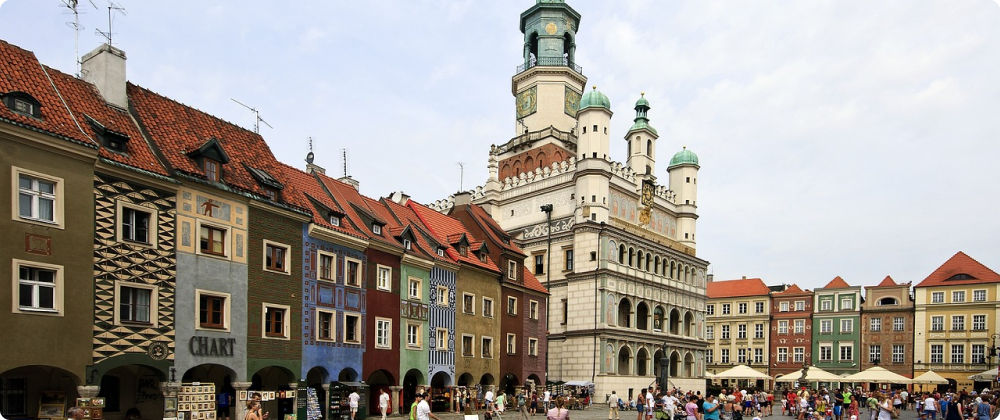 This city in the west-central region of Poland is located on the banks of the Warta River. Poznan is a key cultural center in the country. It is Poland's fourth-largest academic center, with a population of over 100 thousand students. The major attractions in the city include the Ostrów Tumski cathedral and the Renaissance old town. The city has also made its name as a business center in Poland. It hosts several foreign companies like Volkswagen, Unilever, MAN, Carlsberg, and Raben Group that offer plentiful job and internship opportunities to foreign students. There are cafes and restaurants all over the city serving traditional Saint Martin's croissants, which the city is famous for. Nightlife lovers can enjoy parties hosted by various nightclubs, music clubs, and bars over the weekends.
| | |
| --- | --- |
| Top universities in Poznan  | The Poznań University of Technology, Adam Mickiewicz University, University of Life Sciences, Poznan University of Medical Sciences,  |
Kraków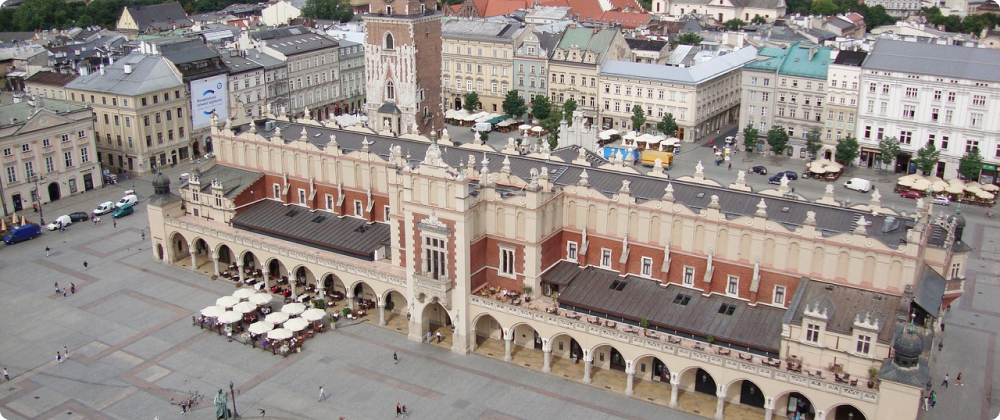 The city of Kraków is Poland's ancient capital and the second-largest city in the country. It is a popular epicenter of intellectual, commercial, and artistic activity. The Jagiellonian University, one of Poland's oldest universities, and St. Mary's Basilica, with its awe-inspiring altarpiece and stained glass, are the highlights of Krakow. The city is experiencing rapid expansion in the engineering, sales, IT, finance, and accounting service sectors and offers a lot of career prospects. Krakow is also known as one of the top tourist sites in the country due to its history as Poland's cultural capital. 
| | |
| --- | --- |
| Top universities in Kraków  | Jagiellonian University, Cracow University of Technology, Uniwersytet Jagielloński Collegium Medicum, AGH University of Science and Technology |
Łódź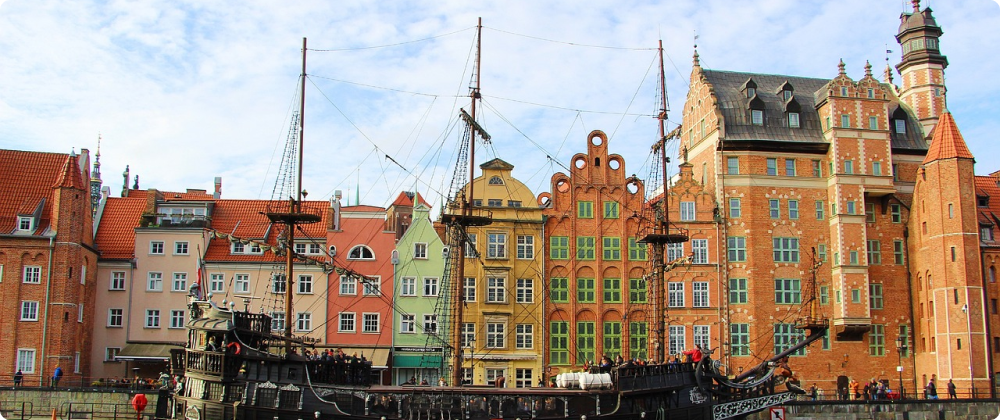 The Łódź is the third largest city in Poland and an important industrial center. The city's tilting coat of arms, which features an image of a boat, is where the name of the city comes from. Łódź is a huge cultural center and holds numerous museums, art galleries, historical monuments, and theaters. Some of the museums worth visiting in the city are the Film Museum, the Museum of the City of Lodz, the Museum of Sewers "Dętka", the Central Museum of Textiles, and the Museum of Art. Lodz has one of the longest commercial streets, Piotrkowska Street, which has become a significant tourist attraction in the city. It is laden with numerous cafes, restaurants, and food stalls where international students can hang out after a busy day in college. The city's nightlife is also vibrant, with pubs, bars, and clubs in every corner of the city. 
| | |
| --- | --- |
| Top universities in Łódź  | The University of Lodz, Lodz University of Technology, Medical University of Lodz |
Conclusion
Polish cities like Warsaw, Wroclaw, Poznan, Kraków, and Łódź are home to multiple excellent universities with some of the best faculties and resources in the world. They offer academic excellence, vibrant student life, and historical, and cultural attractions. You want to study in Poland but you haven't yet decided on which city? Then OneApply by Gyanberry can help you in a variety of ways, from choosing which Polish city to which university is ideal for your chosen field. Many students have benefited from our admissions counseling services in getting into the universities of their dreams. Please schedule a video consultation with one of our specialists for further information.