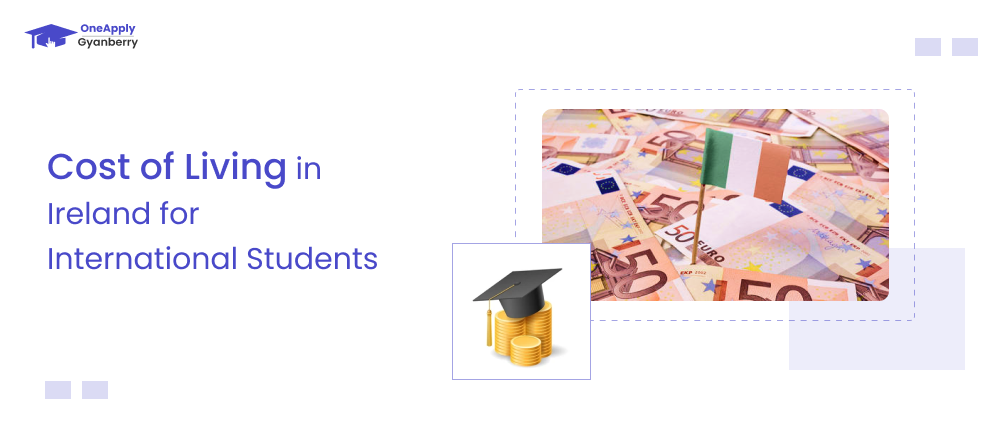 For students who are planning to live, study, or work abroad, the cost of living is an important factor to take into consideration. Several aspects, such as geographical location, currency exchange rates, and a person's lifestyle, can have a significant impact on the costs of living abroad. Ireland, situated in western Europe offers an excellent education system, and a welcoming and diverse environment, with a comparatively higher cost of living (approx. 800-1,300 EUR/month), making it a great place for students to study and live. According to the Irish Universities Association, over 32,000 international students are currently enrolled in courses in Ireland's wide range of educational programs. This article aims to provide extensive information regarding the cost of living in Ireland for international students.
Overview: Cost of Living in Ireland for International Students
| | |
| --- | --- |
| Particulars  | Annual Cost of Living in EUR  |
| Accommodation  | 5,000-12,000  |
| Food  | 1,200-4,800  |
| Transportation  | 800-1,900 |
| Utilities  | 1,300-2,700 |
| Recreation  | 700-3,500 |
Cost of Living in Ireland vs Other European Study Destinations
The cost of living in Ireland varies depending on a number of determinants for international students. Some of the typical ones include your choice of city to stay in, your accommodation preferences, and means to travel and commute. The idea of expenses in a foreign country might make you feel overwhelmed, but prior knowledge of expenses and costs will help you equip yourself better. Along with prior knowledge, setting up a budget and managing it will also help a great deal. 
 Although there are some affordable universities in Ireland, it is moderately expensive in terms of living expenses. According to the Irish Independent, the cost of living in Ireland is higher than in most European countries.
This table provides expense estimates according to a few popular European study destinations-
Study Destination
QS Ranking for Best Student Cities 2023
Estimated Living Expenses (per month)
Average Tuition Fee

(annually)

Dublin, Ireland
37
1,200-1,800 EUR 
12,600-18,000 EUR

London, UK

1

1,300-1,400 EUR 

22,000 EUR

Munich, Germany

2

900 EUR 

300-10,236 EUR

Czech Republic, Prague 

39

338- 724 EUR

41-21,000 EUR
Student Living Expenses in Different Irish Cities
Depending on the Irish city, the cost of living for international students can differ. Here are some rough estimates for monthly living costs in various well-known Irish cities for foreign students-
| | | | | | |
| --- | --- | --- | --- | --- | --- |
| Irish City | Cost of Accommodation (University Accommodation) | Food | Travel | Recreation | Utilities |
| Dublin | 600-1,000 EUR | 280-400 EUR | 120-160 EUR  | 100-120 EUR  | 226.77 EUR  |
| Cork | 600-680 EUR  | 250-350 EUR | 65-85 EUR  | 85-100 EUR  | 175.59 EUR  |
| Limerick | 500-600 EUR  | 250-350 EUR  | 65-85 EUR | 85-100 EUR  | 161.76 EUR  |
| Belfast | 250-300 EUR | 100-150 EUR | 70-90 EUR | 60-100 EUR  | 115 EUR  |
| Galway | 640-680 EUR | 250-350 EUR | 65-85 EUR | 100-300 EUR | 174.61 EUR |
Overall, the annual cost of living in Ireland comes down to 10,000-16,000 EUR per year (if budgeted properly).
Cost of Living in Ireland: University Accommodation vs Private Accommodation
The cost of living in Ireland can vary depending on whether you choose to live in university accommodation or private accommodation.
University accommodation is generally less expensive than private accommodation. The cost of university accommodation in Ireland can range from around 10,000 to 20,000 EUR per academic year, depending on the location and type of accommodation. 
On-campus housing is often high in demand and can be costly. It is usually set up as four to eight-student flats with individual bedrooms and shared living, dining, and bathroom spaces. Typically, rent is due at the beginning of each semester rather than on a monthly basis. A security deposit is required in advance, which will be returned after the completion of your stay in Ireland.
Private housing is often more expensive than university accommodations, with rent typically ranging from 800 to 1,500 EUR per month, depending on the area and type of housing. The entire cost of living in private housing can also be increased by additional costs such as utilities, internet, and food.
How to Reduce Your Living Costs in Ireland as a Student
Given below are some key basic key pointers as well as some specifications as to how you can reduce your living cost in Ireland as an international student-
Search for affordable accommodation – It can be pocket-friendly to share an apartment with others. Even shared university dorms are inexpensive and can save up a lot of money. 

Cook at home: It might be expensive to eat out, so try to prepare meals as often as you can. University canteens also offer food at lower prices. 

Utilize public transportation- Purchasing a monthly pass will help you save money over time.

Utilize student discounts-  Many shops and companies give students discounts, so be sure to inquire and keep your student ID on you and maximize its benefits.

Take advantage of the student loan and grant system offered by the Irish government. Consult your college for further information.

Look for part-time employment- You can supplement your income by working a part-time job to pay your bills.
You may use your International Student Identity Card (ISIC) in more locations and get access to a list of businesses that provide student discounts both in Ireland and abroad if you purchase one.
For students enrolled in an Irish college or university, the Student Leap card provides discounted fares and other discounts.
Student travelers can choose from a variety of travel choices offered by USIT. USIT offers affordable flexible fares, custom insurance plans, and low-cost housing.
Claiming tax back – Students from outside the EU and the EEA may be eligible for tax-free shopping on some items brought home, particularly those bought at department stores, as long as they were purchased during the last two months of their stay. Before leaving Ireland, refunds can be received at the airport through the cashback system. You must acquire a form stamped by a participating business at the time of purchase in order to participate in the program. Then, until the day of your departure, keep this in a secure place.
Conclusion
Ireland provides ample opportunities for students pursuing their education abroad. While in the course of selection, one must keep in mind international rankings, on-campus facilities, quality of education as well as expenditure. This article will help you navigate around the idea of the cost of living in Ireland for international students. If you are interested in studying in Ireland, we at Gyanberry can assist with everything admission related and beyond with the utmost attention. With the help of our extensive guidance, you can select the university best suited for your interests and ambitions with personalized services as well.