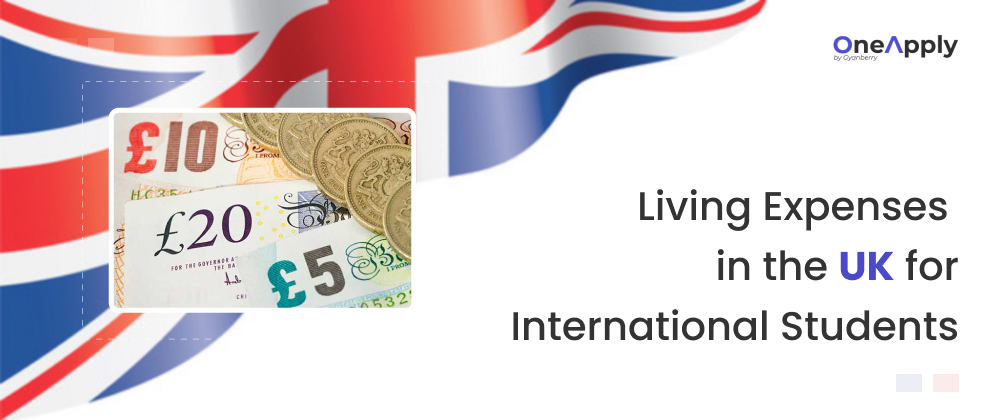 The UK stands at position #2 in Study Abroad Rankings by the US News Report making it the 2nd best country in the world to study abroad. It has a stellar reputation for an exceptional education system that is adored by over 559,825 international students (The Economic Times). The UK is also highly developed, with a strong economic influence, and high living standards. With such a high reputation, the living expenses in the UK can be expected to be higher than in other European countries. As per the "British Council" official website, the average living expense in the UK for an international student is £15,600-16,800 per year if you are living in London and £10,800-15,600 in the rest of the UK. But still, the cost of living in the UK is somewhat lower compared to the US and Australia. 
As an international student in a country like the UK, you need to budget your expenses thoughtfully and efficiently. A few of the great ways to reduce your expenses are to live in shared accommodations, split utility bills with roommates, cook your own meals, use public transport, do part-time jobs, etc. Keep reading to find out how much it costs to live in the UK. 
Overview of Living Expenses in the UK
| | | |
| --- | --- | --- |
| Expense Type  | London (£/Year) | Rest of the UK (£/Year) |
| Accommodation  | £9,000-10,176 | £6,648-7,968 |
| Household bills  | £1,680 | £960 |
| Food and groceries  | £1,380 | £960 |
| Transportation  | £1,236 | £648 |
| Mobile bill | £216 | £216 |
| Healthcare  | £470 | £470 |
| Entertainment and Socializing  | £2,040 | £1,140 |
| Total | £15,600-16,800 | £10,800-15,600  |
Annual Living Expenses in the UK 
The living expenses in London are higher compared to other areas of the UK owing to the higher cost of housing and transportation. Let us discuss in detail the various types of living expenses for international students in London and other parts of the UK. These expenses have been taken from the official website of the "British Council."
Accommodation 
International students in the UK can choose to live in student halls of residence or private accommodations. The advantages of living in student halls are that the utilities are included in the rent, and some student halls also come catered, serving breakfast, lunch, and dinner to students. This is convenient for new students, as they can live in student halls for one year and then move into a private accommodation of their choice. In most cases, students might have to share common places like kitchens, showers, laundry, etc. with other students. In general, the average cost of student halls in London is £10,176 per year, whereas, in the rest of the UK, it is £7,968. Catered student halls cost more as they include meals in the rent.
Private rooms in shared accommodation cost £9,000 in London and £6,648 in other parts of the UK. But the rent does not include household bills such as gas, water, electricity, etc. Thus, students have to pay extra for these bills.
Household Bills
The household bills in the UK include electricity, gas, water, internet, and a TV license. Since student halls come with utility bills, students are not required to pay them separately. In London, the average cost of household bills is £1,680 per year, whereas, in the rest of the UK, it is £960 per year. In order to reduce their household bills, students must turn off lights when not in use, not leave devices on standby, upgrade to LED light bulbs, and use the washing machine when there are enough clothes to wash. If you are living in shared accommodations, then you can split your utility bills with roommates to further reduce your bills.
Food and Groceries 
Food and groceries take up a major portion of living expenses after accommodation. You can shop for groceries at low-cost supermarkets like Morrisons, Lidl, and Aldi. A weekly grocery shopping list can cost anywhere from £20 to £30. You can also buy groceries in bulk at store closing times. On average, you need to budget £960-1,380 annually to cover your food or grocery expenses in the UK.
Transportation 
Students in the UK mostly prefer to use public transport to travel, as it is the cheapest and they get a lot of student discounts. London has one of the best-connected public transport systems in the world. Full-time students in London can avail themselves of a 30 percent discount on public transport if they have a National Railcard. There are different railcards available to suit your age and needs; the most commonly used by students is the Student Oyster card. It includes discounts on the DLR, Tube, London Overground, Elizabeth Line, and National Rail services. 
They can budget £1,236 per year for a Student Oyster card in London. Off-peak day travel cards are also available to travel on weekends and public holidays and to travel late at night after 10 p.m. from Monday to Friday. Students living in the rest of the UK can allot £648 annually for public transport. 
Mobile Bill
International students in the UK can allocate a budget of £216 per year for mobile bills. This includes a SIM-only plan that comes with unlimited data plans, calls, and texts. These plans are offered by major UK networks like O2, Three, Vodafone, Sky Mobile, etc. Students must note that the SIM-only plans come with only a SIM card and not a handset.
Healthcare 
International students are required to pay an immigration health surcharge of £470 per year. It entitles them to access the National Health Service (NHS) in the UK at no extra charge. Thus, they do not need to buy private healthcare insurance separately. The immigration surcharge is a mandatory fee and is charged at the time of visa application. It covers a range of services including appointments with a doctor (General Practitioner or GP) and treatment at a healthcare center or in a hospital. The cost of dental, and optical treatment, and the medicines prescribed are usually not covered under this scheme. 
Entertainment and Socializing 
International students have numerous options for entertainment and social activities in the UK. They can dine out, and go to cafes, bars, or restaurants to hang out with friends on weekends. A restaurant meal or a takeaway in the UK costs £15-16 depending on the type and location. Coffee can cost anywhere from £2-3. A yearly gym membership for students costs £180-240 in the UK. There may be cheaper gym membership options in the residence halls for students. Students must designate 2,040-1,140 for gym, entertainment, and other social activities in the UK. 
How to Budget Living Expenses in the UK As a Student?
As compared to other European countries like Hungary, Italy, Poland, etc., the UK is not an affordable country. As an international student, you must budget your expenses to minimize unnecessary expenditures and save up for your fees. Here are some ideas on how to limit your living costs in the UK while still taking full advantage of everything the country has to offer.
Prepare a budget:

Since the standard of living is high in the UK, budgeting is the most part to reduce your living expenses. So, prioritize your expenses, set money aside, and then spend.
Apply for scholarships:

International students in the UK are offered scholarships to pursue higher education. These scholarships are based on merit, financial status, and credibility. Check your eligibility and apply for a scholarship to reduce some of the financial burden.
Take up a part-time job:

The UK government allows international students to work while studying. They can work part-time for up to 20 hours per week during their term. They can easily earn £1,000 per month and use the money to pay for living expenses. During holidays, they can work full-time and thus earn even more.
Use public transport:

Since public transit is exceptionally cheap and has a student discount on top, we highly encourage students to use public transport in the UK. They can invest in a National Railcard to save more money on public transport. Split ticketing i.e., buying multiple tickets for different parts of your journey instead of buying a full ticket is also a popular option to save money on train tickets in the UK. 
Avail student discounts:

Many places in the UK like cafes, and restaurants, gyms, galleries, shopping centers, and electronic shops offer student discounts. Most discounts are openly advertised, if not you can ask for a student discount. A National Union of Students (NUS) TOTUM card and UNiDAYS are two of the most popular student cards to avail of discounts as a student in the UK. 
Cook your food:

One of the best ways to reduce the cost of food in the UK is to cook your own meals. Meal prepping or bulk cooking is highly recommended to save your time on cooking. 
Buy second-hand items:

Buying second-hand items like textbooks, clothes, and furniture is a quick, easy, and sustainable way to save money. There are some popular charity shops in the UK, such as Oxfam, the British Heart Foundation, Shelter, and Mind, where you can find good-value items for free or cheap.
Conclusion
The standard of living in London is high in comparison to other parts of the UK. International students are expected to spend £15,600-16,800 per year in London and £10,800-15,600 in the rest of the UK. This cost includes all living expenses such as food and accommodation, transportation, healthcare, utilities, mobile bills, and socializing. Since living expenses in the UK are high, students must budget accordingly to save money wherever possible. This includes living in student halls or shared accommodation, using public transport, cooking your own meals instead of eating out at restaurants, applying for scholarships, taking up a part-time job, etc. To know more about living expenses in the UK and for assistance with admissions to UK universities, contact OneApply by Gyanberry. Using this platform, you can apply to multiple UK universities at once. Our expert counselors will help you decide which university is best for you. They will also assist you to get admitted to the course and university of your choice. Contact us today by booking a free video call.