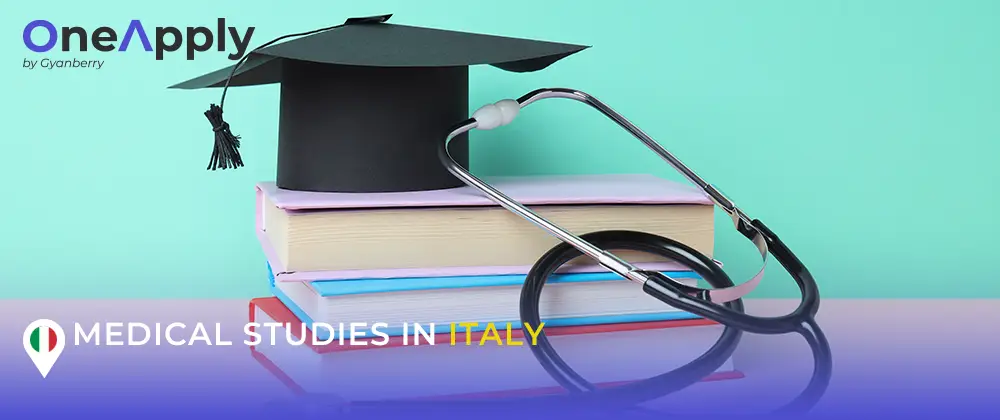 Many universities in Italy offer English-taught medicine programs. Being a part of the EU, medical studies in Italy are also on par with other European states such as the Czech Republic or Poland. As a result, aspirants come from far and wide to study this coveted course in Italy. 
The degree awarded is the Laurea in Medicine and Surgery, which is recognized throughout the EU and in many other countries worldwide. The intensive and rigorous programs prepare applicants to excel in their medical careers, and that too, at an affordable tuition fee.
English-taught curricula and the low cost of studying medicine in Italy enable international students to enroll in the country's medical programs. 
Thus, worldwide recognition from accredited bodies like WHO, NMC, and the European Council is one of the many reasons to study medicine in Italy. If you are also looking to get admission here, read on to know the cost and admission criteria, career scope, etc., for medicine in Italy.
Overview of Medical Studies in Italy 
Program offered

Laurea in Medicine and Surgery/MD

Degree type 

Single-cycle masters program in Medicine and Surgery

Duration

6 years

Eligibility criteria 

A secondary school diploma or an equivalent educational qualification (12 years of education) with adequate knowledge of biology, chemistry, and physics. 

A minimum aggregate of 50% marks qualifies for eligibility. 

Documents required 

Passport, acceptance letter, statement of purpose, passport-sized photographs, and official academic transcripts

Average tuition fee (public universities)

3,000 to 4,000 EUR

Average tuition fee (private universities)

16,000 to 21,000 EUR

Langauge of instruction

English

Entrance exams

IMAT (public universities) 

University-specific entrance tests (private universities)

English proficiency

Up to CEFR B2/C1 level or IELTS 6.0 or equivalent
Is a Medical Degree from Italy Recognized?
Italian medical degrees for international students are single-cycle (Laurea Magistrale a ciclo unico). They combine undergraduate and graduate levels of study and are taught in English. It entitles the recipient to practice general medicine and perform basic surgical procedures. The degree awarded to deserving graduates is called the Laurea in Medicine and Surgery. 
Italian medical degrees are recognized in EU and non-EU countries, thereby broadening the career scope after medical studies in Italy. Many top universities report that their graduates have been placed in Switzerland, the United States, the United Kingdom, and Germany. According to European law, medical degrees earned at public universities are recognized throughout the EU. Non-EU countries, on the other hand, treat Italian graduates the same as any other international graduate.
That means graduates from Italian medical universities must follow the country-specific licensing procedure to get a medical license. For example, to practice as a doctor in the United States, students must take the USMLE and complete a residency to apply for a license.
Top Medical Universities in Italy
Italian universities consistently chart high on global rankings such as QS Rankings or US News. This list features some of the top medical universities in Italy and comprises both public and private ones. 
Students should note that all the listed universities offer medical degrees in English and accept international students. 
| | | |
| --- | --- | --- |
| US News Ranking 2023  (Top Clinical Medicine Universities in Italy) | US News Ranking 2023 (Best Universities in Italy) | University |
| #55 | 4 | University of Milan |
| #81 | 2 | University of Bologna |
| #100 | 1 | University of Padua |
| #105 | 3 | Sapienza University Rome |
| #131 | 16 | Vita-Salute San Raffaele University |
| #161 | 17 | Università Cattolica del Sacro Cuore |
| #137 | 10 | University of Milano-Bicocca |
| #151 | 7 | University of Turin |
| #219 | 5 | University of Naples Federico II |
| #221 | 26 | University of Humanitas |
| #251 | 12 | University of Pavia |
| #329 | 14 | University of Rome Tor Vergata |
| #351 | 21 | University of Bari Aldo Moro |
| #520 | 31 | The University of Campania Luigi Vanvitelli |
| NA | – | UniCamillus University |
Study Medicine in Italy: Admission & Eligibility 
Italian medical universities do not state a long list of requirements for enrollment. The essential eligibility criterion for international students is a high school diploma. Students must have completed 12 (10+2) years of schooling.
For English-taught programs, universities expect students to prove their English proficiency. Students must meet up to the Common European Framework of Reference (CEFR) B2/C1 level of English proficiency. Most universities accept standardized entrance exam scores like IELTS, TOEFL, Cambridge, etc. 
Knowledge of Italian is an added advantage. Medical programs in Italy focus extensively on practical training. It involves interacting with patients in the latter years of study. Students with knowledge of the Italian language will face no issues during such training. Many universities offer Italian language courses to students to help them communicate with patients during clinical training. 
General requirements
High school diploma

Subjects knowledge of biology, chemistry, physics, and mathematics

English language competency: CEFR B2/C1; IELTS 6.0; TOEFL iBT 80
The most important aspect of admission into medical schools is the entrance test. Most public universities need students to sit for the IMAT.
IMAT stands for International Medical Admissions Test. The test is conducted jointly by Cambridge Evaluation and the Italian Ministry of Education and Research (MIUR). 
Features of IMAT are summarized below.
Pen and paper-based examination

Multiple-choice format with one correct answer

A total of 60 questions, with five answer options to choose from

12 questions in general knowledge, 10 in logic, 18 in biology, 12 in chemistry, 8 in physics and mathematics

Each correct option carry 1.5 marks; the wrong answer carries -0.4
The IMAT is limited to public universities. Private universities conducted their own exams except for UniCamillus University. It requires students to clear the UCAT exam. Additionally, students may have to appear for interviews as part of the admission process.
Medical Study Fees in Italy
Tuition costs for Italian medical universities are highly affordable. At public universities, tuition fees are assigned based on an applicant's economic state and country of residence. Students from low-GDP countries are charged with low tuition.
Each student determines the amount of their own fee based on a model that is in accordance with their personal financial standing (ISEE). The INPS website will help you navigate whether you can avail of the ISEE scheme. For those who are ineligible for the same, university exemptions are provided for low-income backgrounds. 
Generally, the cost of public medical universities in Italy does not exceed EUR 3,000-4,000 annually in any case. Popular public universities in Italy that charge tuition fees in this range are
University of Padua 

University of Bologna

Sapienza University of Rome

University of Milan

University of Turin

University of Naples Federico II

Tor Vergata University of Rome
For example, the University of Tor Vergata in Rome states that students who are ineligible for the ISEE scheme can choose to pay a yearly flat-tax contribution. This amount is 2,500 EUR annually for international students enrolled in the Laurea in Medicine and Surgery course. 
The average annual tuition fees for private medical universities are EUR 16,000 to 21,000. Still, the tuition fees are a lot more affordable than in other popular study destinations like the US and the UK. The table below lists the annual tuition fees at private medical universities in Italy.
| | | |
| --- | --- | --- |
| University | Annual Tuition in EUR | Annual Tuition in USD* |
| Vita-Salute San Raffaele University | 20,000 (base tuition fee) + 140 (annual enrolment tax) | 21,680 |
| Università Cattolica del Sacro Cuore | 16,200 | 17,439 |
| University of Humanitas | 20,000 | 21,530 |
| UniCamillus University | 21,000 | 22,607 |
*Note: Amounts in EUR are converted to USD at 1 EUR = 1.08 USD. Exchange rates change from time to time.
Scholarships for International Medical Students
Scholarships for Italian medical programs are available from the government and universities. The following list briefly describes some of the available scholarships for international students.
International Scholarships by the University of Bologna
The university offers deserving international candidates grants in two ways
A full tuition fee waiver (Unibo Action 1)

A grant of EUR 11,000 (Unibo Action 2)
Students who perform exceptionally well in any of SAT, GRE, or TOLC exams will receive the grant. The scholarship is granted to students who enroll in any of the university's first/single/second-cycle programs.
In addition to this, the college offers a Collegio Superiore grant. The eligibility criteria state that students need to be in their 4th year of a single-cycle degree program to avail of this grant. If awarded the prize, Collegio students benefit from free lodging, an annual grant, and the exemption from university fees.
International Scholarships by Humanitas University
Students who rank within the top 10 in the Non-EU admission test can receive scholarships. 
Humanitas University offers 2 scholarships. Each of these is worth EUR 16,000. Fees not covered by the scholarship will have to be paid by the students. The first 10 students occupying top positions in the Non-EU Entrance Exam Rankings will automatically be considered pre-enrolled for the scholarship. Following this, applicants will be asked to submit a motivation letter and their CV in English The submission of documents will precede an interview. 
International Scholarships by UniCamillus University
Unicamillus University, through the Foundation Progetto Salute, awards partial scholarships to non-EU students. Students enrolled in "Medicine & Surgery" or "Dentistry and Dental Prosthetics" programs are eligible. The amount of scholarship ranges from EUR 6,000 to 10,000. Students must submit the following documents
Scholarship application

Motivation letter

Curriculum vitae

Certificate of the financial situation of the student's family

High school diploma
Italian Government Scholarships
The Government of Italy awards DSU Scholarship/grants to foreign medical students. These grants are for bachelor's, special/master's, and research programs within Italy. The scholarship includes free accommodation, meals, and tuition.
Career Prospects and Salaries After Medical Studies in Italy
After six years of study, medical graduates in Italy must complete a six-month clinical placement. After clinical placement, students can sit for the State exam (Esame di Stato). Upon clearing the exam, students must register with the medical association (Ordine Dei Medici). This registration provides graduates with the license to practice medicine in Italy.
Doctors are the highest-paid professionals in Italy. The national average salary of a general physician is EUR 103,000 (Salary explorer). The top 5 highest-paying cities are
| | |
| --- | --- |
| City | Annual Salary Estimate in EUR |
| Rome | 121,000 |
| Milan | 119,000 |
| Naples | 117120 |
| Turin | 114960 |
| Palermo | 112920 |
Career opportunities after medical studies are not limited to working in Italy. Because of its globally recognized programs, graduates can look for employment in any country of preference. To practice as a doctor outside Italy, graduates must take the country-specific licensing exam.
Many doctors continue their education with specialized postgraduate training. Specialization takes three to six further years. Popular specializations in Italy are
Dermatology

Endocrinology

Obstetrics and Gynecology

Cardiology

Paediatrics
Conclusion
Italy is an excellent choice for overseas students interested in studying medicine. There are various public and private universities in Italy that provide English-language medical programs. Students with a high school diploma and knowledge of biology, chemistry, physics, and mathematics are eligible to apply. The selection criteria are based on the entrance tests. Because there are a limited number of sets accessible, public universities have a common entrance exam called the IMAT. Private universities, on the other hand, hold their own entrance tests and do not offer restricted admissions.
Medical tuition fees are quite affordable in Italy. Furthermore, depending on their eligibility, students can apply for scholarships through the government or the university. Graduates can start practicing medicine in Italy after clearing the state exam and registering with the Ordine Dei Medici. Since the Italian medical degree is valid throughout the world, students can also move to other countries to practice medicine. For more information, contact OneApply at Gyanberry.