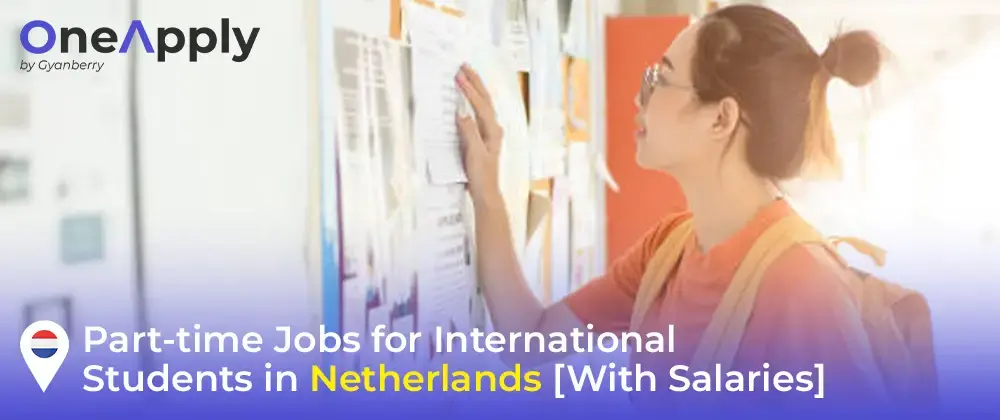 The Netherlands has quickly risen through the charts to become an attractive study destination. It is ideal for those on the lookout for academic excellence coupled with enriching experiences. However, studying in the Netherlands as an international student can be financially demanding. In case you cannot secure a scholarship for studying in the Netherlands, looking for part-time jobs may help reduce the financial burden. As a non-EU student, there are certain limitations while working in Netherlands during your studies. You cannot work more than 16 hours a week, and, your employer needs to apply for your work permit at least 5 weeks prior to the start of your employment. Finding part-time jobs for international students in Netherlands is not very complex. However, it's best to be aware of the rules and regulations.
Recent statistics indicate a significant rise in international student mobility in the country. EP-Nuffic is a Dutch organization specializing in internationalization in education. According to a recent study conducted by them, 115,068 international degree students enrolled in Dutch public higher education institutions in 2021-22. This is a 12% increase compared to 2020-21. Most students flock to cities like Amsterdam or Maastricht to study MBA in the Netherlands or enroll in the top engineering colleges in the country. 
If interested, you can also check out our blog on the Top Engineering Universities in the Netherlands for International Students. 
In this article specifically, we will explore the array of part-time job options available for international students in the Netherlands, and discuss the benefits and challenges of the same. By understanding these opportunities and considerations, international students can make informed decisions to enhance their study abroad experience in the Netherlands.
Rules and Regulations for Part-Time Jobs for International Students in Netherlands 
The immigration regulations in the Netherlands limit the working hours for non-EU students. They can either work full-time during the summer season (June to August) exclusively or apply for part-time employment not exceeding 16 hours per week.

You need your employer or recruiter to request a Work Permit for you from UWV WERKbedrij. Attach a copy of your visa alongside this, with a letter from your educational institution detailing that you are a student there. Completion of this procedure takes an average of five weeks.

Non-EU students who have received a degree from a Dutch university can participate in an

orientation year in the Netherlands

. This year-long period allows them to gain experience by taking up employment or doing an internship/traineeship, without the additional formalities of their employer needing to request a work permit.

Dutch public healthcare insurance is called basiszorgverzekering, or 'basic care insurance'. Dutch law requires everyone in the Netherlands with resident or employee status to have public healthcare insurance.

An amount from your pre-tax earnings will be dedicated to Social Security. These comprise programs that provide financial assistance for disability and unemployment. This deduction serves as an insurance policy for you in case of any undesirable accidents, and can easily amount to one-third of your gross pay. 

Tax must also be paid on your total net earnings sourced in the Netherlands over a year, including scholarship funds. In case you work part-time on a scholarship, your net income after the deductions may amount to less than if you had just availed of the scholarships. Some scholarships are non-taxable if there is already an existing tax treaty encompassing the Netherlands and the respective country granting them. Such tax terms include all EU member states.
Checklist for Part-Time Jobs for International Students in Netherlands
Valid residence permit

Work permits granted by employer or employment agency 

Healthcare insurance 

Healthcare allowance for those with low incomes. The rules regarding this are available on

Studentenverzekeringen.nl

. In 2023, the maximum allowance that can be availed by individuals is capped at €154. 

Social Security number (BSN number)

Proficiency in Dutch for certain jobs in tutoring, marketing, sales, etc. 
Netherlands Part-Time Jobs For International Students (With Salaries)
According to statistics released by the Dutch government, students spend an average of € 800 – €1,100 a month. You can get a detailed breakdown regarding the Cost of Living in Netherlands for International Students. Thus, most foreign candidates look for ways to support their finances by applying for internships, part-time jobs, and freelancing opportunities. 
The range of part-time job sectors open to international students is diverse, catering to different interests and skill sets. Popular sectors include hospitality, retail, tutoring, research assistance, and internships across various industries. These part-time roles provide financial support and contribute to developing students' skills, professional networks, and proficiency in the Dutch language.
Sales and Retail
Working in retail is a popular choice amongst Dutch international applicants. In such part-time jobs, students have to pick and suggest products that suit the customer's needs. Employees are also held responsible for responding to customers with questions that help them settle on purchases. Aside from this, they should retrieve products from stock rooms and warehouses to fulfill order requests efficiently.
| | |
| --- | --- |
| Job Titles  | Sales Associate, Retail Salesperson, Inventory Associate, Floor Manager, etc  |
| Expected Hourly Pay  | €12 per hour is the base pay  |
| Estimated Monthly Salary  | €768 per month  |
Tutoring 
If you are looking for a way to supplement your income, becoming a personal tutor is a great option. You can work with individual students or join a small coaching center and work with a larger group. You can even become a teaching assistant at the university you are attending. As a personal tutor, you will be responsible for preparing lessons in advance. This includes making lesson plans, carefully reviewing relevant textbooks to compile the study material, and keeping students engaged using projects and activities. 
(Depending on the subject and the students you teach, basic Dutch proficiency may be required for tutors.)
| | |
| --- | --- |
| Job Titles  | Personal Tutor, Home Tutor, Teaching Assistant, etc  |
| Expected Hourly Pay  | €16 per hour is the base pay  |
| Estimated Monthly Salary  | €1,024 per month  |
Delivery Jobs 
Delivery jobs may seem simple but actually require a wide range of skills. The primary task is the careful loading and unloading of all packages, ensuring that each order is handled with precision and care. Employees must also accept and record payment for delivered packages, and be able to answer any questions from customers in a professional manner. Additionally, they must be adept at using delivery tracking devices and troubleshooting any problems that arise.
| | |
| --- | --- |
| Job Titles  | Delivery Driver, Courier, Delivery Assistant, etc  |
| Expected Hourly Pay  | €12 per hour is the base pay  |
| Estimated Monthly Salary  | €768 per month  |
Hotel Receptionist
The role of a hotel receptionist is an important one, as they are the first point of contact between guests and the hotel administration. They must be able to work under pressure and with minimal supervision. A hotel receptionist must also be able to take bookings, check guests in and out, allocate rooms and keys, and answer any questions or requests from the tenants. It is essential that they possess excellent customer service skills and are trustworthy. 
| | |
| --- | --- |
| Job Titles  | Front Desk Agent, Hotel Receptionist, Reception Officer, etc  |
| Expected Hourly Pay  | €26-28 per hour is the base pay  |
| Estimated Monthly Salary  | €1,785 per month  |
Supermarket Cashier 
Supermarket cashiers are an integral part of any grocery store. Their presence in the checkout area makes sure that transactions are running smoothly. These employees have a variety of responsibilities, such as scanning products, collecting payments, counting money from the cash drawer, comparing receipts with revenues, and solving customer inquiries. It's important that supermarket cashiers are able to perform their duties accurately while maintaining a friendly and courteous demeanor. 
| | |
| --- | --- |
| Job Titles  | Retail Cashier, Supermarket Cashier, etc  |
| Expected Hourly Pay  | €9 per hour is the base pay  |
| Estimated Monthly Salary  | €576 per month  |
Waiter
The duties of a waiter or waitress include welcoming and seating guests, providing prompt and courteous service, and taking accurate guest orders. These orders have to be communicated properly to the kitchen staff. A thorough knowledge of the menu is necessary so that these part-time employees can offer suggestions to upsell appetizers, desserts, and drinks. 
| | |
| --- | --- |
| Job Titles  | Server, Waiter, Lead Server, etc  |
| Expected Hourly Pay  | €12 per hour is the base pay  |
| Estimated Monthly Salary  | €768 per month  |
Housekeeping 
Housekeepers are responsible for the upkeep and cleanliness of hotel rooms and other such establishments. They do guests' laundry, mop, iron, dust, and more. They are also tasked with replenishing hotel supplies such as toiletries and towels. In addition to this, they must sanitize rooms regularly and report to their respective managers. 
| | |
| --- | --- |
| Job Titles  | Housekeeping Supervisor, Executive Housekeeper, Cleaner,  etc  |
| Expected Hourly Pay  | €13 per hour is the base pay  |
| Estimated Monthly Salary  | €832 per month  |
Telecallers 
Telecallers are professionals who communicate with potential or existing clients on the phone to create opportunities for making sales. They must speak fluently and be able to draw the customer's attention toward their products. Often, these roles can also comprise solely of addressing problems faced by clients or answering questions by existing buyers. Such telecallers are then termed Customer Service Specialists. 
| | |
| --- | --- |
| Job Titles  | Customer Service Specialist, Call Center Representative, Customer Service Associate,  etc  |
| Expected Hourly Pay  | €11-14 per hour is the base pay  |
| Estimated Monthly Salary  | €704- 896 per month  |
Conclusion
Many part-time job roles are available for international students studying in the Netherlands. After obtaining valid residence and work permits, interested candidates can contact recruitment agencies situated all over the city. Often, university bulletin boards also display numerous part-time vacancies available on campus. 
The Best Student Cities in Netherlands see the highest number of applications. These can range from server jobs in Amsterdam to cashier positions in Utrecht. To know more, kindly book a video appointment with our experts at OneApply.