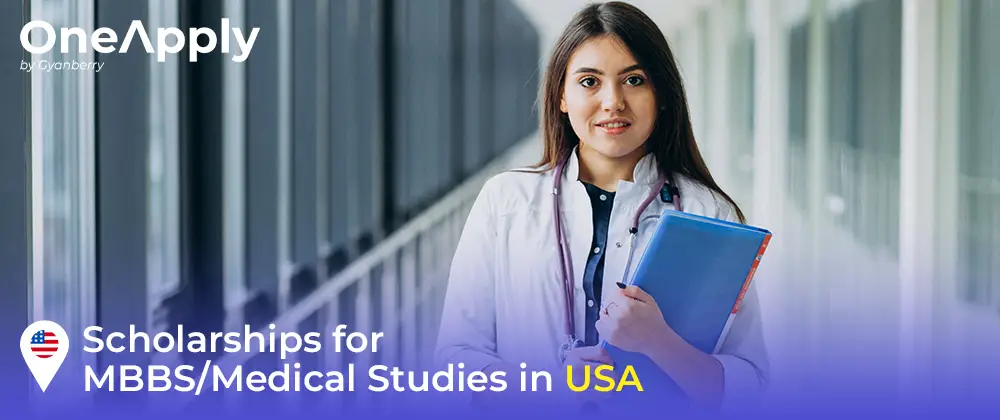 Medical education in the US can be expensive for international students. A medical degree in the US averages around $60,000 USD. Besides bearing the cost of tuition, international students also have to fund other living expenses and university-specific fees. Securing MBBS Scholarships in USA is a great option for international students who want to lessen their expenses.
Since the cost of a medical degree in the USA falls on the pricier side, scholarships can be a huge relief for international students. The average annual living costs in USA also range on the higher side. For international students, these are estimated at $20,000 USD per year. Thus, as a top study destination for 900,000 international students each year, the US presents several medical scholarships to make higher education accessible. 
This article highlights the scholarship options available for international students studying MBBS/MD and other medicine-related courses in the US. These are primarily obtained from 3 sources and can be categorized as 
University-specific scholarships 

Third-party scholarships 

Government scholarships 
Medical Degree in the USA
MBBS in the USA is a postgraduate program, offered only after obtaining a bachelor's degree or its equivalent in a related subject. The course spans a duration of 4 to 6 years and is presented in the form of a Doctor of Medicine (MD) degree. 
According to the 2023 QS World Rankings for Medicine, the best medical universities in the US comprise 
| | |
| --- | --- |
| 2023 QS World Rankings for Medicine | University  |
| 1 | Harvard University |
| 3 | Stanford University |
| 4 | Johns Hopkins University |
| 9 | University of California, Los Angeles (UCLA) |
| 10 | University of California, San Francisco |
| 11 | Yale University  |
| 12 | Massachusetts Institute of Technology (MIT) |
| 14 | Columbia University |
| 16 | University of Pennsylvania |
| 17 | Duke University |
The admission criteria vary depending on your country of residence. To know more, you can check out our blog on MD/MBBS in USA: Admission Guide For International Students.  
In case you do not meet the admission criteria, you can opt to study Pre-Med in the US, which will establish your eligibility for the same. 
MBBS Scholarships in USA Awarded by Universities 
Most institutional scholarships are provided solely on the basis of financial need. Those eligible to receive compensation have to submit documentation attesting to their annual family income in their home country. In a few select cases, merit scholarships are also awarded to deserving students. 
Irrespective of the type of aid offered, students receiving scholarships will be expected to continue performing well academically. Upon failure to maintain good academic standing, the scholarships may be discontinued. 
Harvard Medical School Scholarships 
At the institutional level, the HMS scholarship is based entirely on financial needs. It is a type of financial aid that results from the culmination of donations and contributions made to the alumni fund. 
However, full-ride packages are rare and scholarship eligibility is determined by subtracting the institutional expected family contribution from tuition and mandatory fees. 
The maximum funding period is limited to eight semesters of full tuition charges.
| | |
| --- | --- |
| Institutional Scholarship  | Harvard Medical Scholarship by Harvard Medical School |
| Amount offered  | Depends on the income of the family. Full-ride packages will cover both tuition fees and other mandatory expenses.  |
Stanford Medicine Scholarships 
Although Stanford also primarily provides need-based funding, it is one of the few colleges to offer MBBS in the USA with other types of scholarships. These comprise the Knight-Hennessy Scholars and Medical Scholars Research Program.
Both scholarships encourage students to find innovative solutions to the most pressing problems in medicine. Creative problem-solving is fostered in an academic setting under the direction of faculty members. 
Each year, up to 100 Knight Hennessey scholars with diverse academic backgrounds get full funding to pursue a graduate education. To be eligible for the KHS scholarship,
Students must already be enrolled full-time in any course at Stanford University

Those willing to apply to KHS by 2024 must have completed a bachelor's degree by January 2017 or later

Applicants should demonstrate independence of thought, purposeful leadership, and a civic mindset. 
Similarly, for the Medical Scholars Research Program, only MD students pursuing research are eligible. Those enrolled in an MD/Ph.D. dual-degree course are directly deemed ineligible. The funding offered to such scholars is capped at the equivalent of 5 full-time quarters of fees in the MD program.
Institutional Scholarship 

Knight-Hennessy Scholars

Medical Scholars Research Program

by Stanford School of Medicine 

Amount offered 

The KHS scholarship provides full funding for the duration of the graduate program.

The Medical Scholars Research Program offers a maximum of 5 full-time quarters of fees in the MD course. 
Columbia University Vagelos College of Physicians and Surgeons
The Vagelos Scholarship Program, first introduced by Dr. P. Roy and Diana Vagelos, was the largest financial aid endowment fund of its kind in the USA. Beginning in the 2018-19 academic year, medical aspirants were offered 100 percent of their demonstrated financial need. 
The formula used for calculation was 'Cost of Attendance Budget – Resources = Need'. This includes all other accessory expenses that have to be incurred by the student in addition to tuition fees. As of 2022, more than $150 million USD has already been allocated towards the Vagelos scholarship program, which has helped hundreds of medical graduates. 
| | |
| --- | --- |
| Institutional Scholarship  | Vagelos Scholarship Program by Columbia University  |
| Amount offered  | Up to 100 percent of demonstrated financial need.  |
Other Need-Based Fundings 
Merit-based and need-based scholarships are hard to come by in the USA. Few colleges only offer need-based funding to international students who wish to study MBBS in the USA with scholarships. 
However, it is important to note that financial aid can vary from one institution to another, and it is typically limited. To qualify, the documentation required includes proof of income, bank statements, and tax returns from the student's home country. 2 other top American universities offer assistance to their students who cannot afford the tuition fees of the MD program. These universities are 
Yale School of Medicine

The Johns Hopkins University School of Medicine
Third-Party Scholarships to Study MBBS in the USA 
Various organizations, foundations, and institutions provide financial aid to support meritorious students interested in studying medicine in the USA. All of these third-party scholarships can be availed by international students enrolled in MD programs. 
Some of these scholarships include 
Physicians of Tomorrow Scholarship by the American Medical Association (AMA)
The American Medical Association strives to award excellence in the medical sciences. Irrespective of member status, all domestic and international students enrolled in a recognized MD program in the US are encouraged to apply. 
Each year, 4-5 students approaching the final year of their course are awarded $10,000 USD as part of the scholarship program. To date, the AMA has provided over 150 million USD in endowment funding since the inception of the Physicians of Tomorrow scholarship in 1950. 
| | |
| --- | --- |
| Scholarship  | Physicians of Tomorrow Scholarship by the American Medical Association |
| Amount offered  | $10,000 USD  |
JN Tata Endowment For The Higher Education Of Indians 
The JN Tata Endowment Fund was established in 1892 and has since helped 5600 Indian students. Compensation is provided only on individual merit, irrespective of caste, creed, religion, or any other factor. The fund covers a wide range of study fields, including 
Medical sciences 

Biological sciences

Medicine 

Pharmacy

Psychology
Holders of a bachelor's degree with at least a 60% score can apply. Candidates who have completed their first year and are about to start their second year can also apply.
JN Tata Endowment Fund is a loan-based scholarship. Students are charged an interest of 2% if the loan is not paid back within seven years.
The scholarship amount ranges from INR 1,00,000 to 10,00,000. Scholars may also receive an additional travel contribution of INR 50,000 and a gift between INR 2,00,000 and 7,50,000.
Applications should be made between January and mid-March.
Scholarship 

JN Tata Endowment For The Higher Education Of Indians

Amount offered 

Scholarship amount ranging between INR 1-10 lakhs + additional travel compensation of INR 50,000. 

Depending on overall academic merit, students may also receive a gift between INR 2- 7.5 lakhs. 
Narotam Sekhsaria Postgraduate Scholarship
The Narotam Sekhsaria Scholarship assists 'India's brightest in their pursuit of higher education.' It is a loan-based scholarship that is exclusive of any interest and is one of the best MBBS scholarships in USA for Indian students. 
The program exclusively accepts students who perform exceptionally well in academics. Applicants must be graduates and below 30 years. To be eligible, they must be planning to enroll in a master's or doctoral program after completing their undergraduate education in India. 
Each year, the applications for the same must be submitted before March 20th.
| | |
| --- | --- |
| Scholarship  | Narotam Sekhsaria Postgraduate Scholarship |
| Amount offered  | Loan-based scholarship amount up to INR 20 lakhs.  |
Ambedkar Overseas Vidya Nidhi 
Ambedkar Overseas Vidya Nidhi is aimed at helping SC/ST/Minority/BC/EBC candidates pursue higher education abroad. The scholarship is covered under the Telangana Overseas Study Scheme and is solely for Indian students. 
Eligible programs include 
Medicine 

Pharmacy 

Nursing 

Natural sciences 

Social sciences 

Humanities, and more.  
To be eligible to apply, students must hold a bachelor's degree with at least 60% marks. Students should be planning to pursue their master's abroad in countries like the USA, Canada, Germany, France, the UK, Singapore, Japan, South Korea, Australia, or New Zealand. 
The annual family income of the student from all possible sources should not exceed INR 5 lakhs or the application will directly be rejected. Eligible candidates may receive a compensation amount of up to INR 20,00,000.
| | |
| --- | --- |
| Scholarship  | Ambedkar Overseas Vidya Nidhi |
| Amount offered  | A scholarship grant of up to INR 20 lakhs  |
Government Scholarships to Study Medicine in the USA
The Ministry of Education of various countries often offers bilateral scholarships to pursue higher education abroad. The intention behind this initiative is to develop a community of students that are forward thinkers and can create active change by receiving the benefits of an internationally-acclaimed education. 
Government Scholarships For UAE Nationals 
The Ministry of Education offers scholarships to UAE nationals at the undergraduate and graduate levels. UAE students with good conduct and impressive academic record can apply. Students must also meet the minimum English language requirements.
Documents needed to apply for this scholarship are
Passport copy

Family Book and UAE ID card

Unconditional acceptance from the university

Academic transcripts

Proof of English proficiency

Certificates of medical fitness and good conduct

Letter explaining students' study and work activities from the date of the previous qualification to scholarship submission.
Application is free for those interested in studying MBBS in USA with a scholarship. The deadlines depend on the dates posted by the Ministry of Education.
Conclusion 
For international students looking to study medicine in the US, need-based funding is the primary source of financial aid available at the institutional level. Those who are ineligible for the same may delve into external funding opportunities, or student loans to help cover the expenses incurred during the course of their education. 
Scholarship eligibility is established only after the timely submission of required documentation by the application deadlines. Contact Gyanberry for a seamless admissions process. Our expert counselors will walk you through the whole application process, from selecting the right university to getting an applicable scholarship.