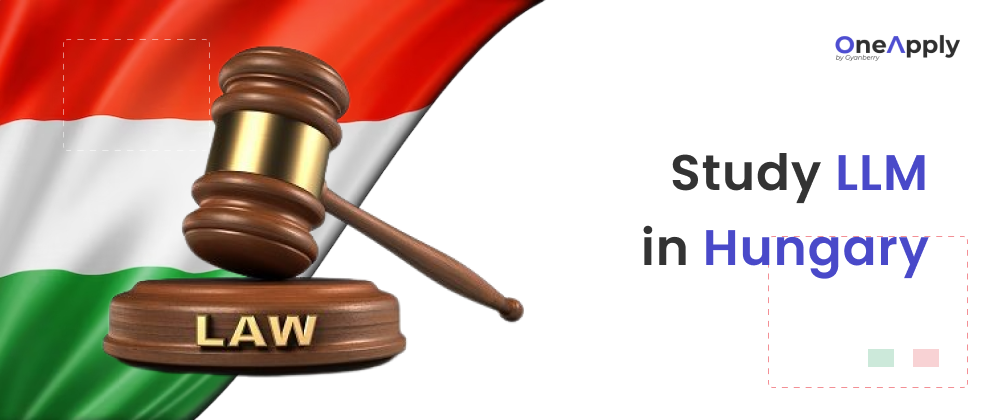 Hungary, with its rich legal heritage, is a haven for aspiring legal scholars worldwide. Owing to the quality of education and opportunities, there is a large flow of international students to study LLM in Hungary or a master's degree in law. With its rich cultural heritage and strategic location, Hungary offers a promising landscape to pursue law. It is no surprise that the best universities in Hungary are well-regarded worldwide.    
Hungary's law schools are known for their academic excellence and nurturing legal talent. These institutions offer a blend of rigorous curricula, experienced faculty, and cutting-edge research opportunities. They provide a solid foundation for aspiring legal minds to flourish. For international students, top universities offer great LLM courses, granted that you have a solid grounding in LLB education based on your country's laws.    
In this article, we will explore various law schools, the best LLM programs, eligibility, and tuition. We will also cover other important information for pursuing a fruitful law education in Hungary.
Overview of LLM in Hungary 
| | |
| --- | --- |
| No. of Programs  | 15+  |
| No. of Universities  | 10+  |
| Degree Offered  | LLM  |
| Duration of Study  | 1 year  |
| Tuition Fees  | 3,500-13,000 EUR  |
Why Study LLM in Hungary?
Renowned Educational Institutions: Hungarian universities promise high-quality education and academic excellence. Studying LLM at these universities ensures a comprehensive legal education.    
Rich Legal Heritage: Hungary has a long-standing legal tradition influenced by Roman and German law. Studying law in Hungary allows you to explore this rich legal heritage within a historical and cultural context.    
International Perspective: The global perspective can expose you to different cultures and laws. It can also help you build a global network of connections.   
Affordable Education: Compared to other European countries, Hungary is an affordable option. The cost of living and tuition fees for international students are relatively low. Many Hungarian universities also offer compelling scholarships for international students.   
Expert Faculty: Hungarian law faculties consist of esteemed legal scholars and practitioners. These experts bring their knowledge and practical experience to the classroom.   
Vibrant Cultural Experience: Hungary offers a rich and diverse cultural experience. You'll have the opportunity to immerse yourself in the country's rich cultural heritage while studying law.    
Career Prospects: An LLM degree from a Hungarian university holds international recognition. It can enhance your employability prospects globally. The knowledge and skills gained from studying law in Hungary can open doors to a wide range of legal professions.
Best LLM Programs in Hungary 
University of Debrecen 
Legal Studies at the University of Debrecen dates back to 1742, with the institution cementing its position as one of the most prominent institutions for studying law in all of Europe. The LLM program at Debrecen is a one-year program that covers both legislative and judicial elements of European business law, trade law, and corporate law. Some of the main subjects of the program include Institutions of the European Union, Harmonization of laws in the European Union, International Sale of Goods, International and European Intellectual Property Law, etc. 
| | | |
| --- | --- | --- |
| Program Name  | Duration of Study  | Tuition Fees (2023/24) |
| LLM European and International Business Law  | 1 year | 6,400 EUR |
Suggested Read: Study Architecture in Hungary 
Eotvos Lorand University 
The Faculty of Law, ELTE is one the most prestigious and popular law schools in Hungary. The faculty offers several law programs at the post-graduate level. The LLM European and International Business Law program provides a solid grounding in the institutional fundamentals of European economic integration and introduction to international business law. Specialized courses allow students to immerse in areas such as consumer protection, social policy, e-commerce, international carriage of goods, etc. 
| | | |
| --- | --- | --- |
| Program Name  | Duration of Study  | Tuition Fees (2023/24) |
| LLM European Human Rights  | 1 year  | 2,000 EUR  |
| LLM European and International Business Law  | 1 year | 1,894 EUR |
Suggested Read: Best Business Schools in Hungary 
University of Szeged 
The University of Szeged is one of the oldest educational institutions in Hungary. The university hosts around 25,000 students across various programs. The university's Faculty of Law provides quality legal education at the post-graduate level. The programs include International and European Trade and Investment Law, Comparative Intellectual Level. The CIL program teaches intellectual property laws and industrial property law.  The program allows students to choose from a range of specialized elective courses.  These include Fundamentals of IP Law Intellectual Property in Practice Development of Copyright Law etc.
| | | |
| --- | --- | --- |
| Program Name  | Duration of Study  | Tuition Fees (2023/24) |
| LLM International and European Trade and Investment Law  | 1 year  | 3,200 EUR  |
| LLM Comparative Intellectual Property Law  | 1 year | 5,000 EUR  |
Suggested Read: Study Computer Science in Hungary 
Central European University 
The Central European University was founded in 1991 to foster open societies in Central and Eastern Europe. The university is accredited by the Hungarian Accreditation Board and holds various international accreditations. The Department of Legal Studies at the university provides high-quality advanced legal education and education in human rights, comparative constitutional law, and international business law. Its programs are among the finest in Europe, enabling students to obtain a solid grounding in fundamental legal concepts in civil law and common law systems. 
| | | |
| --- | --- | --- |
| Program Name  | Duration of Study  | Tuition Fees (2023/24) |
| LLM Comparative Constitutional Law | 1 year  | 13,000 EUR  |
| LLM Human Rights | 1 year | 13,000 EUR  |
| LLM Global Business Law and Regulation | 1 year | 13,000 EUR |
Suggested Read: Best Engineering Universities in Hungary
Admission Requirements for LLM Programs in Hungary
The specific admission requirements for law programs at the master's level in Hungary may vary between universities. However, here are some general requirements for entering into an LLM program in Hungary: 
A bachelor's degree in law (LLB) or a related field (legal consultant). The degree should be obtained from an accredited institution.

English proficiency certification (IELTS- 5.5, TOEFL iBT- 83). 

Official transcripts and previous academic records. 

A letter of motivation explaining their interest in pursuing a master's degree in law.

Some universities require letters of recommendation attesting to your academic and professional abilities.  

A comprehensive curriculum vitae (CV) or resume highlighting the applicant's educational background, work experience, etc. 

Some universities require applicants to submit samples of academic writing or essays on select topics provided by the institute.  
Career Pathways for Law Graduates in Hungary 
Law graduates in Hungary have a wide range of career opportunities available to them. They can choose to work as practicing lawyers in law firms, corporate legal departments, or as independent practitioners. The public sector offers opportunities in government agencies and administrative bodies, where graduates can contribute to policy-making and legislative drafting. Corporate law positions involve providing legal support to businesses, managing contracts, and ensuring compliance. Other options include legal consultancy, international organizations, academia, NGOs, and alternative legal careers such as legal journalism or technology. Specializations and further education can further enhance career prospects in these diverse fields. According to the Economic Research Institute, a Lawyer in Hungary earns an average pay of 1,53,85,111 HUF (41,076 EUR) a year, with an average bonus of 1,041,707 HUF (2,780 EUR). Additionally, Entry level lawyers make around 10,417,074 HUF (27,806 EUR), whereas senior lawyers make upwards of 18,864,598 HUF (50,363 EUR).   
Conclusion 
In conclusion, Hungary shines as a promising destination for students aspiring to study law. Studying LLM in Hungary goes beyond the academic realm. The vibrant cultural experience and international perspective create a dynamic learning atmosphere. Practical aspects, such as the affordability of living costs and tuition fees, make Hungary an attractive option for international students seeking a cost-effective yet high-quality legal education. The availability of scholarships and financial aid further eases the financial burden and opens doors to opportunities.  By choosing to study LLM in Hungary, students not only gain a comprehensive legal education but also position themselves for a successful career in the global legal arena. For more information regarding studying LLLM in Hungary, reach out to our admission experts at OneApply. You can also schedule a free video call with us.