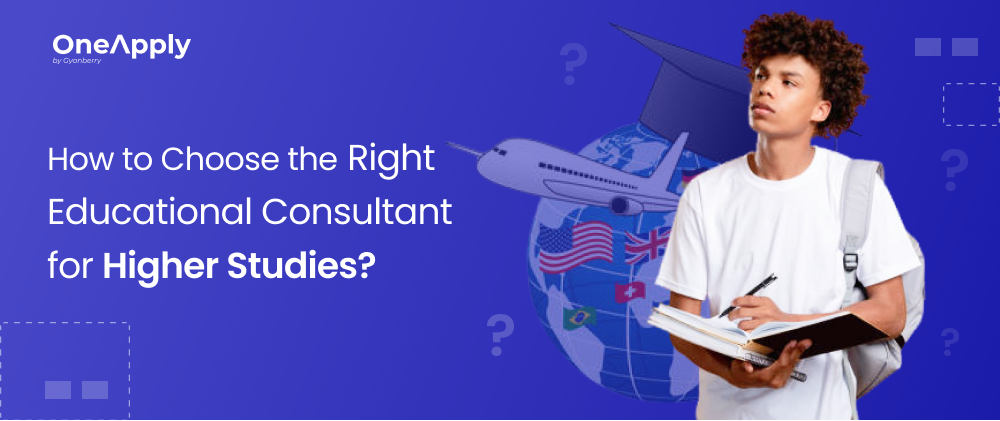 Studying abroad is the new black! The number of students studying abroad is increasing, and destinations are diversifying. Back in the day, students used to choose English-speaking destinations like the US, UK, and Canada, but now many international students prefer destinations like the Netherlands, Hungary, and Czech Republic, which are affordable yet offer English-taught courses with globally recognized education. The major reasons why students go to study abroad are the internationally recognized quality of education, diverse educational experiences, opportunities to experience new cultures, global employment opportunities, etc. Are you thinking of studying abroad? But are you not sure which college or university to choose? Are tuition fees not in your budget? Too high living expenses? If these are your concerns, then this article is for you! Certain factors must be considered when choosing the right educational consultant for higher studies. These include their area of expertise, experience, accreditation, services offered, cost of services, reviews, etc.
Although it may seem like applying to colleges abroad is easy, the process can be pretty complicated, especially if it is your first time. It does not just stop at choosing the universities and courses; it also involves things like preparing for entrance exams, interviews, student visas, accommodation, transportation, translation of documents, and so on. Keep in mind that the right educational consultant will make your experience smoother, allowing you to focus on preparing for entrance exams and important stuff related to your admission.
Area of Expertise and Experience
The most significant and impactful factors to consider when choosing an educational consultant are their area of specialization and experience. The team of consultants they hired to offer services must have extensive knowledge of the universities, available courses, foreign education rules and regulations, scholarships, etc. They must also have interpersonal and communication skills. The more years they are in the business establish their rapport as educational consultants. 
Gyanberry is one such educational consultant that has been successfully admitting students to abroad universities since 2013. We are an educational consultant based in Dubai, United Arab Emirates. We also have an office in Pune, India. Our technology platform, OneApply can help you apply to some of the best-ranked, most affordable universities abroad. Our admission counselors can help with admission to bachelor's and master's degrees in the USA​, UK, Canada​, the Netherlands​, Ireland​, Spain​, Italy​, Sweden​, Denmark​, Czech Republic​, Hungary​, Poland​, Lithuania​, ​Latvia​, Malaysia, Cyprus, and more. In addition, we have an extensive network of partner universities that offer various courses fitting your budget needs. Gyanberry specializes in the following areas
We have been in this business for over a decade now. Our highly experienced mentors have counseled over 15,000 students for 180,000+ programs and 3,000+ university options in 30+ countries. You can book an appointment or fill out this form to get in touch with our counselors right away. We offer weekday and weekend sessions at the convenience of parents and students. 
Certification and Accreditation
The second most important thing to consider when choosing an education consultant is their certification and accreditation. They prove whether the consultancy has a license or any certification to authorize the services they provide. Accreditation ensures that the educational consultant is genuine. OneApply by Gyanberry has been granted ICEF (International Consultants for Education and Fairs) Agency Status (IAS) since December 2022. This ensures we have been thoroughly examined to meet all ICEF requirements for competence as education consultants/agents. We are also reevaluated annually to ensure we uphold the ICEF's standards.
Additionally, we have received certification from the American International Recruitment Council (AIRC), a non-profit membership association recognized by the U.S. Department of Justice and the Federal Trade Commission. 
Range of Services Offered and Fees
To make the process smooth and hassle-free, it is important to choose an educational consultant that offers a range of services under one roof. These must include assistance with the selection of the university or course, preparation for admission (entrance tests or interviews), application services (statement of purpose, recommendation letters, etc.), pre-and post-departure services, and financial aid like scholarships and loans.
OneApply by Gyanberry offers one-on-one assistance with university applications, entrance exams, required documents, visas, etc. Our team will coordinate with universities until you receive your acceptance letter. Here are some highlights of the range of services that we offer 
Extensive range of universities and courses (medical and non-medical)

Application assistance to universities in over 30 countries worldwide 

Guidance on preparing your application, study material, entrance exams, and so on

Free admission services for our partner universities

Admission services at bachelor's and master's level programs in varied specializations

Unified application service (OneApply) to manage all applications in one place

Live webinar sessions from partner universities

Visa assistance and other value-added services like accommodation, transportation, document translation and legalization, medical insurance, etc. 

Expert advice from our admissions counselors with years of experience

Tailored assistance from students of the desired university through the SuperMentor program
We also provide blogs on various topics, including the cost of living, student visas, available courses, fees, etc., for various countries. You can read our blogs written by our expert writers here. A simple search with the keyword you are looking for will give you the desired results.
Since educational consulting firms are businesses like any other, they charge fees or money for the services they provide. The fees vary from one agency to another and also depend on the type of services they provide. Financial expenditure while studying abroad can be overwhelming, but it is a lifetime investment that will reap benefits in the future. Gyanberry's services are worth students' money and time. Our first consultation (online or in person) is free of charge. Once we understand your academic background, budget, and other study goals, we can recommend a suitable package that is charged based on the services you pick.
Reviews and Transparency 
The last things on our list to consider when choosing the right educational consultant for higher studies are reviews and transparency. Gyanberry has over 500 Google reviews, and almost all of them are rated 5 stars. You can go through our student testimonials to read how we assisted these students in finding the right universities as per their requirements. Applying to foreign universities and securing admission is a lengthy process that requires a lot of time and effort. We maintain 100% transparency about our fees, services, extra charges, and the process we follow. Our expert counselors will be there to guide you through the entire process, from applying to the universities to the confirmation of your admission, and even after that. We do not make false promises to students without any confirmation.
Conclusion
An overseas degree that is recognized globally has the potential to get you employed by global giants. But you should be mindful of the choices you make about where and what to study abroad as it can be financially challenging. We at OneApply by Gyanberry help students choose the best-fit universities and courses within their budget. 
Remember, no educational consultant will ever assure you of a 100% admission guarantee. If someone is doing so, then you must run away immediately. The ideal educational consultant will aid, guide, and totally support you wherever you need it. They will help you make decisions with confidence by providing steady stages of action, which will significantly increase your chances of being admitted to the university of your choice. If you are in search of the right educational consultant for higher studies, try our services. We have a dedicated platform developed to help students apply to multiple universities at the same time. Our services have helped more than 15,000+ students apply to world-class universities abroad. For more information, you can contact us here.