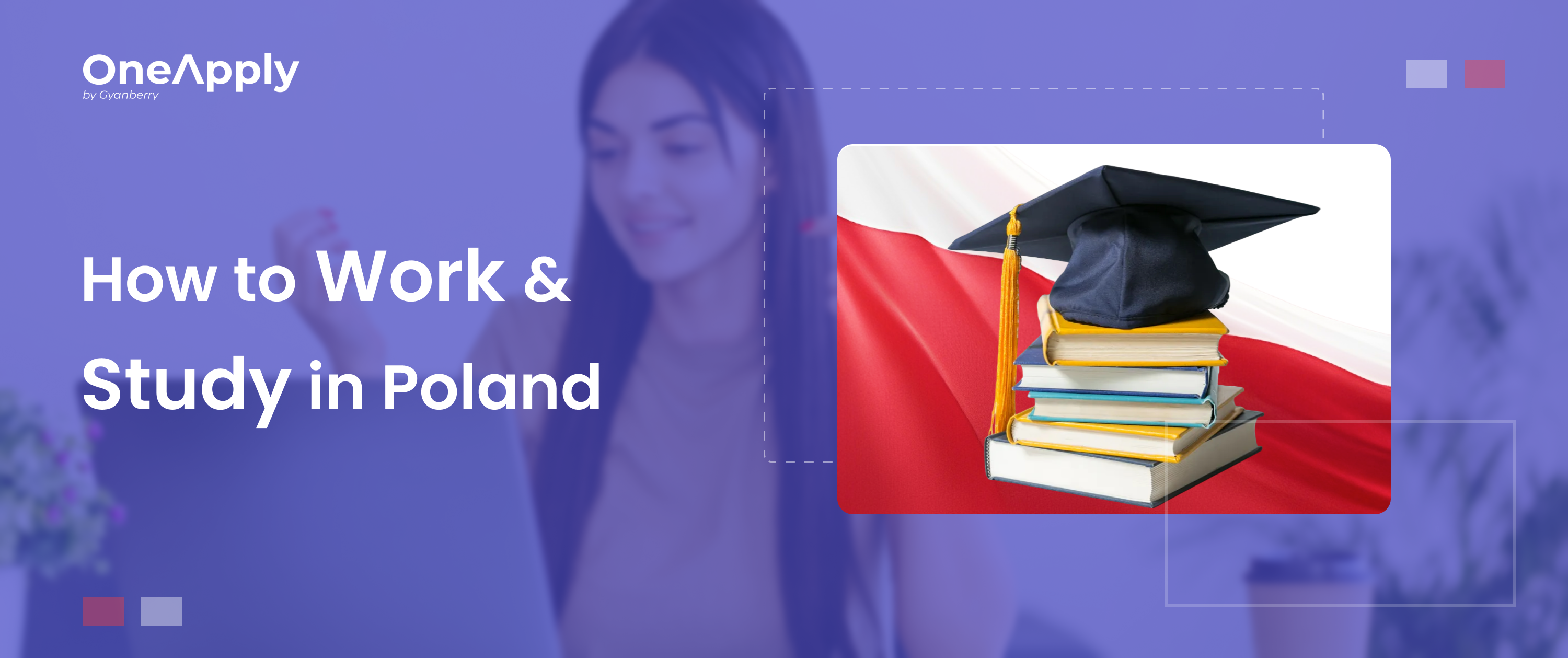 Poland, nestled in the heart of Europe, has become one of the most prominent hubs for international students lately. Studying in Poland can be a unique and enriching experience with the right support and resources. Poland is one of the more affordable countries in Europe, with reasonable tuition fees and living costs. However, most students prefer to work and study in Poland, mainly to offset general expenses and earn some extra money.  
Poland boasts a robust and diverse economy, characterized by steady growth, and a flourishing job market. The country's GDP stands at 748 billion USD, making it the 10th largest economy in the European Union. Poland has experienced consistent economic growth, with an average annual GDP growth rate of 4% over the past decade. 
The job market in Poland offers ample opportunities across various sectors. According to Statista, the unemployment rate in Poland was 5.1% as of May 2023, which is significantly lower than the European Union average of 6.5%. The country has been successful in attracting foreign investments, creating a favorable environment for job seekers.
Moreover, working part-time offers many benefits. It not only helps students support themselves financially but also provides an opportunity to gain valuable skills and work experience. In this article, we will explore various aspects of working in Poland, including work permits, the job market landscape, and more. 
Overview of Part-Time Jobs in Poland
Popular Part-Time Jobs

Retail, bartenders, waitstaff, administrative assistant, delivery partner, etc. 

No. of Hours Allowed

During the academic year: 20 hrs/week 

During breaks: Full time 

Where to Find Jobs 

University career centers, job websites, social media, job boards, etc. 

Average Pay 

Minimum wage – 5.12 EUR; 783 EUR*
How Many Hours Can International Students Work and Study in Poland?
International students in Poland have regulations about the number of hours they can work while studying. 
Here's a detailed breakdown of the work-hour limits for international students in Poland:  
EU/EEA Students: Students from the EU or EEA countries have the same rights as Polish students when it comes to employment. They can work part-time for up to 20 hours per week during the academic year. EU/EEA students can engage in employment without needing extra permits or restrictions.   
Non-EU/EEA Students:   
Part-Time Work Limits

: During the academic year, non-EU/EEA students can work part-time for up to 20 hours per week. This includes any paid employment, internships, or student assistant positions.    

Work During Breaks

: During semester breaks, both EU/EEA and non-EU/EEA students can work full-time without hourly restrictions. This allows students to work more hours and potentially earn higher incomes during these periods.     
Popular Part-Time Jobs in Poland for Students
International students in Poland have access to a variety of part-time job opportunities. This can help them gain work experience, support their living expenses, and immerse themselves in the local culture.   
Here are some popular part-time job options for international students in Poland:  
Hospitality Industry: Working in the hospitality industry is common among international students. This can involve jobs in hotels, restaurants, cafes, and bars. Roles may include waitstaff, bartenders, receptionists, or kitchen assistants. Students in these positions can earn an average of 2.5 EUR* per hour, with the possibility of tips.  
Retail: Retail positions are widely available and offer flexibility for students. Working in supermarkets, and shops allow students to develop valuable customer service skills. The average salary for these positions can range from 2.5 to 3.5 EUR* per hour.    
Tutoring and Language Teaching: Students who excel in specific subjects or are fluent in languages can tutor. Students can also teach their native language or languages they are proficient in. Hourly rates for language teaching or tutoring sessions range from 4.5 to 9 EUR* per hour.  
Internships: Securing an internship related to your field of study is an excellent way to gain practical experience. Many companies offer internships to students, providing valuable insights into specific industries.    
Administrative Roles at Universities: Universities often have part-time job openings for administrative positions.  These roles include working in the library, student affairs office, or working with professors. Hourly rates range from 2.7 to 4 EUR* per hour.  
Freelancing and Online Work: Freelancing or online work can be a great option for students with specific skills. This can involve graphic design, web development, content writing, or translation services. Online platforms and freelance websites offer a range of opportunities for students to find freelance work. Freelancers can set their rates, which can vary depending on the complexity and demand for their services.  
Delivery Services: Students can work as delivery drivers. These jobs provide an hourly wage of around 2.7 to 3.5 EUR* per hour, with compensation for mileage or tips. 
Finding Jobs for International Students in Poland
Finding suitable job opportunities for students in Poland requires a proactive approach. Here are some effective strategies to help international students find jobs in Poland:    
University Career Centers: Most universities have dedicated career centers or job cells. These centers provide job listings, career counseling, and networking opportunities with potential employers.    
Online Job Portals: Explore Polish job portals that list part-time job vacancies. Popular job portals in Poland include Pracuj.pl, Jobs.pl, and OLX.pl. These platforms allow you to search for jobs based on location, industry, and desired work schedule.   
University Notice Boards: Check bulletin boards and notice boards in the university. Often, job opportunities targeted at students are posted there. These include research assistant positions, tutoring opportunities, or administrative roles within the university.    
Networking: Tap into your network and inform them that you are seeking part-time employment. They may be aware of job openings or can refer you to relevant contacts. Attend university events, career fairs, and industry seminars to expand your professional network.    
Social Media and Online Groups: Join social media groups and communities focused on part-time jobs in Poland. These groups share job postings, provide advice, and facilitate connections with potential employers.    
Language Schools: As an international student, your language skills can be an asset. Language schools often seek native speakers or bilingual individuals for language learning. Explore opportunities to utilize your language abilities while earning income.   
Freelancing and Online Platforms: Consider freelancing opportunities that allow you to work remotely. Websites like Freelancer, Fiverr, etc offer a range of freelance projects in various fields.  
How Much Can Students Earn in Poland?
Part-time job opportunities in Poland typically offer hourly wages. The exact hourly rate can vary depending on the job's nature and the student's qualifications. On average, students can expect to earn between 2.7-4.5 EUR* per hour or more, depending on the industry and skill requirements. Top cities in Poland offer higher wages. 
According to Wageindicator, as of January 2023, the minimum wage in Poland is 5.12 EUR* per hour and 783 EUR* per month. Jobs that need special skills or qualifications, such as IT, graphic design, or language teaching, may offer higher hourly rates. According to Statista, the majority of students working in Poland generally earn around 670-900 EUR* per month. It's also important to note, Poland being a student-friendly country exempts all young workers under the age of 26 from paying taxes. 
*Costs in EUR are converted to 1 PLN = 0.22 EUR. Current exchange rates fluctuate periodically. 
Conclusion 
In conclusion, it's a great option to Work and study in Poland. Such an experience opens doors to a range of benefits for international students. Part-time offers valuable work experience, enhances employability, and allows for cultural immersion.  By embracing part-time work opportunities, students can enrich their educational experience. They can build a professional network and lay the foundation for a successful future career. In addition to that, international students must stay updated on any changes in the regulations and seek advice from their universities or relevant authorities regarding their specific circumstances. 
By staying proactive, resourceful, and adaptable, you can make the most of your time in Poland.  For more information regarding how to study and work in Poland, feel free to reach out to our admission counseling experts at Gyanberry. You can also schedule a free video call with our experts.