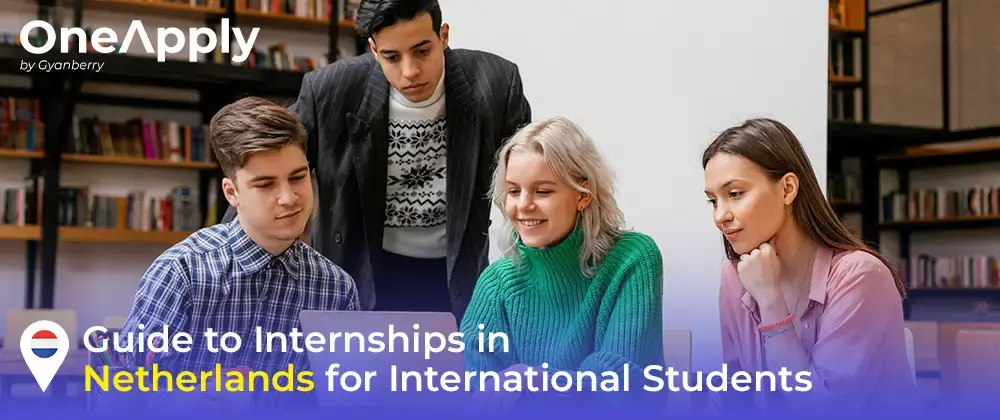 The Netherlands has long been established as a hub for quality international education, renowned for its world-class universities, diverse cultural landscape, and numerous opportunities for international students to grow and prosper. There are also a plethora of internship opportunities in the Netherlands for international students. Internships are offered either as part of the study program or independently by companies to enrich your learning experiences and pave the way for career growth. Whether you are an aspiring engineer, an entrepreneur, or an art enthusiast, the Netherlands is a great destination for finding fruitful internships to build your ambitions. 
Interning in the Netherlands not only allows you to gain practical skills and industry exposure but also provides a gateway to immersing yourself in the country's vibrant culture, great student cities, and progressive society. In addition, you can earn some money while studying to offset the cost of living in the Netherlands.  In this article, we will explore the exciting internship landscape for international students in the Netherlands, shedding light on the benefits, requirements, and avenues available to pursue these invaluable opportunities.
Why do an internship while studying in the Netherlands? 
Gain practical experience: Internships provide you with an opportunity to gain practical experience in your field of study. These can help you to develop the skills and knowledge necessary to succeed in your future career path. 
Build professional networks: Internships allow you the opportunity to build professional networks and connect with potential employers in their field.
Cultural immersion: Interning in the Netherlands can provide international students with an opportunity to immerse themselves in Dutch culture and gain a deeper understanding of the country's working environment and customs.
Enhance language skills: For non-native speakers of Dutch, interning in the Netherlands can provide an opportunity to improve their language skills and gain confidence in communicating with native speakers.
Boost employability: Internships can help you to stand out to potential employers and demonstrate your commitment to the field of study. This can drastically improve your chances of securing a job after graduation.
Types of Internships in the Netherlands 
There are various types of internships in the Netherlands for international students that cater to different interests, career paths, and educational backgrounds. Here are some common types of internships you can come across in the Netherlands:
Academic Internships: Many universities in the Netherlands offer academic internships as part of their degree programs. These internships are designed to complement students' academic studies and provide practical experience in their chosen field. Academic internships often involve research projects, lab work, or assisting faculty members with ongoing research.
Professional Internships: Professional internships focus on providing students with hands-on experience in a specific industry or sector. These can be found in various fields such as finance, marketing, engineering, technology, hospitality, and more. These internships are typically offered by companies and organizations and are aimed at helping students gain practical skills, industry knowledge, and exposure to real-world work environments. 
Research Internships: Research internships are common in scientific and academic settings. These internships involve working on research projects, assisting with data collection and analysis, and collaborating with researchers and scholars
Non-Profit and NGO Internships: Many non-profit organizations and non-governmental organizations (NGOs) in the Netherlands offer internships focused on social causes, sustainability, human rights, or community development. 
Government and Public Sector Internships: The Dutch government and public sector organizations also offer internships in various departments, including policy development, public administration, international relations, and public service.
Cultural and Arts Internships: The Netherlands has a thriving cultural and arts scene. Students interested in fields such as museums, galleries, theater, music, and arts management can find internships in cultural institutions, event organizations, or creative companies.
Some of the most popular areas for internships include:
Engineering and Technology

Business and Finance

Engineering

Arts and Culture

Science and Research

Hospitality and Tourism
Where to find internships in the Netherlands? 
University career services: Most universities in the Netherlands have career services offices that can help students find internships and provide advice on the application process.
Online job boards: There are several online job boards that list internship opportunities in the Netherlands, including websites like Indeed.nl, Glassdoor.nl, and LinkedIn.
Company websites: Many Dutch companies list their internship opportunities on their own websites. Visit the career sections of these websites to search for available positions.
Internship-oriented platforms: Utilize online platforms like ErasmusIntern.org, Intern Abroad, and Nuffic's internship database to discover internship opportunities specifically catered to international students in the Netherlands.
Professional organizations: Joining professional organizations in your field of study can be a valuable way  to connect with potential employers and find internship opportunities.
Personal networks: International students can also leverage their personal networks, including classmates, professors, and alumni, to find out about internship opportunities and make connections in their field.
Work Permit and Other Requirements 
Work Permit:

International students with a valid residence permit, enrolled in a study program in the Netherlands, do not need a work permit to do an internship. For post-study internships and job opportunities in the Netherlands, you do need a

post-study work permit.

  
Internship agreements

: Students need to sign a tri-party internship agreement that must be co-signed by their employer and educational institution.

Employer sponsorship

: Your prospective employer or educational institution must act as your sponsor and submit the necessary documentation to the Dutch Immigration and Naturalization Service (IND) for the work permit application, in case you do need a work permit.

Financial requirements

: In some cases, you may need to provide proof of sufficient funds to support yourself during your internship.
Salary Expectations for Internships in the Netherlands 
The salary for internships in the Netherlands can vary depending on various factors such as the industry, company size, location, and level of responsibility. It's important to note that internships are often designed to provide students with practical experience rather than high-paying positions. Unlike part-time jobs in Netherlands, internships are not always paid. However, some internships may offer financial compensation or benefits to cover living expenses.
Here are some general types of internships in the Netherlands on the basis of the salaries provided: 
Unpaid Internships

: Some internships might be unpaid or offer only a small amount of stipend to cover basic expenses such as meals and transportation. 

Minimum Wage

: If an internship is considered a work placement by the educational institution, it may be subject to minimum wage regulations. In 2023, the minimum wage in the Netherlands is around 14.50 EUR. 

Paid Internships:

Certain internships like technology, finance, consulting, etc might pay more than the average internship and in many cases offer monthly salaries in the range of 500 – 1000 EUR. However, these higher-paying internships are often competitive and may require specific skills or experience.
Conclusion 
Embarking on an internship in the Netherlands as an international student can open doors to valuable experiences, personal growth, and future career prospects. By understanding the internship landscape, work permit requirements, and avenues for securing these opportunities, you can make the most of your time in this vibrant country. An internship can help you gain professional experience, cultural insight and go a long way in building your career trajectory. For more information regarding the same, contact the experts at Gyanberry.