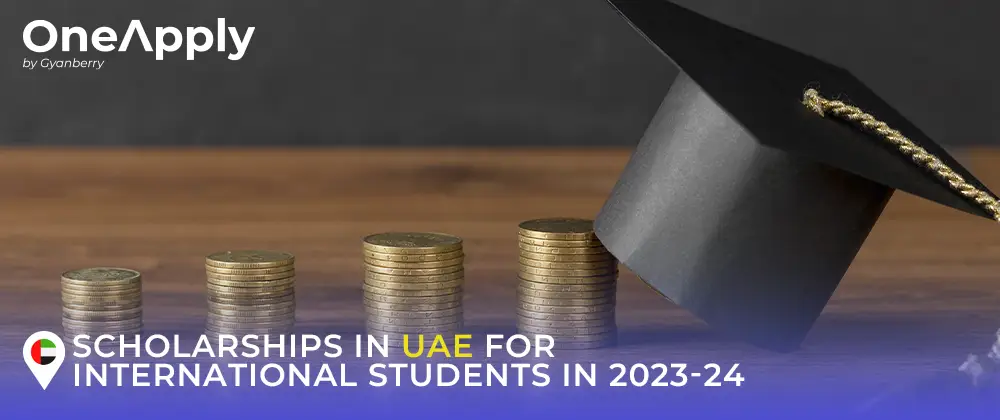 Scholarships in the UAE for International Students in 2023-24 are available to support their educational costs. In this blog, we'll discuss a few scholarships you may apply for to study in the United Arab Emirates, along with the qualifications you need to qualify, how to apply, and the deadlines. With this knowledge, you may begin the process of applying for a scholarship to fund your education in the UAE.
In UAE students may study various academic subjects and get significant international experience in a secure and hospitable town with cutting-edge facilities, famous institutions and colleges, and welcoming locals. Excellent prospects for professional and personal development are also provided by the UAE's advantageous location, high standard of living, and robust economy are some of the reasons to study in the UAE.
As reported by Khaleej Times Nowadays, 34 foreign higher education institutions in Dubai offer more than 600 programs, with 28% of the students, or one in every four, coming from countries other than the United Arab Emirates. More than 29,000 students are enrolled in university programs at Dubai's foreign higher education institutions, which recorded an annual enrollment gain of 3.6%. However, education in UAE becomes costly at times. Thankfully, international students studying in the UAE can apply for several scholarships, some of which are listed here.
Khalifa University President's Scholarship
A highly competitive program at Khalifa University called the President's Scholarship gives exceptional international students the chance to pursue undergraduate and graduate education. The program aims to create future leaders who will support the UAE's sustainable growth and economy.
Eligibility and Amount
Depending on the high school curriculum they are applying from, overseas students from outside the United Arab Emirates must acquire competitive scores (i.e., SATs, APs, IGSCEs, IB Curriculum, or any other international curriculum).

Although there are few chances available, scholarships are very competitive, therefore completing the minimum requirements is not a guarantee that you will receive one.

At Khalifa University, there isn't a separate application to fill out for scholarships. Your scholarship eligibility will be evaluated using the information from your admissions application.

To qualify for the President's Scholarship, students must maintain a cumulative GPA at Khalifa University of 3.3 or above.
| | | |
| --- | --- | --- |
| CGPA | Scholarship College of Engineering Percentage of Tuition fee awarded | Scholarship College of Science Percentage of Tuition fee awarded |
| CGPA ≥3.3 | 100%  | 100% |
| CGPA 3.0-3.29 | 75%  | 75% |
| CGPA 2.0-2.99 | 50%  | 50% |
| CGPA <2.0 | 0%  | 0% |
Hamdan Bin Mohammed Smart University Tuition Remission For Outstanding Learners
Outstanding students at Hamdan Bin Mohammed Smart University who score a cumulative GPA of 3.6 or better are eligible for tuition remission. This initiative, which pays up to a respectable percentage of the tuition for the upcoming semester, aims to encourage and reward academic success among students.
Eligibility and Amount
For the first semester they are enrolled in, all newly accepted undergraduate students who have finished their high school diploma and who have attained a minimum

grade point average of 90%

are eligible for a tuition remission of

20% of the program's tuition

charge.

A continuing full-time undergraduate student who earns a minimum

GPA of 3.60

out of 4.00 in a given semester with a minimum course load of 15 C/Hrs is eligible for a

15% tuition fee

refund for the normal semester they will enroll in after that.

The

tuition waiver of 20% of the registration fees

for the first semester of enrollment is available to all newly officially admitted students to postgraduate programs (Master degrees) who have demonstrated academic excellence in their undergraduate studies by earning a minimum cumulative grade average of

3.60 out of 4.00

or its equivalent. 

A continuing full-time Postgraduate student who completes the semester with a minimum

GPA of 3.70 out of 4.00

and a minimum course load of 9 C/Hrs is eligible for a

15% tuition fee refund

for the regular semester in which they will enroll.

A continuing full-time postgraduate student (Ph.D.) who earned a minimum

GPA of 3.70 out of 4.00

in a given semester with a minimum academic load of 9 C/Hrs is qualified for a

15% tuition fee waiver

for the subsequent normal semester in which he or she would enroll 
Higher Colleges of Technology Awards and recognition
The Higher Colleges of Technology recognizes the outstanding achievements of its students through a variety of honors and prizes. These awards encourage the students to pursue greatness by serving as a reward for their effort and commitment to their studies. This is a list of some of the honors.
Chancellor's Awards
Awarded to students who, throughout their last academic year, have contributed the most to college life while maintaining a grade point average (GPA) of 3.0 or above during each semester.
Director's List
Given to students in the Directors List at the appropriate universities who are in good standing. A GPA of 3.5 or above is required for students to be included on the list.
Rashid Award
Depending on the standards established by the Rashid Awards Committee graduates with Distinction with Honors from any program may also qualify for the Rashid Award and the accompanying recognition.
Industry Awards
Several prizes are provided by certain businesses for excellent program graduates.
Model Student of the Month Award
Awarded to students for achievements beyond the classroom, including forms of courtesy, perseverance in the face of adversity, and commitment to the community via volunteers at all various universities.
Sorbonne University Abu Dhabi Academic Excellence Scholarships
Sorbonne University offers significant grants called the Academic Excellence Scholarships. Outstanding overseas students who have shown extraordinary academic ability and promise are given these scholarships. The scholarships' goals are to encourage academic achievement and aid students in continuing their education at Sorbonne University.
Eligibility and Amount
Following the guidelines below, new hires with stellar high school grades are qualified. They are eligible to apply for the 25%-75% academic excellence scholarship program beginning with the second semester.
90% in the advanced stream or 95% in the general stream at government institutions.

American system: a minimum average of 90% and CGPA of 3.6 out of 4.0.

British system: "A" grade or better in three "AS-Level" subjects or "A" in the corresponding "A-Level" subjects, in addition to a "B" grade or higher in six "O" level courses.

A minimum average of 85% for SABIS.

International Baccalaureate: IB diploma requires a minimum overall score of 5 out of 7; three of those topics must be at the upper level.

A minimum average of 14 out of 20 for the French Baccalaureate.
Scholarships, Fellowships, and Graduate Assistantships by United Arab Emirates University
United Arab Emirates University (UAEU) which is one of the best medical universities in UAE offers a range of scholarships in the UAE for international students. These include scholarships, fellowships, and graduate assistantships. The scholarships and fellowships are designed to support outstanding students with academic merit and potential, while the graduate assistantships offer opportunities for students to gain professional experience and financial support while pursuing their studies.
Merit Fellowship Award
Students must continue their academic achievement at the UAEU and have strong academic credentials to be eligible for the Merit Award. The Merit Fellowship Award provides eligible students with financial aid in the form of a partial tuition waiver. Priority will be given to students in STEM fields and the critical sectors of the economy (renewable energy, transportation, health, water resources, technology, and space). 
Eligibility and Amount
Have a GPA of 3.8 or above and be in excellent academic standing.

Keep your GPA between 3.8 and 4.0 while attending UAEU.

have not received any additional financial support 
Selected students will receive a 50% discount on tuition fees
Graduate Research Assistantship (All Nationalities)
Graduate students who want to conduct research projects under the guidance of faculty members can apply for research assistantships. An applicant must first apply to and be accepted into a Master's or Doctoral program at UAEU to be considered for a research assistantship.
Eligibility and Amount
You must be enrolled full-time at UAEU as a graduate student.

You must be in good academic standing (GPA of 3.0 or 4.0).

Have no other sources of funding.
A monthly Stipend. The sum is based on the budget for the research grant.
Ph.D. Scholarship (All Nationalities)
With the help of the "Ph.D. Scholarship," UAEU hopes to attract high-achieving graduate students in certain majors and offer them complete, ongoing financial assistance so they may continue their graduate studies there.
The Ph.D. Scholarship Grants are determined by a competitive process that considers the candidates' qualifications (such as GPA, journal articles, conference presentations, patents, GRE scores, reference letters, etc.), as well as their academic background.
Eligibility and Amount
Have a master's GPA equal to or higher than 3.5/4.0.

possess neither a job nor any other form of financial support.

possess a dissertation in a UAE key industry (Renewable Energy, Transportation, Health, Water, Technology, Space).
This program offers a full tuition waiver, a monthly stipend, and if required, health insurance. Also, there are other bonuses available, such as up to AED 3,000 from an external research project conducted by a supervisor or up to AED 2,000 from an internal research project conducted by a supervisor. These extra benefits may help students with their financial assistance while they pursue their research goals.
American University of Sharjah Grants and Scholarships
For highly qualified students with limited financial means, AUS has set aside money. Regardless of their race, color, gender, religion, or country of origin, accepted students are eligible to apply for a financial grant.
Chancellor's Scholars Award
The American University of Sharjah (AUS) offers the coveted Chancellor's Scholars Award to newly accepted students who satisfy particular academic, personal, and financial requirements.
Eligibility and Amount
Submit an essay outlining your extracurriculars, skills, extracurriculars, and projected contributions to AUS.

Display exceptional character traits and leadership prowess in your neighborhood and at school.

Have produced works of literature or science for the community.

Gotten distinctions or medals from your community or school.

Have participated in extracurricular activities at school and in the community.

Have minimal financial means and uphold an average of 95 percent or above in the last three years of secondary school.
The scholarship grant covers somewhere between 75% and 100% of the cost of tuition, lab fees, and housing.
AUS Merit Scholarships
Students at the American University of Sharjah (AUS) who have excelled academically are eligible for the AUS Merit Scholarships, which are academic awards. These scholarships are given out based on academic performance and are intended to help students continue their studies.
Eligibility and Amount
Academically competent students with a high school GPA of at least 90% are eligible for various Merit Scholarships from AUS (ranging from 10 to 30 percent of tuition and lab fees). Merit Scholarships are immediately awarded when the admission application is being processed. No additional application is necessary.
University of Abu Dhabi Academic Scholarship
The scholarship and financial assistance program of Abu Dhabi University is a testament to their dedication to academic achievement and advancing the UAE. No matter their financial status, deserving students may participate in the program and pursue their educational goals while making a positive contribution to society. One of the main components of Abu Dhabi University's plan to accomplish this objective is the academic scholarships they provide.
Eligibility and Amount
Students who have been enrolled for at least two semesters and have a cumulative grade point average (CGPA) of at least 3.60 are eligible for this grant.

The academic scholarship will be valid for as long as the student maintains full-time enrollment at ADU (registered with a minimum of 12 credit hours)

 It entails a 20% tuition fee remission for continuing Abu Dhabi University students. 
Conclusion
For the academic year 2023–2024, there are several scholarships available to overseas students studying in the UAE. The UAE's dedication to academic success and supporting students from all backgrounds are reflected in these scholarships, which offer financial aid to students seeking higher education. International students can locate the ideal scholarship to support their academic endeavors and realize their educational and career objectives in the UAE with diligent study and planning.
Many students have benefited from our admission counseling services in getting into the colleges of their choice and getting scholarships. Make an appointment with one of our professionals to learn more about scholarships in the UAE for international students.