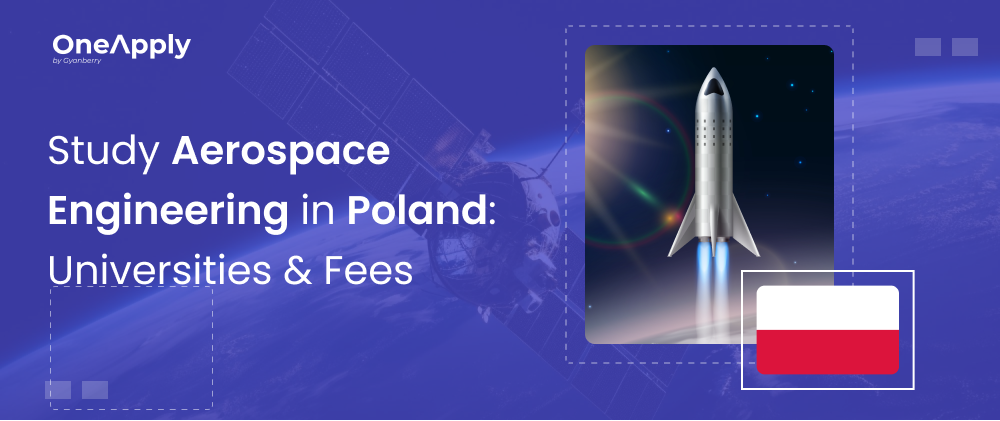 Poland has emerged as a rising star in the field of aerospace engineering, offering world-class education and research opportunities to eager learners. With a strong commitment to technological advancement and a rich history of aviation achievements, the country provides an ideal environment for students to pursue their aerospace careers. Pursuing aerospace engineering in Poland can open many doors for you worldwide. 
If you are interested in a career in aerospace engineering, Poland is the place to be. Although there aren't many programs offered, the quality of the offerings more than makes up for it. These programs are taught by experienced and qualified faculty, and they use state-of-the-art facilities. 
Poland is home to a thriving aviation industry. The Polish airline LOT is one of the oldest and most respected airlines in Europe, and the Polish aerospace company PZL Mielec is a leading manufacturer of aircraft components. Poland is also home to several research and development centers that are working on the development of new aircraft technologies. 
In this article, we will explore the nitty-gritty of pursuing aerospace engineering in Poland. Find out the best programs, universities, tuition fees, and more.  
Overview of Aerospace Engineering in Poland 
No of Programs 

5 

No of Universities 

3 

Degrees Offered 

BSc, MSc 

Duration of Study 

Bachelor's: 3.5 years 

Master's: 1.5 years 

Average Tuition Fees 

Bachelors: 3,000-4,000 EUR

Master's: 3,500-4,000 EUR
Why Study Aerospace Engineering in Poland?
Quality Education: Poland is home to esteemed universities that provide a high standard of education in Aerospace Engineering. These institutions are known for their academic excellence, cutting-edge research, and experienced faculty, ensuring students receive a top-notch education.
European Space Agency (ESA) Affiliation: As a member of the European Space Agency (ESA), Poland actively participates in ESA's space missions and projects. This affiliation opens doors for students to engage in cutting-edge space research and be part of international aerospace endeavors.
Affordability: Compared to other study destinations, Poland offers relatively affordable tuition fees and living costs for both domestic and international students. This cost-effectiveness ensures that students can pursue their academic goals without undue financial burden. Additionally, Polish universities offer several scholarships for international students. 
Interdisciplinary Focus: Aerospace engineering programs in Poland are designed to be interdisciplinary, encompassing the design, development, testing, and manufacturing of aircraft, spacecraft, satellites, and missiles.
Diverse Course Offering: The undergraduate courses in aerospace engineering at Polish universities cover a wide range of subjects, including Physics, Dynamics, Thermodynamics, Engineering Mathematics, Aircraft Design, Structure, and Materials, among others.
Exciting Career Opportunities: Completing your aerospace engineering degree in Poland opens doors to a myriad of career opportunities. Graduates can find roles in diverse fields, including the armed forces, airline companies, aviation authorities, and more. 
Best Aerospace Engineering Programs in Poland 
Warsaw University of Technology 
The Warsaw University of Technology (WUT) stands tall as one of Poland's premier engineering institutions, boasting a rich history of over 200 years of academic excellence. The university offers a wide array of engineering disciplines, there are over 20 courses on offer including mechanical, electrical, civil, and computer engineering, among others. Warsaw University of Technology's Faculty of Power and Aeronautical Engineering (MEiL) offers two comprehensive Aerospace Engineering programs. Established in 1960 by merging the Faculty of Aviation and the Faculty of Mechanics and Constructions, MEiL provides students with a strong foundation in mechanics, thermodynamics, materials, manufacturing technology, and basic electronics. The Aerospace Engineering program equips students with in-depth knowledge of aeronautical systems, flight mechanics, propulsion systems, materials for aerospace technologies, and rotorcrafts.
| | | |
| --- | --- | --- |
| Program Name  | Duration of Study  | Tuition fees (2023/24) |
| BSc in Aerospace Engineering | 3.5 years  | 4,000 EUR  |
| MSc in Aerospace Engineering | 1.5 years | 4,000 EUR  |
Suggested Read: Top 3 Aeronautical/Aerospace Engineering Universities in Netherlands
Military University of Aviation (Polish Air Force Academy)
The Military University of Aviation in Dęblin is a public military academy that has been providing education for pilots and candidates for professional soldiers for almost 95 years. In 2009, the university started admitting civilian students. The primary focus of the university is to meet the needs of the Polish Armed Forces. However, it also collaborates with the Ministry of Science and Higher Education, as well as the Ministry of Transport, Construction, and Maritime Economy to educate civilian students. The university offers undergraduate and postgraduate courses in various fields, including Aeronautics and Aerospace, Navigation, National Security, and Logistics. Specializations for the MSc program in aviation and aeronautics include Pilotage of Aircraft (jet pilots; cargo pilots; helicopter pilots), Unmanned Aerial Vehicles (UAV), and Target Pointing (UAV pilot-operator).
| | | |
| --- | --- | --- |
| Program Name  | Duration of Study  | Tuition fees (2023/24) |
| BSc Eng. in Aviation and Aeronautics (Polish) | 3.5 years  | 3,000 EUR  |
| MSc Eng. in Aviation and Aeronautics (Polish) | 1.5 years | 3,500 EUR  |
Suggested Read: Best Aerospace/Aeronautical Engineering Universities in Canada
Rzeszów University of Technology
Rzeszów University of Technology, founded in 1951, is a public university located in Rzeszów, southeastern Poland. It started as a vocational school of engineering and has since evolved into a comprehensive university offering various courses.  The university caters to approximately 17,000 students across different levels of study, including bachelor, master's, and Ph.D. programs. Among its unique offerings, the Faculty of Mechanical Engineering and Aeronautics stands out as the only institution in Poland providing training for civil aviation pilots since 1976. Graduates of this program receive an MSc in Aeronautical Engineering and a 2nd Class (CPL) pilot's license, which meets European requirements for obtaining an airline pilot license (ATPL). The MSc program at the university is offered in Polish. 
| | | |
| --- | --- | --- |
| Program Name  | Duration of Study  | Tuition fees (2023/24) |
| MSc in Aviation and Astronautics | 1.5 years  | 3,500 EUR  |
Suggested Read: Top Aerospace Engineering Universities
Admission Requirements for Aerospace Engineering in Poland
Bachelor's 
Applicants should have a high school diploma or equivalent, demonstrating completion of secondary education.

English language proficiency certification (IELTS – 6.5, TOEFL iBT-87).

Since Aerospace Engineering is a technical field, a strong background in mathematics and science subjects (e.g., physics) is typically required. Some universities may have specific minimum grade requirements in these subjects.

Academic transcripts 
Master's 
To pursue a master's in aerospace engineering, applicants must have a bachelor's degree in a related field, such as mechanical engineering, aerospace engineering, or a similar discipline.

English language proficiency certification (IELTS – 6.5, TOEFL iBT-87).

Some universities have specific GPA requirements for admission to master's programs.

Depending on the university and program, applicants may be required to submit GRE (Graduate Record Examination) or GMAT (Graduate Management Admission Test) scores.

Some master's programs may consider relevant work experience in the aerospace industry as a favorable factor during the selection process.

Academic transcripts. 
Job Opportunities for Aerospace Engineering Graduates in Poland 
Aerospace engineering is a growing field in Poland, and there are many job opportunities available for graduates. Some of the most common industries that hire aerospace engineers in Poland include:
Airlines: Airlines are always looking for skilled aerospace engineers to design, develop, and maintain aircraft.
Defense: The Polish defense industry is also a major employer of aerospace engineers. Aeronautical engineers work on a variety of projects, including designing and developing military aircraft.
Research and development: Aeronautical engineers are also in high demand in the research and development sector. They work on a variety of projects, including developing new aircraft technologies.
In addition to these industries, there are also several smaller companies in Poland that hire aerospace engineers. These companies may specialize in a particular area of aerospace engineering, such as aircraft design, manufacturing, or maintenance. According to Salaryexplorer, the average salary for an aerospace engineer in Poland is around 109,560 PLN (~24,600 EUR) per year. An entry-level aerospace engineer earns around 4,380 PLN (~990), whereas a senior engineer can earn upwards of 14300 PLN a month(~3,200 EUR). 
Note: The tuition fees and other costs mentioned are converted based on 1 PLN = 0.23 EUR. The exchange rates are subject to change from time to time.
Conclusion
In conclusion, studying aerospace engineering in Poland offers an excellent opportunity for aspiring aerospace engineers to acquire a world-class education and embark on a promising career in the aerospace industry. The country's esteemed universities, modern facilities, and experienced faculty ensure a comprehensive and practical learning experience that equips students with the necessary skills and knowledge to excel in their chosen field. Choosing to study aerospace engineering in Poland opens the door to a world of possibilities and sets the stage for a successful and fulfilling career in the ever-evolving aerospace industry. Embrace the opportunity to study aerospace engineering in Poland, where innovation knows no bounds. For more information regarding the same, reach out to us at Gyanberry, and book a free video call with our admission experts right now.