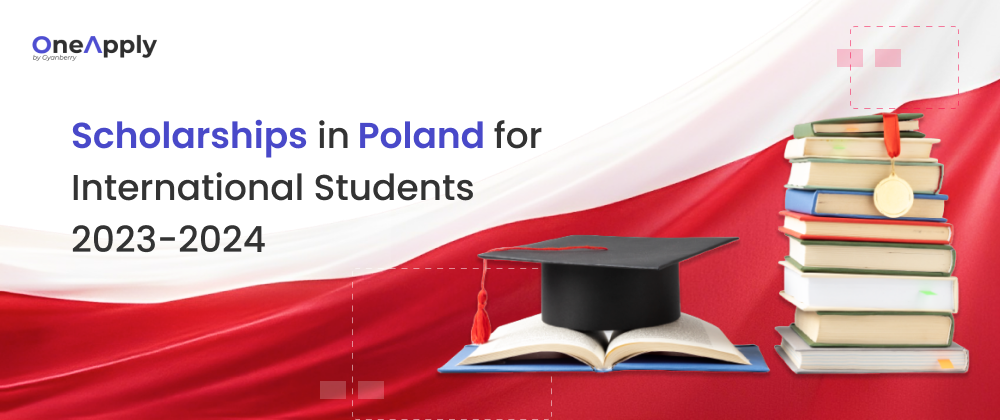 Poland, renowned for its thriving academic landscape is a haven for international students. With its rich history and excellent academic institutions, Poland offers a rewarding experience. The sheer amount of scholarships for international students in Poland is one of the most attractive parts of pursuing an education in the country. Recognizing the importance of attracting global talent, Poland offers many scholarships. In 2020 the Polish National Agency for Academic Exchange (NAWA) awarded 2,500 scholarships. Scholarships in Poland not only provide financial help in terms of reducing living costs but also lead to cross-cultural exchange. 
In this article, we will explore the scholarship programs available in Poland. We will also highlight their benefits, eligibility, and more.
Types of Scholarships in Poland
There are several types of scholarships available for international students in Poland. These scholarships cater to different needs and requirements, to cover a large demographic. Here are the main types of scholarships you can consider:      
Government-funded scholarships: The Polish government offers a range of scholarships to international students. They generally cover tuition fees, living expenses, and sometimes travel costs.   
University-specific scholarships: Many universities in Poland have scholarship programs. These scholarships are based on academic achievements or some specific criteria. They can provide partial or full funding for your education.
Popular Scholarship Programs in Poland
Banach Scholarship Programme 
This is a prestigious scholarship offered by NAWA. It is designed for students who wish to pursue master's degrees in Poland. The Program supports second-cycle studies in the fields of engineering, sciences, and humanities. It is the most prominent scholarship program offered by the Polish government. Second-cycle degree programs require a preparatory course to facilitate undertaking studies in Poland. The preparatory course is also covered under the scholarship. It aims at teaching students the Polish language, and culture. It also provides introductions to the courses chosen by the student.  
In 2021, out of 2,049 applications from 32 countries, 300 people got financial aid. The scholarship is open to candidates from countries other than Poland. However, the program is mainly aimed at students from developing countries. It covers 12 months in an academic year, starting from the preparatory course. Applicants must hold a higher education diploma to be eligible for the program. They should also meet the specific requirements of the university.
Benefits: 
The scholarship covers the full exemption from tuition fees. Recipients of the scholarship get 380 EUR per month during the preparatory course. They get 330 EUR per month during second-cycle studies. 

Students also receive, the first monthly scholarship increased by 225 EUR. In the last year of studies, the last monthly scholarship increased by 110 EUR.
Suggested Read: Scholarships in Hungary for International Students 
Ignacy Łukasiewicz Scholarship Programme
This Program is an initiative of the Ministry of Foreign Affairs and the NAWA. The program is named after Ignacy Łukasiewicz, a prominent inventor in Poland. The Program aims to support the growth of developing countries. Participation in the Program allows students to undertake a Master's degree in Poland. The program supports the following areas of study: engineering, and the sciences.     
Benefits    
The scholarship covers the full exemption from tuition fees.   

Recipients of the scholarship get 380 EUR per month during the preparatory course. They get 330 EUR per month during second-cycle studies.
Suggested Read: Scholarships in Italy for International Students in 2023
Erasmus Mundus Joint Masters Scholarships 
The Erasmus program, known as Erasmus+, is an initiative of the European Union. It aims to promote international mobility and collaboration in higher education. International students can take part in the program to study in Poland. Students from the EU, EFTA/EEA countries, can apply for the program.  The duration of an Erasmus study period in Poland typically ranges from 3 to 12 months for each study cycle. To take part, students should contact their home institution's international office. The program allows students to study at a Polish HEI. The Polish HEI should be in a bilateral agreement with their home institution.  
Benefits:     
Tuition fee waiver at the host institution, given it is a public HEI.   

A monthly grant to cover living expenses.
Suggested Read: Guide to Netherlands Scholarships for International Students
Visegrad Scholarships  
The Visegrad Scholarships aim to support education from the Visegrad Group countries. These include the Czech Republic, Hungary, Poland, and Slovakia. These scholarships provide opportunities for international students to study in Poland. Visegrad Scholarships support master's and postgraduate studies in various fields of study. These include humanities, social sciences, natural sciences, engineering, and more. These scholarships also support short-term study visits, research stays, or full-degree programs. Benefits: The Visegrad Scholarships provide financial support to selected students. It covers a range of expenses, such as tuition fees, travel costs, and living expenses. The specific benefits depend on the duration and type of mobility program.
Suggested Read: Scholarships in UAE for International Students in 2023-24
CEEPUS
Central European Exchange Program for University Studies promotes academic cooperation in Central Europe.  Polish universities actively take part in the program. They offer opportunities for international students to study in Poland. CEEPUS scholarships support short-term student mobility. This usually involves support for one or two semesters at a host institution. The program covers a wide range of disciplines, including humanities, social sciences, etc. CEEPUS generally provides financial support to students for mobility periods. These include monthly scholarships to cover living expenses, travel allowances, and health insurance.
Suggested Read: Fully-Funded Scholarships in Canada for International Students
University Specific Scholarships 
In Poland, there are various university-specific scholarships available for students. These are offered by individual universities and cater to different fields of study. They provide financial support to students, to pursue their education and research goals. These scholarships cover tuition fees, living expenses, travel costs, and even research grants. Each university has its own eligibility criteria and application process. It is important to research and explore the programs offered by different universities. Prominent institutions regularly provide such scholarships. These include the University of Warsaw, Warsaw University of Technology, Jagiellonian University, etc. 
Suggested Read: Scholarships in Ireland for International Students in 2023-24
Tips While Applying for Scholarships in Poland 
Research available scholarships: Check with universities, government agencies, and organizations that offer scholarships. 
Determine your eligibility: Carefully review the eligibility criteria for each scholarship. Ensure that you meet the specific requirements outlined by the scholarship provider.  
Plan and apply early: Give yourself ample time to prepare your application. Scholarships often have strict deadlines, so it's essential to plan.  
Prepare a strong application: Pay attention to the application requirements and necessary documents. Tailor your application to highlight your academics and any relevant achievements. Make sure your application is well-organized, error-free, and showcases your strengths.  
Polish language skill: Some scholarships require a certain level of Polish language proficiency. If you want to apply for Polish exclusive scholarships, consider improving your Polish. This can increase your chances of eligibility and integration into the academic environment.   
Seek guidance: Reach out to the international student office for advice and support. They can provide valuable information about scholarships, and any extra requirements.  
Follow instructions and be thorough: Read and follow the application instructions carefully. Ensure that you provide all the required information and complete the application form. 
Personal statement: Your statement must showcase your motivation and goals. Articulate your academic aspirations, and how the scholarship will help you move forward.  
Apply for many scholarships: Increase your chances by applying for many scholarships. Cast a wide net and explore different programs that align with your needs.  
Follow up and stay organized: Keep track of the application status, regularly.  If required, respond promptly to any requests for extra information or documents.
Conclusion 
Studying in Poland can provide international students with a world-class education and a truly enriching experience. With a wide range of scholarships available, pursuing higher education in Poland is more accessible than ever. By understanding the different types of scholarships, meeting the eligibility criteria, and preparing a strong application, you can increase your chances of receiving a scholarship and embarking on an exciting educational journey in Poland. So, take advantage of the opportunities offered by scholarships in Poland and open the door to a world-class education. For more information, reach out to our admission experts at Gyanberry, you can also book a free video call with us.