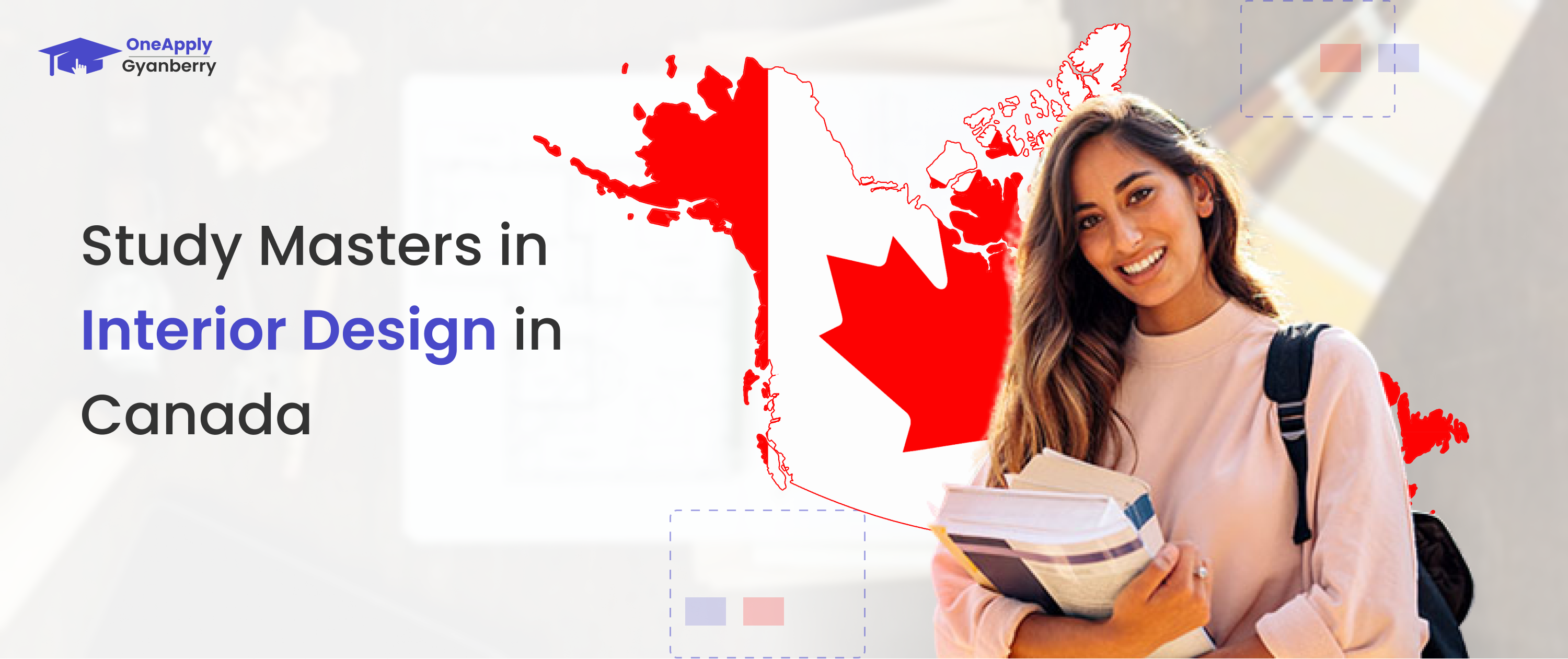 In Canada, there are many institutions that offer master's degrees in interior design. International students frequently choose to submit applications for master in interior design in Canada in order to pursue profitable jobs through a combination of practical experience and academic study. You can take advantage of co-ops, remote tutoring, and practical learning opportunities at Canada's top design schools.
The overall course cost for getting a PG degree in interior design at Canada's top universities may range from 11,000 to 40,000 CAD. Interior designers often earn between 40,000 and 55,000 CAD per year in Canada.
Canada, which welcomes more than 600,000 international students, is renowned for providing top-notch education at reasonable tuition costs with degrees recognized worldwide. Canada stands out as a popular study-abroad destination for international students when you combine it with a high standard of living, abundant post-study employment options, and immigration opportunities. Moreover, there are many student-friendly cities in Canada that attract thousands of international students.
Overview: Masters in Interior Design in Canada
| | |
| --- | --- |
| Program Level | Postgraduate  |
| Duration of Program | 1-2 years |
| Annual Fee | 11,000- 40,000 CAD |
| Entrance Exams | Nil |
Why Choose Canada to Study Interior Design?
Canada's interior design sector is currently expanding significantly on a professional level. Let's examine why many foreign applicants are admitted to renowned interior design universities in Canada.
Growth of the Market for Interior Design
The Canadian interior design market is anticipated to expand significantly by 2025, creating countless opportunities for both domestic and international students.
Excellent Career Prospects
Numerous studies have determined that the interior design industry in Canada will experience an increase of up to 12,000 employment vacancies.
Quality Education 
Canada is renowned for providing exceptional educational opportunities and the highest academic standards in the world to overseas students. The top interior design schools in Canada are particularly renowned for their innovative methods and practical training.
A Successful Return on Investment
The average yearly wage after graduation has been reported to be 57,765 CAD, according to a study by Indeed.Com, ensuring a profitable investment. International students can also apply for scholarships that are available to those interested in interior design.
Best Institutes to Study Masters in Interior Design in Canada
Many Canadian universities offer master's degrees in interior design, and these universities are incredibly cutting-edge and progressive in their methods. These universities' curricula are created in a way that shapes the students for the field. The following list includes some of the best Canadian universities that offer master's degrees in interior design. 
| | |
| --- | --- |
| University Name | QS Ranking -World 2023 |
| University of Northern British Columbia | 1201-4000 |
| LaSalle College | 1201 |
| University of Manitoba | 651-700 |
| Humber College | 1423 |
| Bow Valley | 7685 |
Average Expense of a Masters in Interior Design in Canada
The cost of a master's in interior design at the best Canadian colleges ranges from CAD 11,000 to 40,000 annually. The following section provides a brief overview of the overall cost of an interior design master's degree at Canadian universities. The cost of living in Canada ranges from 10,000 to 15,000 CAD annually.
The table below shows the annual tuition for some of the well-known interior design programs provided by Canadian institutions.
University Name
Program
Duration
Annual Tuition Fee in CAD

University of Manitoba

First- Professional Master of Interior Design

1-2 years

18,971

Post- Professional Master of Interior Design

1-2 years

18,971

University of Northern British Columbia

Master of Engineering in Integrated Wood Design

1 year

16,239

Bow Valley College

Interior Decorating Diploma

2 years

13,804

Post- Diploma Certificate in Kitchen and Bath Design

1 year

20,131

Algonquin College-  Ottawa

Ontario College Diploma in Interior Decorating

2 years

16,137

Humber College

Diploma in Interior Decorating

2 years

17,618

LaSalle College

Diploma Interior Design

1 year

49,500
Admissions Requirements and Eligibility: Masters in Interior Design in Canada
Even though admissions requirements for masters in interior design in Canada may vary from university to university, several basic eligibility requirements for this level remain the same. Below is a list of them.
A 4-year bachelor's degree (Bachelor of Architecture or a relevant program) from an accredited college or university

A least B average in the final 60 credits or equivalent proficiency at bachelor's level

 Test results in the English language 
IELTS, TOEFL, or other tests must be used as confirmation of your English competence if you are an overseas student. The minimum IELTS score needed to enroll in a master's program in interior design in Canada is 6 overall with no band scoring lower than 5.5
MS Word and Excel proficiency is advantageous but not required.

Must possess a portfolio that includes designs and 

Two LOR

SOP

Authentic passport

Evidence of funds
Students can contact Gyanberry for assistance in submitting an application. We can expedite and simplify the submission of your application because we have more than ten years of expertise in placing students in foreign universities.
Students can also apply independently by following the instructions on the universities' official websites.
Canadian universities accept fall, winter, and summer applications. The winter semester begins in January, the summer semester in May, and the fall semester in September.
The fall semester is when international applicants are most likely to be accepted into Canadian universities. The winter intake is the next best choice for students who missed the fall intake. Not all courses are available for summer admission, it should be noted.
Scholarships for Master in Interior Design in Canada
For overseas students studying interior design in Canada, almost all universities provide a variety of financial help and scholarships. The table below includes a list of some of them along with a few outside scholarships.
Name of Scholarship
Description
Qualifications Required
Amount in USD
Amount in CAD

Vanier Graduate Scholarship

Following a rigorous selection procedure that involves institutional and Tri-agency assessments, Vanier scholarships are given out

Awarded to international graduate students who exhibit a great interest in research and are enrolled in graduate programs

37,622

50,000

Ontario Graduate Scholarship

22 merit-based scholarships are offered to students across various academic fields by the Ontario Graduate Scholarship (OGS)

The province designates the number of OGS prizes that will be given out annually and assigns them to Canadian universities

This scholarship is open to foreign students enrolled at public universities in Ontario

37,622 per term

5,000

Delta Kappa Gamma World Fellowship

The Delta Kappa Gamma Society International is a women's professional honorary society

Preference is given to international female candidates who are enrolled full-time in master's degree programs

Determined by the Faculty Members

5,007

Arbour Foundation

Scholarships from the Arbour Foundation for Computer Science, Engineering, and Management at the Master's and Doctoral Level

This scholarship is open to students pursuing master's degrees in engineering, management, or computer science

9,781

13,000

Conestoga College -International Entrance Excellence Scholarship

Provided by Conestoga College

High academic achievement

1,128

1500

Humber College- International Entrance Scholarship

Awarded by Humber College

High academic standing (85%+ and 6.5 on the IELTS test)

1,504

2000

Sheridan College – International Entrance Scholarship

Awarded by Sheridan College

Starting their postsecondary education full-time for all new international students

7,524 – 15,049

1000-2000
Career Options After Master in Interior Design in Canada
The scope of interior design is fairly broad in Canada and is even expected to grow more in the upcoming years. The majority of the leading interior design institutions in Canada are renowned for providing international students with the best job placement possibilities there. Graduates from the best interior design programs in Canada have been reported to make an average salary of 50,000 CAD, according to talent.com.
Now that you have your interior design degree, consider these employment choices in Canada:
Advanced education in a variety of disciplines, such as landscape architecture, bathroom design, and kitchen design

Hospitality and business

Industry of design and construction

Find work in design firms

Retail businesses and interior design studios

Go into academia and teach interior design
Salary Ranges for Interior Designers across Canada
                      Wages for Interior Designers by Region (CAD)*

British Columbia

58,500

Ontario

53,000

Alberto

48,789

Quebec

40,950
*According to research conducted by Talent.Com.
Conclusion
For foreign students, studying interior design at Canadian universities is a fantastic option. After finishing their courses, students may stay in Canada for up to three years to hunt for employment or even to launch a business. Additionally, a career in international interior design offers numerous profitable job options not only in Canada but also throughout all of North America and other industrialized nations.
Since there are many multinational corporations (MNCs) and sectors in Canada, graduates of the best Canadian institutions for interior design can expect to find attractive careers with high pay.
Although some Canadian colleges charge on the higher end of the spectrum for master's degrees in interior design, students unquestionably receive exceptional value for their money and a return on their investment.
Therefore, should you think about getting your Masters in Interior Design from Canada? Undoubtedly. However, be careful to conduct your research and select a university that offers you the finest opportunities.