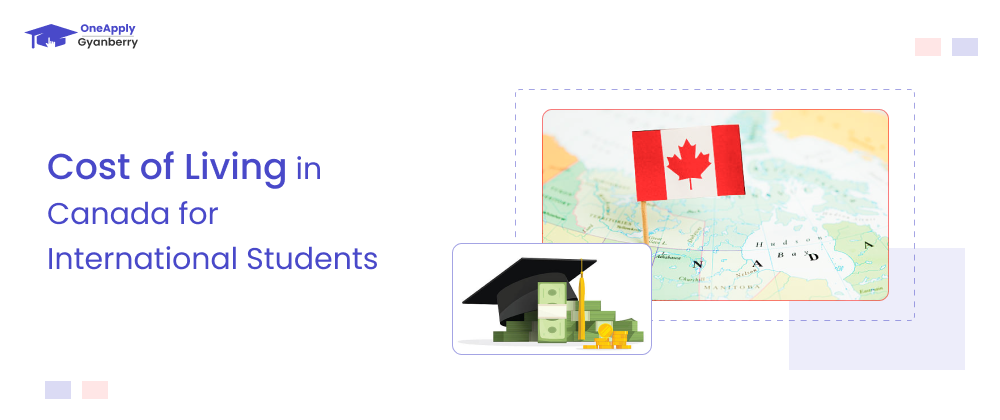 As an international student, it is never easy to manage our living expenses and studies. But if studying in Canada is what you're aiming for, you're in for a treat! This article is about the cost of living in Canada for international students.
As of 2022, more than 620,000 international students are studying at different higher education levels in Canada. The rapidly growing economy and high-quality standard of living at subsidized costs for international students make Canada a primetime destination for international students. Even still, it is extremely vital to ascertain one's expenses since going broke in a foreign city and country takes less than a month, from the writer's experience.
Overview: Cost of Living in Canada for International Students
Being an immigration-friendly, culturally diverse, technologically forward, and entirely developed country, Canada provides free education for students up to the age of 18 years.
Regarding expenses for international students pursuing higher education in Canada, the average living expenses range from CAD 15,000 to CAD 20,000 per year, excluding tuition fees for the university you're studying in. This range varies from city to city and depends immensely on your budgetary expenses. In this article, we have elucidated some of the basic expenses you may come across as an international student studying in Canada:
Variables
Average Expenditure Per Year

Food

CAD 2,400-3,600

Transportation 

CAD 1,400-3,000

Accommodation

On-campus: CAD 3,000-7,500 

Off-campus: CAD 9,000-26,000 

Health insurance 

CAD 600-1,000

Miscellaneous

CAD 7,200-8,400
Cost of Living in Canada: Factors in Expenditure
Shifting to a foreign city and adjusting there imply expenses in a lot of sectors; from food to travel, utilities to accommodation, and going out and traveling, one needs to fit all the factors into a combined expenditure sheet. Much like parents trying to figure out the taxes!
Below, we have panned out a list of some major factors that will help you figure out the basic expenditure you will have to undertake as an international student in Canada.
Accommodation, the biggest pocket-drainer of any expenditure, can be offered in two types in Canada; on-campus and off-campus.
On-campus/University Accommodation
Since many international students have minimal to zero ideas about living in Canada, it is most advisable for them to stay in an on-campus accommodation during their first year of university to get acclimatized to their surroundings. Here they are required to share a room with another student and use the kitchen, washing room, and common areas with other students. Depending on the area you choose to study in, the cost of living for on-campus housing in Canada ranges from CAD 3,000 to 7,500 per year.
Off-campus/Private Accommodation
Having gotten the lay of the land, many students usually opt out of staying in an on-campus accommodation after their first year, either to live with their friends or save money through shared housing and sometimes even due to cultural domestication. There are several off-campus housing options for international students who want to live comfortably in Canada. They can live with host families or rent a flat or share a flat or apartment. But since it's a property we're talking about here, it varies from place to place. The most costly places to live in Canada include the bigger cities like Vancouver, Toronto, and Calgary. Therefore, an international student has to budget CAD 750 to 2,200 per month or CAD 9,000-26,000 per year for off-campus housing.
In addition to accommodation, there are a whole lot of other factors that require a keen eye to iron out the expenses. These are
Transport/Commute
You might be able to ride your bike or walk to campus, depending on where you live. Many students, especially those who attend schools in major cities, travel by bus, subway, commuter train, or ferry. One-way prices for public transportation are generally around CAD 1, and monthly passes cost between CAD 120 and CAD 250. However, many transit companies also offer student discounts upon showing proper documentation.
Food
For international students, the expense of living in Canada includes food in large quantities. One must plan for a monthly expenditure of between 200 and 300 Canadian dollars for food and supplies. Up to CAD 75 can be spent on a Canadian restaurant dinner. So go for the takeout option!
Health Insurance
Even though healthcare is free in Canada, some services, such as those provided by a dentist, chiropractor, physiotherapist, or optometrist, as well as glasses and contact lenses, are sometimes only partially or never covered by extended coverage. But if you wish to take private healthcare insurance in Canada, the yearly cost ranges from CAD 600 to CAD 1,000.
Internet
You may use the free Wi-Fi offered by most educational institutions using your student login and password. Suppose you can't use your laptop or computer to access the Internet. In that case, you may typically locate one in the student library, in a public library off campus, or in an internet café. While some locations provide free Wi-Fi, certain Internet cafés, for instance, charge by the hour. Don't forget to verify the network's security before connecting.
Student Living Expenses in Different Canadian Cities
Without a doubt, the cost of living in Canada for international students will differ depending on the province they choose to call home. Over the years, the living costs have varied substantially. We have created an average cost of living in different cities for international students in Canada for a comparative study on your city of study.
| | |
| --- | --- |
| City | Average Cost of Living Per Year* |
| Toronto | CAD 15,000-30,000 |
| Ontario | CAD 13,000-29,000 |
| Quebec | CAD 14,000 |
| Montreal | CAD 15,600 |
| Vancouver | CAD 30,000 |
| Ottawa | CAD 20,000 |
| Calgary | CAD 13,000 |
*table depicts the average cost including accommodation which may be subject to change.
Discounts for International Students in Canada
You can get special offers and discounts at restaurants, shops, and on public transit in Canada as an international student. Students might also get savings from telecom companies. You'll need an international student identification card to take advantage of these savings. Let's look at some companies offering discount options:
Traveling:

Air Canada, Flight Center, Viator
Food:

Subway,

McDonald's, Burger King, KFC
Gadgets

: Apple, Lenovo, Samsung
Cosmetics:

Urban Decay, MAC 
How to Reduce Your Living Costs in Canada as an International Student
Keep Track of your money:

The most difficult part of any student's life. Take it from the writer, if you're a student, and that too, especially in a foreign country, the notes and pennies don't take long to go awry. Formulate, calculate, prioritize, save, and then spend.
Apply for scholarships:

The biggest perk of being an international student pursuing higher education abroad in Canada is the scholarships. The country recognizes your position as a student and offers many scholarships based on merit, standing, and participation. Apply for them to ease the pressure on your pocket.
Use public transit everywhere and anywhere possible:

Since public transit is exceptionally cheap, and has a student discount on top, the sheer amount of difference it makes on the expenditure, rather than using private commute, can be used to buy a pair of Air Jordans.
Student Cards:

The solution to your pandora's box is your student registration card. One look at this card, and you get free access to the internet at most cafes, discounts on transit, shopping, products, and much more. Take the writer's advice and put it on your mobile's cover.
Part-time jobs:

A comparatively optional choice, part-time jobs tend to ease your pocket quite a lot. But managing your part-time job along with your studies is no joke. So make sure to prioritize your studies first, and if time permits, go for this option too!
BONUS:

Open an unused savings account. Since most banks in Canada require minimal to zero depository money for students opening bank accounts, it becomes easier to open one. Keep depositing savings from each week/month into this account, howsoever small they may be. Never take money out from this account unless needed, and you'll be able to attend 3/4 concerts in a row with this money in due time.
Conclusion
One of the most tedious and time-consuming tasks is college hunting and adjusting and managing expenses relating to the same. Although the cost of living in Canada for international students varies, the base costs remain consistent for one to manage their expenses. We at Gyanberry aim to provide you with getting admission into your dream college in an affordable way that also fulfills your educational needs. Our admission counseling services have striven to help numerous students achieve their dreams and goals. For further details, kindly schedule a video consultation with one of our specialists.