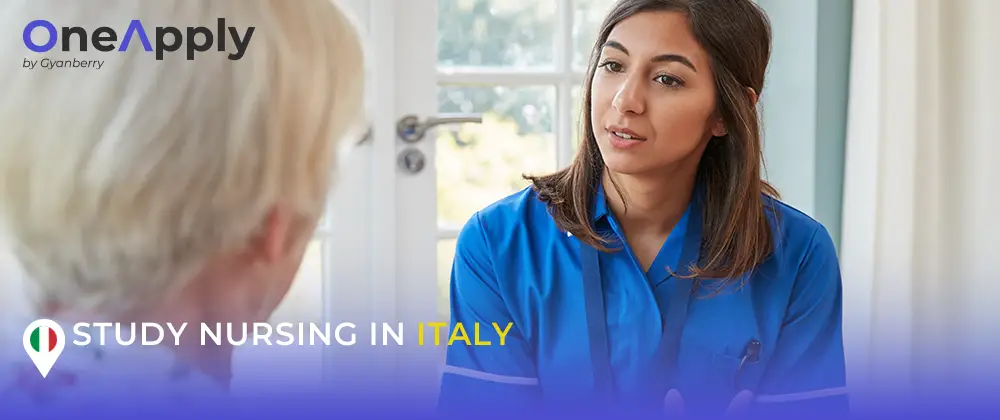 Medical education in Italy is well-regarded around the world. It is one of the most popular places to study medicine, as many universities offer English-taught programs. Does this also apply to nursing programs? Can you study nursing in Italy English? Yes, you can, but only a few Italian universities provide nursing in English. The majority of Italian universities offer nursing programs in Italian.
But the major reason international students want to study nursing in Italy is the job prospects. As per an article published in ResearchGate, Italy is facing a national shortage of nurses. The country also has one of the highest pay rates for nurse practitioners. Recently, the Health Minister of Italy announced that the monthly payment of nurses will rise by up to €170. This means international students have a fantastic opportunity awaiting them.
This article highlights the best courses, their costs, admission requirements, etc., to study nursing in Italy.
Overview of Nursing in Italy
| | |
| --- | --- |
| Degree Name | Bachelor's in Nursing |
| Degree Class | L/SNT1 |
| Language of Instruction | English |
| Program Duration | Three years |
| Basic Eligibility Criteria | High school completion |
| Annual fees | ~3,000 EUR |
| Selection Criteria | Admission test |
Best Courses and Universities for Nursing in Italy
There are over 20 Italian medical universities that offer nursing courses. But most of them offer their program in Italian. Only a few universities offer nursing programs in English. The nursing degree falls under the category of L/SNT1 (first-level degree). The duration of all nursing programs in Italy is three years. International students who wish to study nursing in English can aim for any of the following programs and universities.
UniCamillus University
UniCamillus university offers a three-year degree in nursing that is taught entirely in English. The course provides knowledge and skills for the nursing profession governed by the Ministry of Health. The nursing degree at UniCamillus covers the following subjects.
Biology, Applied Physics, Biochemistry

Anatomy and Physiology

Human Sciences

Nursing Sciences

General Pathology and Physiopathology

Nursing in Clinical medicine, surgery, and pharmacology

Maternity and Childcare Nursing

Clinical and Disability Nursing
UniCamillus University requires its applicants to sit for the UCAT exam. UCAT is a two-hour computer-based exam. The exam follows the multiple-choice format. It consists of five sections, each carrying a time limit. 
The university has laid down the following minimum scores
| | | |
| --- | --- | --- |
| Section | No. of Questions | Minimum and Maximum Score |
| Verbal Reasoning | 44 | 300-900 |
| Decision-Making | 29 | 300-900 |
| Quantitative Reasoning | 36 | 300-900 |
| Abstract Reasoning | 55 | 300-900 |
| Situational Assessment | 69 | Levels 1-4 |
Sapienza University of Rome
The Sapienza University of Rome is the first of the two public universities offering a bachelor's in nursing degree. The university trains its nursing students to perform several clinical and administrative tasks. The duration of the course is three years and it consists of 180 credits. The admission is based on the admission test. It is a written exam with 60 multiple-choice questions with 5 answer options and includes. The questions are based on the following subjects 
12 general knowledge

10 logical reasoning

18 biology 

12 chemistry

8 physics and mathematics
The University of Campania Luigi Vanvitelli
The University of Campania Luigi Vanvitelli is the only other public university on the list. However, very few international students gain admission into Vanvitelli University. The course curriculum is similar to the previous two. The total program consists of 180 credits. 
The university imparts education in various ways. Teacher-led lessons, seminars, tutorials, and internships form the basis of its teaching methodology. Students require a total of 1,800 hours of coursework to graduate. 
Nursing in Italy: Cost for International Students
Tuition costs for Italian medical universities differ depending on whether they are private or public. Tuition fees for public universities in Italy are calculated based on ISEE. ISEE or (Equivalent Economic Status Indicator) is used to assess a family's financial status. Therefore, the tuition fees at public universities vary for each student. Private universities have fixed tuition costs, classified as EU and Non-EU. 
| | |
| --- | --- |
| University | Annual Tuition Fees in EUR |
| UniCamillus University | 3,000 |
| University of Campania Luigi Vanvitelli  | 160-3,200 |
| Sapienza University of Rome | 2,924 |
Education in Italy is cheaper than in other popular study destinations like the US, UK, and Canada. But international students can enjoy even lower costs of study with scholarships. However, most scholarships are allocated toward academic costs. Therefore, students have to bear living expenses. 
Admission Requirements for International Students
Nursing courses in Italy are available as undergraduate degrees. The primary eligibility criterion for undergraduate degrees in Italy is a high school diploma. Students must have completed 12 years of schooling.
Admissions at Italian medical universities can be pretty competitive. Meeting the basic eligibility criteria does not guarantee admission. Below is a breakdown of the allocation of seats to EU and non-EU students.
| | | |
| --- | --- | --- |
| University | Number of EU Seats | Number of Non-EU Seats |
| UniCamillus University | 80 | 65 |
| University of Campania Luigi Vanvitelli  | 40 | 40 |
| Sapienza University of Rome | 38 | 10 |
The general admission prerequisites for nursing programs are
Completion of 12 years of schooling

Official transcripts translated into Italian or English

Admission test

English language proficiency
All students who wish to study nursing must take the entrance test. Admissions are based on the scores obtained in entrance tests and the availability of seats.
Future Prospects After Nursing in Italy
The nursing degree in Italy wraps up with a state-level examination. To practice as a nurse in Italy, one must be registered with the Professional Association (IPASVI).
Additionally, students must meet the Italian language requirements and be sponsored by a hospital to obtain a license. Nurses in Italy work in a variety of work settings. Public and private Hospitals, care facilities, and schools are just some of the many possible workplaces.
Italy is among the highest-paying countries for the nursing profession. The national average salary for nurses is EUR 42,300 or USD 43,688* per year (Salary explorer). 
Here is a list of the top five cities in Italy with salaries above the national average.
| | |
| --- | --- |
| City | Average Annual Salary in EUR |
| Rome | 49,800 |
| Milan | 48,960 |
| Naples | 48,120 |
| Turin | 47,280 |
| Genova | 46,440 |
Conclusion 
When it comes to studying nursing in non-English speaking countries such as Italy, the first question that foreign students have is if the courses would be in English. The short answer is yes. At least three universities in Italy offer undergraduate nursing programs in English. One is a private university, while the other two are public. Surprisingly, tuition fees for nursing studies at public and private universities in Italy are nearly the same. If you want to study nursing in Italy, feel free to contact OneApply by Gyanberry. Our trained counselors will walk you through the whole application process, from selecting the right university to preparing for entrance exams.