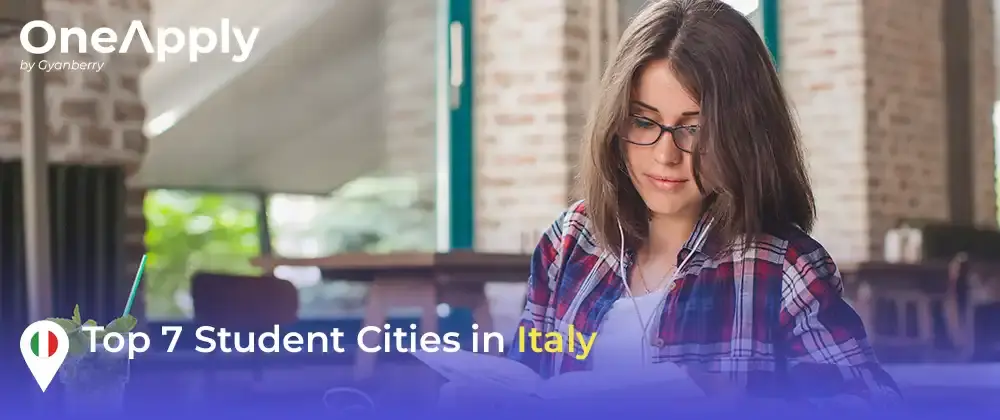 Studying in an Italian city promises to be an exciting experience that combines academic development, cultural immersion, and lifelong memories. The cities of Italy retain a distinct allure for international students. Student Cities in Italy offer a unique combination of academic excellence, rich cultural legacy, and active social scenes. Each city has its personality, from the antique streets of Rome and Florence to the artistic aura of Milan and the culinary delights of Bologna. 
Moreover, Italy's universities are world-renowned for providing excellent education in various subjects ranging from technology to arts, culinary arts to medicine, and social sciences to engineering. Universities such as the Polytechnic University of Milan, the University of Bologna, and the Sapienza University of Rome are some of the top universities in Italy according to top university ranking lists such as the QS World University Ranking 2023, Time Higher Education Ranking 2022, & US News & World Rankins 2022. In this blog, we shall provide you with a basic and overall idea of the top student cities in Italy for international students.
What's so special about Italian Cities?
Some of the reasons that make Italian cities a student-favorite destination are listed below.
World-Renowned Universities:

Studying in Italy provides students with access to world-class education in various areas, as well as famous instructors and cutting-edge research possibilities in top universities like the University of Padua, the University of Bologna, etc.

Cultural Heritage:

Cities in Italy are known for their diverse cultural history, architectural marvels, and creative treasures. Walking through the streets of Rome, Florence, or Venice is like entering a living museum, with stories around every turn. The vibrant atmosphere, bustling markets, and beautiful neighborhoods provide a fantastic setting for learning and living.

Cuisine!:

Let's not forget about the delectable meals. Italian food is a true delight with its authentic pizzas, pasta, gelato, and espresso. Studying in Italy entails immersing oneself in an all-you-can-eat paradise where every meal is a flavor feast.

Strategic Location:

Besides the classroom, Italy's geographical location makes traveling to other European nations easier. Weekend vacations to places such as Paris, Barcelona, or Berlin become viable adventures, extending horizons and complementing the learning experience.
Suggested Read: Cost of Living for International Students in Italy
Top 7 Student Cities in Italy
These seven Italian cities have a unique blend of academic excellence, cultural richness, and a thriving student community, making them particularly appealing destinations for students looking for a memorable educational experience. The average monthly cost of living (as per the world's largest cost of living database, Numbeo) for Italian cities is also mentioned with a brief overview of the city below.
Studying in Milan
Milan, Italy's economic and fashion center, is also an outstanding choice for international students wishing to study abroad. The city's cosmopolitan atmosphere and strong energy make it an appealing destination. These universities cater to international students by offering many English-taught programs. Furthermore, Milan offers ample work prospects as a worldwide commercial and fashion powerhouse. 
With world-class museums, theaters, and art galleries, the city's bustling arts and cultural sector offers limitless chances for discovery and inspiration. Milan is an exciting city to live and socialize in because of its active nightlife, stylish neighborhoods, and diversified food scene. Furthermore, the city's strategic location allows easy transit within Italy and Europe, making it a perfect starting point for further research. 
Top Universities in Milan

Politecnico di Milano

Università Cattolica del Sacro Cuore

University of Milan

Nuova Accademia di Belle Arti

Average Monthly Cost of Living

965 EUR
Study in Rome
The hustling capital of Italy, the home to the majestic Colosseum, Rome offers an unforgettable study experience to international students. Rome, known for its rich history, famous landmarks, and dynamic culture, provides a one-of-a-kind combination of academic quality and an engaging student lifestyle. The city's cosmopolitan atmosphere encourages cross-cultural encounters, providing chances for personal development and worldwide networking. 
Aside from the classroom, Rome has many cultural and recreational opportunities. Students can see historical ruins and world-class museums and eat traditional Italian food. The lively atmosphere, bustling markets, and exciting city nightlife ensure that there is always something to do. Rome is an intriguing alternative for international students looking to widen their horizons, thanks to its ideal blend of academic opportunity, cultural history, and fascinating adventures.
Top Universities in Rome

Sapienza University of Rome

University of Rome Tor Vergata

Università degli Studi Roma Tre

European University of Rome

Average Monthly Cost of Living

870 EUR 
Study in Pisa
Pisa, located in the breathtaking region of Tuscany, is a bustling and attractive city that provides the Leaning Tower of Pisa as its main student attraction. It is home to the renowned institution of Pisa, Italy's second-best institution.  Pisa attracts international students because of its comprehensive choice of humanities, sciences, engineering, and social sciences programs. 
Thanks to the city's easy pathways, students can easily navigate Pisa's attractive streets and discover its ancient treasures, such as the Piazza dei Miracoli and the Cathedral. The location of Pisa in Tuscany is another appealing feature for international students. They enjoy easy access to the region's stunning scenery, wineries, and historic towns, such as Florence, Siena, and the Tuscan countryside.
Top Universities in Pisa

University of Pisa

Scuola Normale Superiore di Pisa

Scuola Superiore Sant'Anna

Average Monthly Cost of Living

800 EUR
Study in Bologna
Bologna, known as the "Learned City" due to its great academic legacy, presents students with an intellectually challenging environment. The city has outstanding faculties in various fields, including humanities, sciences, engineering, and social sciences. The University of Bologna, founded in 1088, is one of the world's oldest universities. This prominent university provides a diverse choice of academic programs that draw students from all around the world.
A vibrant social scene complements Bologna's student-friendly climate. The city is brimming with colorful cafes, bars, and restaurants, making it a great location for meeting fellow students and immersing oneself in local culture. Throughout the year, the central Piazza Maggiore is a gathering place for students, hosting festivals, markets, and cultural events.
Top Universities in Bologna

Alma Mater Studiorum – University of Bologna

The Johns Hopkins University SAIS Bologna Center 

Academy of Fine Arts in Bologna

Average Monthly Cost of Living

900 EUR
Study in Florence
Florence, recognized as the Renaissance's home, is a compelling and culturally rich city that provides an outstanding atmosphere for international students to pursue their studies. Florence, known for its art, architecture, and history, offers a one-of-a-kind setting for academic and personal development. International students can study in a city that has inspired generations of artists and philosophers by immersing themselves in art, design, humanities, and social sciences.
Beautiful sights include the Duomo, Ponte Vecchio, and the Uffizi Gallery. In addition, the city offers several cultural events, exhibitions, and festivals, creating a vibrant atmosphere that honors its artistic legacy.  Studying in Florence allows students to be a part of a city that has shaped the world of art and culture, delivering an outstanding study experience in the heart of Italy.
Top Universities in Florence

University of Florence/ Universitá Degli Studi Firenze – UNIFI

European University Institute Florence

Florence Academy of Fine Arts

Average Monthly Cost of Living

925 EUR
Study in Padua
Padua, in Italy's Veneto region, is a picturesque and hospitable city that provides an excellent atmosphere for international students to pursue their studies. Renowned for its historic university, the University of Padua, the city has a long-standing academic tradition and a reputation for excellence in various fields. Padua attracts international students because of its high-quality education, particularly in medical, engineering, arts, and social sciences. 
Students will have a great time touring the city's lovely historic center, home to stunning architectural sites such as the famed Scrovegni Chapel. Padua's strategic location also allows for quick access to other major Italian locations such as Venice, Verona, and the scenic countryside of the Veneto. Moreover, the Botanical Garden of Padua, one of the world's oldest botanical gardens, offers a tranquil getaway for students seeking leisure and natural beauty.
| | |
| --- | --- |
| Top Universities in Padua | University of Padua |
| Average Monthly Cost of Living | 840 EUR |
Study in Turin
Turin, in northern Italy, is famed for its technological advances and industrial heritage. It is also a bustling student city with a lot to offer. The Politecnico di Torino, one of Italy's leading engineering and technical institutes, is located in the city, as is the University of Turin, which provides a wide range of academic programs. These institutions offer international students high-quality education and research possibilities.
Various cultural and social activities enrich Turin's dynamic student life. Throughout the year, the city hosts various events, concerts, and festivals catering to various interests. Students can explore the city's dynamic neighborhoods, visit modern art galleries, and partake in the city's well-known café culture. Furthermore, Turin's central location in the Piedmont area provides easy access to breathtaking natural settings such as the Alps, as well as magnificent adjacent towns like Milan and Genoa, known for their culinary delights, such as the world-renowned Langhe and Roero wines and food.
Top Universities in Turin 

Politecnico di Torino

University of Turin

Average Monthly Cost of Living

810 EUR
Most Affordable Student Cities in Italy
For international students wishing to study abroad in Italy, there are various affordable student cities to choose from. It's vital to remember that the cost of living varies depending on your specific lifestyle and lodging preferences. Students should investigate and evaluate the cost of living in various cities to discover the greatest fit for their budget. Some available student city options are mentioned below.
Palermo:

Palermo, which is located in Sicily, is noted for its rich history, vibrant culture, and reduced cost of living when compared to other Italian towns. Accommodation, travel, and daily expenditures are reasonably priced, making it an appealing alternative for budget-conscious students.

Perugia:

Perugia, in central Italy, is a historic city with a thriving student community. It is home to the University for Foreigners, which attracts many international students. Perugia has a lower cost of living than major cities, making it an affordable option for studying abroad.

Catania:

Catania, another city in Sicily, has a lower cost of living than large cities like Rome or Milan. The city has a vibrant environment, gorgeous architecture and is close to natural wonders such as Mount Etna and the Mediterranean Sea.

L'Aquila:

L'Aquila is recognized for its magnificent landscapes and old buildings and is located in the mountainous province of Abruzzo. Compared to major urban centers, the city has lower living expenses, making it an economical option for international students.

Bari:

Bari, located in Puglia's southern area, offers a picturesque beach backdrop, a peaceful lifestyle, and low living costs. The city boasts a reputable institution and offers an excellent blend of academic opportunities and a fair cost of living.
Conclusion
In conclusion, Italian towns' charm and romance attract international students' hearts and minds. Italy offers an amazing study experience beyond textbooks and classrooms, from its rich cultural legacy to its top academic institutions, from its welcoming community to its culinary delights. It is an opportunity to develop intellectually, personally, and culturally in a country with timeless allure and memories that last a lifetime. Italian cities provide a friendly environment for international students. 
Once you finalize your dream university in Italy, Gyanberry is more than happy to assist you in finding more about your student city using our discerning admission counseling services. Get a free video counseling session with our expert to learn more.