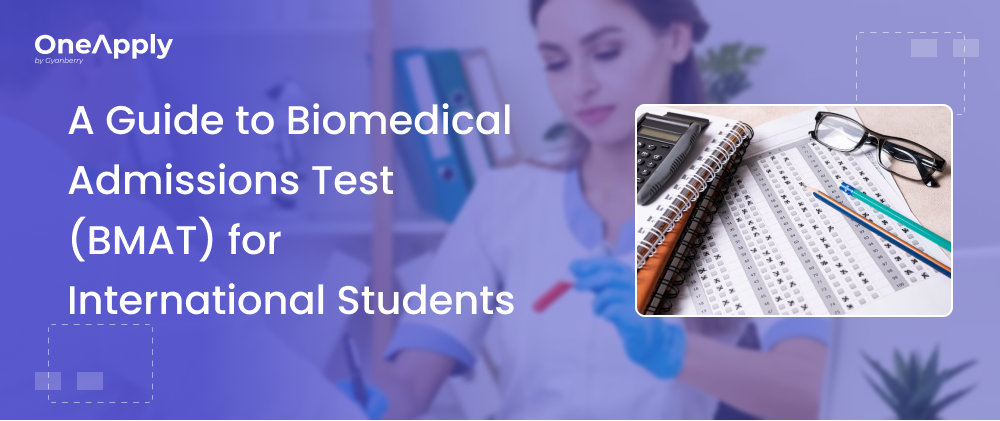 About BMAT
The BMAT is a test that is used by universities around the world to help select applicants for medical and related courses. It tests students' ability to apply scientific and mathematical knowledge, as well as problem-solving, critical thinking, and written communication skills that are essential for university-level study. This multifaceted assessment, developed by Cambridge Assessment Admissions Testing, holds recognition from esteemed institutions such as the University of Oxford, Imperial College London, and the University of Cambridge. It is one of the most prominent admission requirements for MBBS in the UK, along with the UCAT.  
Applicants to the best medical universities in the UK, and other countries typically possess outstanding personal statements, strong recommendations, and projected high grades. Selecting from this highly qualified pool can be challenging due to the global diversity of applicants and their varied qualifications. Tests like BMAT offer an additional assessment tool for each applicant, regardless of their origin, adding valuable information. When combined with other application components, this aids in identifying the most exceptional candidates. 
This article will provide a comprehensive guide to the BMAT, including information on test format, key dates, costs, how to register, what to expect on test day, and how to access your test results. We will also provide tips on how to prepare for the BMAT and where to find free resources to help you succeed. So if you're considering a career in medicine or related fields, read on! 
Overview of BMAT 
Conducted By 

Cambridge Assessment Admissions Testing

Purpose 

Admissions to Medical programs in specific universities in the UK, Netherlands, Asia, etc. 

Duration of Test 

2 Hours 

Exam Fees 

78 EUR – for candidates within the UK 

104 EUR – for candidates outside the UK

Eligibility 

The BMAT exam is open to all candidates who have completed class 12th or have a bachelor's degree. 

Exam Date 

18 October 2023 
BMAT Exam Structure and Admission Process 
The BMAT is meticulously crafted to assess diverse attributes, including critical thinking, problem-solving capabilities, and scientific acumen. The test is divided into three sections:  
Section 1: Thinking Skills. This section tests your skills in problem-solving and critical thinking. You will have to answer 32 multiple-choice questions in 60 minutes. The questions will be based on scenarios, arguments, data analysis, and inference. 
Section 2: Scientific Knowledge and Applications. This section tests your ability to apply scientific knowledge typically covered in school Science and Mathematics by the age of 16. You will have to answer 27 multiple-choice questions in 30 minutes. The questions will cover Biology, Chemistry, Physics, and Mathematics. 
Section 3: Writing Task. This section tests your ability to select, develop and organize ideas, and to communicate them in writing, concisely and effectively. You will have to write one essay from a choice of three questions in 30 minutes. The questions will be based on general or medical topics.
Different universities use the BMAT results in different ways as part of their admissions process. Some universities may use the results to decide whether to invite you for an interview, while others may use them to make a final decision on whether to offer you a place on the course. Some universities may also have specific cut-off scores or weighting schemes for each section of the test.  To find out exactly how universities use the BMAT results, you should visit their websites or contact them directly. 
It's also important to note that BMAT 2023 is the last academic cycle for which the exam will be conducted. From 2024, the Cambridge Assessment Admissions Testing is withdrawing from conducting the exam. Additionally, the seven UK medical schools that use BMAT tests as part of their admissions process (Brighton and Sussex, Imperial, Lancaster, UCL, Cambridge, Leeds, and Oxford) as well as medical and healthcare schools in other countries will put alternative arrangements in place.
Suggested Reading: Cost of Medical Studies in the UK
BMAT Registration Process 
Identify a Suitable Test Venue:  To register for the BMAT, you need to find a test center that can run the test. This could be your school or college if they are eligible. Alternatively, you can search for an open test center from the global network of test centers.
To be registered for the test, you will be asked to provide the following to the Exams Officer at the test center:
Personal details such as your name and date of birth

UCAS number (those applying to UK universities only)

Names of the courses/universities you are applying to (those applying to UK universities only)

Medical evidence if you require modified question papers or any Access Arrangements such as extra time.
Secure Your Candidate Entry Number for Verification As a confirmation of your test registration, make certain to procure your candidate entry number from the Exams Officer. Your entry number will begin with the letter 'B' followed by a sequence of five digits.
Prepare Thoroughly for the BMAT Check with your test center to ensure you know what to expect on the test day. They'll be able to provide information about the test including the specific location, timings, and what to bring with you on the test day.
Suggested Reading: Study Pre-Med in the UK
When can I take the BMAT?  
There are several BMAT sessions throughout the year and different universities accept different sessions, depending on their admissions cycle. It is important to know which one(s) you can take as part of your application. 
The main sessions are:  
BMAT – October. This session is available for applicants to most UK universities that accept the BMAT, as well as some universities in Europe and Asia.
BMAT – March. This session is only available for applicants to the Lee Kong Chian School of Medicine in Singapore. 
BMAT – Malaysia. This session is only available for applicants to Perdana University – Royal College of Surgeons in Ireland School of Medicine in Malaysia. 
BMAT – Netherlands. This session is only available for applicants to certain universities in the Netherlands. 
Here are the important dates for the October session of the BMAT: 
| | |
| --- | --- |
| Registration opens  | 1 September 2023  |
| Deadline to apply for modified papers  | 15 September 2023  |
| Deadline for test centers to register candidates  | 29 September 2023; 6 PM |
| Examination Date  | 18 October 2023  |
| Results  | 24 November 2023  |
| Deadline to apply for reevaluation  | 1 December 2023  |
Suggested Reading: Career Scope and Salaries of Medical Graduates in the UK
BMAT Eligibility and Application Fees 
The eligibility criteria for the BMAT are not very strict. You just need to have completed the 12th grade or a bachelor's degree in any discipline. You also need to meet the basic eligibility requirements of the universities you are applying to. Each institute or university may have its specific eligibility requirements beyond the general educational qualifications. It's crucial to thoroughly review and meet the specific criteria set by the institutions you are applying to. These requirements may include specific academic prerequisites or language proficiency standards.
Although there is no limit on how many times you can take the BMAT, It's important to note that candidates are allowed to take the BMAT exam only once per admissions cycle. This means that careful preparation and focused performance during the exam are essential to showcase your aptitude and maximize your chances of admission to your desired institutions.
For the October 2023 session of BMAT, the associated costs vary based on location and services. The registration fee is 78 EUR for those within the UK, while outside of the UK, the fee rises to 104 EUR. For candidates seeking to inquire about their results, the application fee stands at 46 EUR, and the same fee applies to those wishing to appeal their results.
Suggested Read: Best Dental Schools in the UK
List of Universities that Accept BMAT 
Universities in the United Kingdom 
Brighton and Sussex Medical School

Imperial College London

Lancaster University

University College London

University of Cambridge

University of Oxford
Universities In the Rest of Europe 
Leiden University Medical Center (LUMC), Netherlands

Universidad de Navarra, Spain

CEU Cardenal Herrera University, Spain

University of Pécs, Hungary

University of Rijeka, Croatia

University of Zagreb, Croatia

Medical University of Gdańsk, Poland

Medical University of Warsaw, Poland

Pomeranian Medical University in Szczecin, Poland

Wroclaw University of Environmental and Life Sciences, Poland

Vasile Goldiș Western University of Arad, Romania

Università Campus Bio-Medico di Roma (UCBM), Italy

Lithuanian University of Health Sciences, Lithuania

Aristotle University of Thessaloniki, School of Medicine, Greece

University of Tartu, Estonia

Estonian University of Life Sciences, Estonia
Universities in Asia 
Chiang Mai University, Thailand

Chulabhorn Royal Academy, Thailand

Chulalongkorn University, Thailand

Khon Kaen University, Thailand

Khon Kaen University, Thailand

Khon Kaen University, Thailand

King Mongkut's Institute of Technology Ladkrabang, Thailand

Mahidol University, Thailand

Faculty of Medicine Ramathibodi Hospital

Faculty of Medicine Siriraj Hospital

Mahidol International Dental School

Navamindradhiraj University, Thailand

Srinakharinwirot University, Thailand

Suranaree University of Technology, Thailand

Suranaree University of Technology, Thailand

University of Malaya, Malaysia
How is the BMAT Scored?  
The BMAT score looks different from your usual exam results. However, it should be fairly easy to understand if you know how the BMAT is marked.  
Sections 1 and 2 are marked on a scale from 1 (low) to 9 (high), with scores being reported to one decimal place. Each question in these sections is worth one raw mark (no matter the difficulty) and there is no negative marking (a wrong answer is not penalized). The raw marks are then converted into scaled scores using a statistical process called equating. This ensures that scores are comparable across different test sessions and years.  
Section 3 is marked by two examiners using four criteria: quality of content (scored from 0 to 5), quality of English (scored from A to E), relevance (scored as + or -), and structure (scored as + or -). The final score for Section 3 is reported as a combination of the quality of the content score and the quality of the English score (e.g. 4A). The relevance and structure scores are not reported but are used by examiners to help them decide on the quality of the content score.  
The results from the BMAT are released online on different dates depending on the test session. You can check your results by logging into the Metritests system using the details from your Confidential Results Information sheet, which you will be given on the day of the test.
For Universities in the UK, the results of your performance are promptly shared with the BMAT-affiliated universities that you specified during your test registration. If you want to modify your university choices, you should contact your test center.
For other universities outside of the UK, the results are not sent automatically. You need to select which universities you want to receive your results using our Metritests system. This can be done as soon as the results have been released. 
Suggested Read: AMCAS Application for International Students: A Complete Guide
How to Prepare for BMAT? 
Here are preparation tips to excel in the test: 
Understand the exam: Familiarize yourself with the format and structure of the BMAT by reviewing past papers and sample questions
Study Plan: Develop a study plan and allocate sufficient time to each section of the exam.
Time management: Make sure you practice how to manage your time wisely so that you can complete each section within the allocated time.
Seek guidance: Don't be afraid to seek out help from experienced tutors or join BMAT preparation courses to gain valuable insights and strategies
Visit the BMAT website: The BMAT website provides a wide range of free resources to help you prepare for the test. You can find everything you need on the official website. 
Practice with past papers: Work through some practice papers and then look at the explained answers to help you review your work. Download a few past papers and practice under timed conditions – this is important.
Suggested Read: MCAT for International Students: Eligibility & Exam Details
Conclusion 
The BMAT is a challenging but rewarding test that can help you demonstrate your potential for medical and related courses. By understanding what the test is, how it is scored, how to prepare for it, and how universities use it, you can increase your chances of success and achieve your academic goals. Remember that the BMAT is only one part of your application and that you must demonstrate your academic achievements, personal statement, work experience, and interview skills. If you are passionate about pursuing a career in medicine or related fields, use BMAT as an opportunity to showcase your potential and stand out from the crowd. For more information regarding the same, reach out to us at Gyanberry. Book your free video call appointment now.