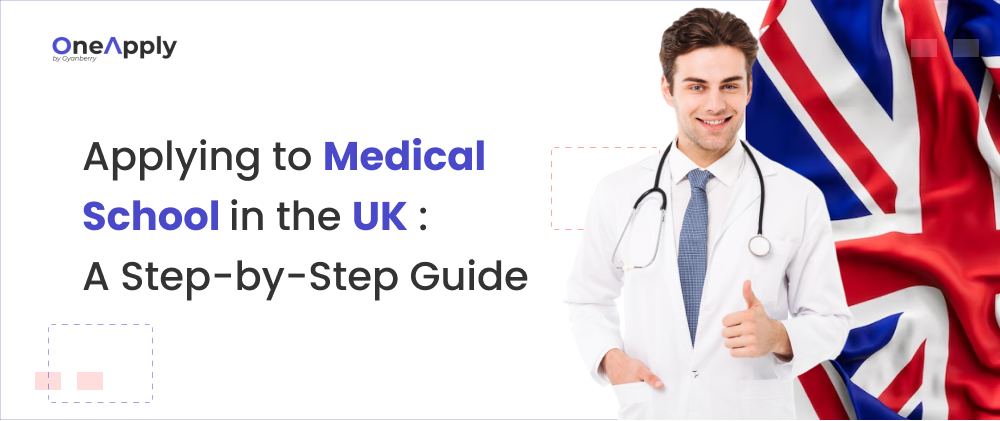 Applying to medical school in the UK is a multi-step process that requires thorough planning, self-reflection, and dedication. It starts with choosing the right medical university and ends with receiving an offer from the university. The UK is home to some of the top medical universities. As a result, there is fierce competition for spots in UK medical schools. Therefore, you must pick a medical school that complements your academic background and abilities to enhance your chances of getting a spot. 
The most common and preferred mode of application is through UCAS, a centralized platform used by UK medical schools to receive applications. It allows you to select up to four medicine courses and one additional course non-related to medicine. Some universities also accept direct applications through their website, but you cannot apply to multiple universities via this mode. The best time to apply is at least one year prior to deadlines so that you have enough time to prepare for entrance exams, draft your personal statement, and be ready for interviews. In addition to academic credentials, the applicants must also be able to demonstrate that they possess a range of attributes that are needed to study medicine and become good doctors. This comprehensive step-by-step guide will traverse you through the process of applying to medical school in the UK. 
Highlights: Applying to Medical School in the UK
| | |
| --- | --- |
| Entry requirements  | AAA's in lab-based science subjects like chemistry and biology and a non-lab-based subject like mathematics or physics  |
| Application modes  | UCAS or direct via the university website  |
| Entrance exams  | UCAT, BMAT, (undergraduate entry), or GAMSAT (graduate entry) |
| English language proficiency  | Academic test version of IELTS |
| Interviews  | MMIs or panel interviews  |
| Best time to apply?  | One year before the course start date |
How to Apply? UCAS Vs Non-UCAS Applications
The application procedure for medical schools in the UK is the same for both home and international students.  Most UK medical schools accept applications through the Universities and Colleges Admissions Service (UCAS), a centralized admissions platform. Some institutions, including the University of Brighton, University of Buckingham, University of Dundee, etc., do allow direct applications, though. One thing to bear in mind is that you cannot apply to any other medical universities if you are applying directly to a university through their website. 
You can apply to up to four medical schools or courses using the UCAS application. Applicants can also select a fifth subject option that is unrelated to medicine. Since medical schools in the UK receive a huge number of applications every year, the processing of applications can take longer. Hence, students must apply one year in advance. The UCAS deadline for medical applications is in October every year; thus, students must apply in September of the following year. Only the courses a student applies to are visible to that medical school. Courses applied at other universities will not be visible to any other university. Upon registration, the applicant is given a 10-digit UCAS number unique to them which must be used for future correspondence. There are 4 different types of medical degrees offered by UK universities. 
Standard entry medicine: It is a bachelor's degree in medicine that usually is five years long but can be six at some universities. It can either be MBBS or MBChB. 

Graduate entry medicine: This is suitable for students with a previous bachelor's degree (health-related or non-health related) with a minimum score of 2.1-2.2. It is a 4 to 5-year-long accelerated degree program. 

Medicine with a gateway year (open to UK students only): Admission to a gateway year is offered to those students who are highly capable but are unable to pursue education due to circumstances. Entry requirements are adjusted accordingly so that the student is able to apply. 

Medicine with a preliminary year: Also known as medicine with a

foundation year

is for those who did not take necessary science subjects. This course lasts a total of 6 years, where in the first year the students are given the necessary science training to catch up. They must score three As at A level during their foundation year to be considered for the standard entry medicine. 
Prerequisites and Entry Requirements 
Entry requirements to medical schools in the UK are usually similar but some of them have their own entry requirements. The general minimum requirement is three As at A level or equivalent qualifications. One to two subjects must be in lab-based science like chemistry and biology. Few universities also require mathematics or physics at A level
A Levels and Scottish Highers: AAA including chemistry and one from biology, mathematics or physics, and one other subject

International Baccalaureate: Three subjects with grade 6 or higher including chemistry and one of either biology, physics, or mathematics.

GCSEs and Scottish Nationals: GCSE Grade 6 in mathematics and English is required. Physics and biology are recommended. 
You must give proof of your English language competency if you are applying from outside the UK and do not speak it as your first language. Both EU/EEA and international students must meet this prerequisite. Most medical schools prefer students to take the International English Language Testing System (IELTS) test. Only the Academic test version of IELTS is accepted by UK medical schools. The minimum score requirement differs from university to university, thus students must visit the university website to check for the requirement. 
Having some work experience in caring or healthcare roles is extremely valuable and can add weight to your application. It can either be paid employment or volunteer work. You can find such type of work at your local hospitals or nursing homes. You can even get in touch with them to ask for work experience with them. This will demonstrate your dedication to being a doctor and provide you with a wonderful insight into the day-to-day activities of being a doctor. 
Students must remember that admission criteria for medical schools in the UK can change every year. They must check the university website to stay updated with the latest changes. 
Medical Entrance Exams for Applying to Medical School in the UK
Medical schools in the UK require students to take entrance exams to offer admission to medical courses. There are two types of tests that students can take: University Clinical Aptitude Test (UCAT) and BioMedical Admissions Test (BMAT). Both are computer-based aptitude tests used as part of the admissions process to medicine and dentistry schools in the UK. You can take either UCAT or BMAT test depending on your college preferences and abilities. It is advisable to take both exams if you want to keep your options open and apply to universities that require different tests. But if you have to choose between the two, UCAT must be given preference since most medical universities (around 30) in the UK prefer UCAT scores. BMAT on the other hand is accepted only by the following universities:
Imperial College London

Brighton and Sussex Medical School

Lancaster University

University College London

University of Cambridge

University of Oxford
Students who are applying for a graduate entry medicine program can take the Graduate Medical School Admissions Test (GAMSAT). Registration for GAMSAT takes place in June and August and the test is conducted once a year. The following universities in the UK accept GAMSAT scores 
St George's University of London

the University of Nottingham at Derby

the University of Wales Swansea

Keele University
There are universities that accept students without UCAT or BMAT. The University of Buckingham uses its own computer-based test to assess potential students, and the University of Central Lancashire selects candidates based on their personal statements and references.
Tips on Writing a Personal Statement 
Writing a personal statement is an extremely important step in this process as it will be assessed during the personal interview. Thus, students must not rush into it and give themselves plenty of time to write it. Your personal statement should tell about your academic and personal achievements, your motivation to become a doctor, your hobbies and interests, and any work or volunteer experience you have in the medical field. Medical schools are more interested in knowing you as a person and how capable are you to become a doctor. So you must write about your personal hobbies, sports activities, academic prizes, projects worked on, and work experience. When writing about work experience, focus on what you learned from it and how it gave you insight into what being a doctor is. Avoid writing a personal statement that is specifically targeted towards one university because it will likely turn off the others. In general, your personal statement must cover the following aspects 
Commitment to medicine

Knowledge of core qualities of a doctor

Teamwork
Gyanberry's counselors can also help you to draft a personal statement that will increase your chances of getting into a medical school in the UK. 
Medical School Interviews 
The final step in the application process for medical schools in the UK is an interview. After screening the applications, the universities conduct interviews to help them select the right candidates from a pool of applicants. There are two types of interviews: Multiple mini-interviews (MMI) and panel interviews. MMI comprises a series of 6-10 interview stations, each focusing on a different question or scenario. The type of interview varies depending on the university and the course selected. Preparation for the interview is crucial, as the more you prepare, the more confident you will be. Mock interviews are a great way to practice your interviewing skills. Practice with friends and family. You should not panic if you don't know the answer to the question asked. You can politely explain that you are not sure, but you will double-check after the interview.
One of the most anticipated questions asked is, why do you want to study medicine? It is important to be completely honest and answer genuinely, even if the answer is cliché. Also, be prepared to answer personal questions about your personal statement, voluntary work, interests, and background.
Conclusion
Applying to medical school in the UK can be daunting. To make it a bit easier on you, this blog has covered everything you need to apply to a medical school in the UK. You should first start by researching which medical university is right for you since there are over 44 medical schools in the UK. If you are confused about which one to choose, educational consultants might help. Gyanberry has a team of expert consultants who have tremendous knowledge of medical universities in the UK. Their experience will help you to choose the best one for you. The next step is to check for the requirements of medical schools in the UK. Although prerequisites to medical universities in the UK are almost the same, some universities might have specific requirements for their course. Most medical universities in the UK ask students to submit UCAT or BMAT scores. You can expect questions in your interviews from your personal statement and work experience (if any). 
Our platform, OneApply, designed to apply to multiple universities at the same time, can make the process of medical applications easier. To get in touch with us, you can fill out this application form or book a free video call with our experts. We also offer other services to assist you with study visas, accommodations, documents, etc.