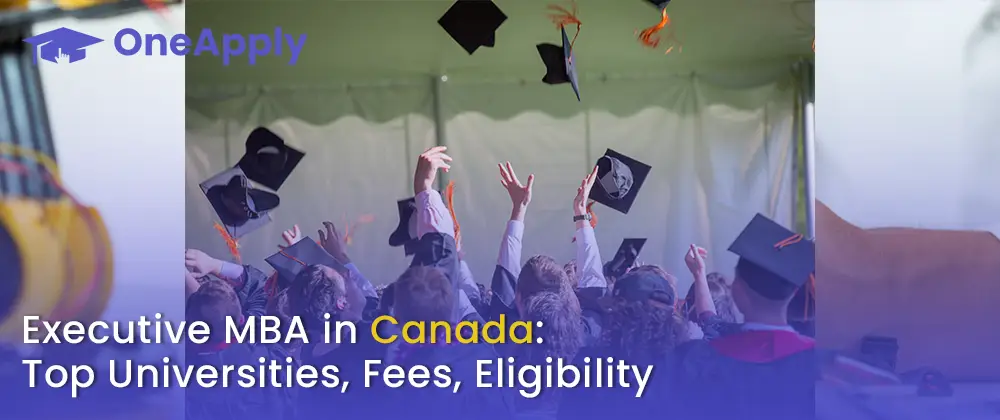 Canada is a popular destination for students seeking quality education and management programs, such as some really affordable MBA and BBA programs, including the Executive Master of Business Administration (EMBA) program. The Executive MBA in Canada is designed for professionals who wish to enhance their leadership skills, expand their business knowledge, and develop a strong network of industry professionals. These programs are designed to meet the needs of working professionals, with flexible scheduling and the ability to balance work and study. 
In this article, we will explore the benefits of pursuing an Executive MBA in Canada, the top Canadian universities offering EMBA programs, and the career opportunities available to graduates of these programs. Whether you are a mid-career executive or an entrepreneur, this article hopes to provide valuable insights into the Canadian EMBA landscape and help you make an informed decision about your career growth.
Overview of Executive MBA in Canada
| | |
| --- | --- |
| No. of Programs  | 20+  |
| Degree type  | EMBA, Joint EMBA, etc  |
| Tuition fees  | 80000 CAD – 100000 CAD  |
| Common Admission Requirements  | Work experience,  |
| Career prospects  | CEO, CFO, MD, General Manager, etc  |
Why Executive MBA in Canada? 
Quality of Education: Canada houses some of the world's top-ranked universities, which provide high-quality education to students. The EMBA programs in Canada are extremely well optimized with an intensive curriculum and top-notch faculty. 
Networking Opportunities: Pursuing an EMBA in Canada provides students with access to a broad network of industry professionals. This allows students to build relationships with other professionals and develop long-term business partnerships. 
Flexibility: EMBA programs in Canada are particularly designed to meet the needs of working professionals, with flexible scheduling options such as online, part-time, etc. This allows students to balance their work and study commitments and complete their degrees at their own pace. 
Diverse Business Environment: Canada has a diverse business landscape that includes industries such as technology, finance, healthcare, and energy. This provides EMBA students with the opportunity to gain exposure to a wide range of business fields and perspectives, allowing them to be more well-rounded professionals. 
Career Advancement: Graduates of EMBA programs in Canada have ample opportunities in front of them to advance their careers with their current organizations or pursue new opportunities. EMBA graduates are well-equipped to pursue fulfilling careers in many different fields. 
Executive MBA in Canada: Program Structure 
Executive MBA (EMBA) programs are designed to meet the educational needs of experienced professionals who are seeking to enhance their leadership and management skills while continuing to work full-time. The structure of an EMBA program is often different from a traditional MBA program in terms of curriculum, class schedules, and program length.
Program length: EMBA programs are often part-time and usually last between 18 and 24 months, although some can be completed in as little as 12 months.  
Curriculum: EMBA programs are designed to focus on practical, real-world business issues and leadership challenges. The curriculum typically includes courses in accounting, finance, marketing, strategy, leadership, and management.  
Class schedule: Classes are usually held on weekends, evenings, or in intensive week-long sessions. Many EMBA programs offer only one class a week, or once every third week. Online classes and self-study may also be incorporated into the program. 
Peer-based learning: EMBA programs often have a peer-based learning structure, where a group of students progresses through the program together. This allows for greater networking opportunities and fosters a sense of community among students.  
Experiential learning: EMBA programs often incorporate experiential learning opportunities, such as case studies, simulations, and consulting projects, to provide students with hands-on experience in solving real-world business problems.  
International exposure: Many EMBA programs offer international study trips to expose students to different business practices and cultures around the world.  
Top Executive MBA programs in Canada 
University Name 
Programs offered 
Duration of Study 
Tuition Fees 

University of Toronto 

EMBA

13 months 

119010 CAD

Global Executive MBA 

18 months 

110000 CAD

University of Alberta 

EMBA

22 months 

83917 CAD

University of Western Ontario 

EMBA 

15 months 

117000 CAD 

Concordia University 

EMBA

20 months 

75000 CAD 

University of British Columbia 

Professional MBA 

24 months 

94559 CAD

McMaster University 

EMBA in Digital Transformation 

14 months 

93335 CAD 

McGill University 

Joint EMBA 

15 months 

91000 CAD 

University of Calgary 

EMBA 

20 months 

81052 CAD 

York University 

EMBA 

18 months 

133700 CAD 

Queen's University 

EMBA 

16 months 

105000 CAD 
Admission Requirements for Executive MBA 
Work Experience: Executive MBA programs are designed for working professionals and hence require some minimum work experience ranging from 6 to 10 years. Some universities also require experience at low or mid-management levels of up to 3 years. 

Education experience: Most programs require a completed undergraduate degree from a recognized university. Some programs might also require specific coursework in subjects such as accounting, finance, statistics, etc. 

Standardized test scores: Some programs require students to present scores in tests such as GRE or GMAT. 

English language proficiency certificate (IELTS – 6.5, TOEFL iBT – 90)

A minimum of two Letters of Recommendation and Academic References. 

Personal statements or essays. 

Some programs might require students to participate in an interview as part of the admission process. 
Cost of Living in Canada 
The cost of living in Canada varies depending on the city of residence or region. Generally, larger cities like Toronto, Vancouver, and Montreal tend to have higher costs than smaller or rural areas. However, on average, the living expenses in Canada range from 15000 CAD to 20000 CAD. Many students also work while studying in canada to offset their living expenses. 
Here are some of the primary monthly expenses in Canada: 
| | |
| --- | --- |
| Expense Type  | Monthly Expense  |
| Accommodation  | 400 – 600 CAD  |
| Food  | 200 – 300 CAD |
| Transportation  | 100 – 150 CAD  |
| Utilities (Internet, Phone, etc) | 50 – 100 CAD |
| Misc.  | 100 – 150 CAD |
Career Opportunities after an Executive MBA in Canada 
Executive MBA programs are typically designed to enhance the skills and qualities of experienced working professionals, typically with years of experience. Graduates of an EMBA program are highly sought after for management positions in various industries. Some of the most common fields of employment for EMBA graduates include marketing, finance, executive leadership, consulting, etc. 
Here are some of the most common career paths for EMBA graduates in Canada with their average salaries according to payscale. 
| | |
| --- | --- |
| Job Position  | Average Annual Salary  |
| Chief Executive Officer  | 146745 CAD |
| Chief Financial Officer  | 142891 CAD |
| Director of Operations  | 99224 CAD |
| Senior Project Manager  | 108848 CAD  |
| Executive Director  | 75689 CAD |
| General Manager  | 66791 CAD  |
| Managing Director  | 144416 CAD  |
Conclusion
In conclusion, an Executive MBA in Canada is an excellent choice for experienced professionals looking to enhance their leadership and management skills, broaden their knowledge base, and expand their professional networks. With a variety of programs to choose from and adaptive schedules, EMBA students in Canada can tailor their education to fit their individual needs and goals. Overall, an EMBA in Canada can be a valuable investment in an individual's career, providing them with the support they need to take their career to the next level. For more information, book a free call with our admission counseling experts.