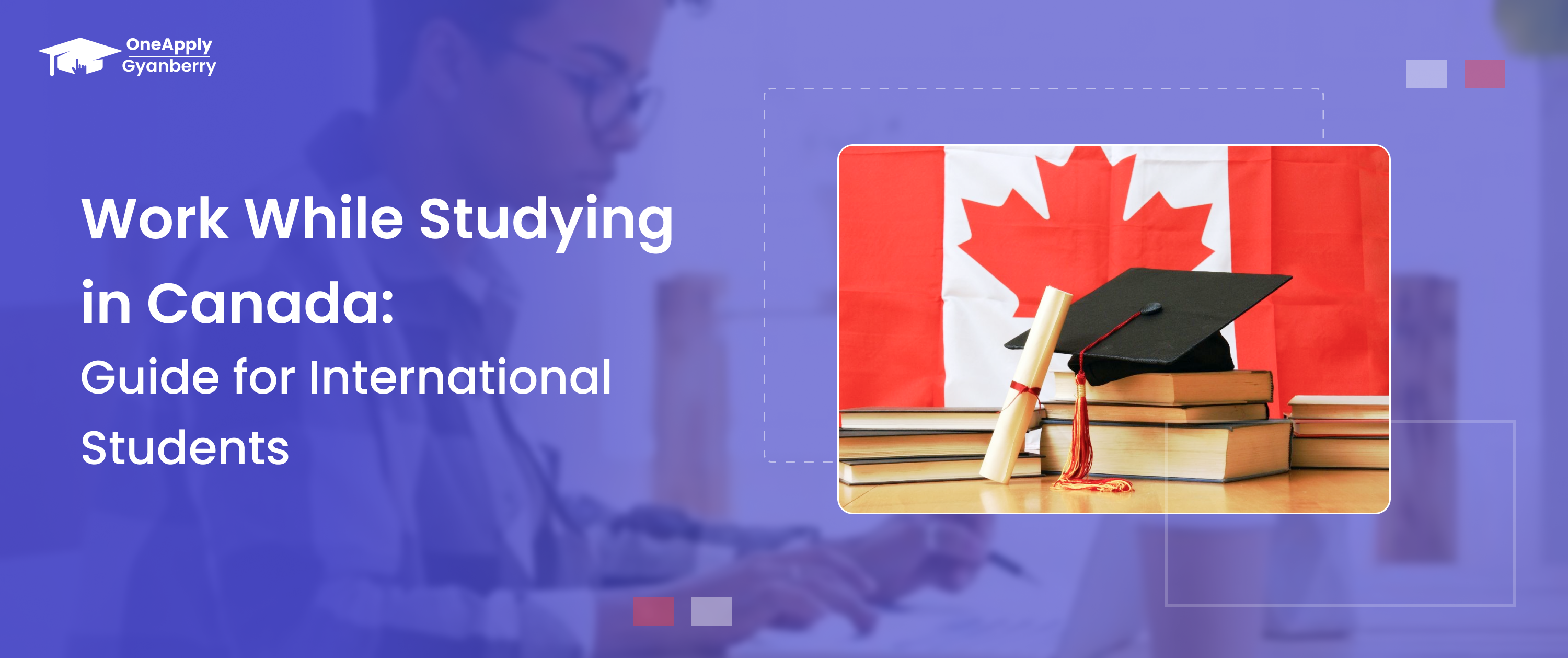 Over the last decade, Canada has seen a large influx of international students to the quality given its world-class reputation in higher education and the excellent opportunities it provides. Studying in Canada can be a unique and enriching experience with the right support and resources. However, for many students, the financial burden of paying tuition as well as covering living expenses can be particularly challenging. One of the most popular solutions among international students is to work while studying in Canada. 
Canada is also one of the most student-friendly countries in the world, with it housing more than 621,565 international students in 2021 alone. Many of these students actively work while studying in Canada, and they form an integral part of the Canadian economy. 
In this article, we hope to provide a comprehensive guide on how to work while studying in Canada. From understanding your work rights and options to finding the right job, this guide will provide all the information you need to make the most of your time in Canada and achieve your academic and career goals. 
Why Work While Studying in Canada
?
Working while studying can prove to be an extremely enriching and fruitful experience for international students pursuing higher education in Canada. It's an integral part of Canadian culture and will help prospective students in the long run in many ways. 
Here are some of the primary reasons why you should consider working while studying in Canada: 
Financial stability:

A part-time job can help offset the cost of tuition as well as

living expenses

, making your stay in Canada more sustainable as well as affordable. 

Work experience

: Working part-time can help you gain valuable skills and experience in your preferred field of work. Internships and co-op programs can help you with some real practical experience, which can go a long way in advancing your career. It can also help you build important corporate skills such as punctuality,   

Building networks

: Part-time jobs can be a great place to build networks and connections with businesses, fellow students as well as clients. It can help you find job opportunities after graduation. 

Social integration

: It can also help you integrate better into Canadian society, which in turn can make your stay there more enjoyable and culturally enriching. Such jobs provide you the opportunity to connect and engage with the common populace of the country.  

Explore different fields

: Part-time jobs also help you to explore different fields of work, and decide the most suitable one after graduation. 

Independence:

Finally, working while studying can provide you with a sense of independence and responsibility, helping you to develop important life skills and personal growth. 
Requirements for Working While Studying in Canada
International students can work part-time without a work permit provided they meet all of these requirements:  
Being a full-time student at a designated learning institution (DLI) with a study permit that includes work conditions 

Having a Social Insurance Number (SIN)

Being enrolled in a post-secondary academic, vocational, or professional training program or a secondary-level vocational training program (Quebec only) 

Being enrolled in a study program that is at least 6 months long and leads to a degree, diploma or certificate. 

Co-op jobs and internships require a letter from the university
These rules and regulations must be followed diligently in order to work while studying in Canada, as violating them can have consequences, such as losing the right to study or work in the country. 
How to Find Part-time Work in Canada? 
International students in Canada have a number of options for finding part-time work. Here are a few strategies to help you get started: 
University career center: Most universities have job boards and career centers that post part-time job opportunities specifically for students, mostly regarding work available on campus such as teaching assistant, library attendant, etc.   
Online job search websites: There are many online job search websites, such as Indeed, Monster, and Workopolis, that allow you to search for part-time jobs by location and keyword.  
Network with classmates, professors, and alumni: Classmates, professors, and alumni can be a great source of information and referrals for part-time job opportunities.  
Apply directly to businesses: Many students also directly to businesses in their field of study or in sufficiently paying industries such as sales, and customer service.
Student organizations: Joining an international student organization can provide opportunities to connect with others who are also seeking work and may have insights or leads on job opportunities.
Types of Part-time Work for Students
The study permits given to international students, allow them to work up to a maximum of 20 hours a day during a normal study period, without the need for an additional work permit. During a scheduled break such as Summer and winter vacations, students can work full-time to earn additional income. Moreover, students can only start working after their classes have started. 
There are mainly three types of work an international student can acquire in Canada: 
On-Campus Jobs: These are jobs within the university or college, such as working in the library, as a research assistant, or as a student ambassador. 
Off-Campus Jobs: International students are eligible to work off-campus in jobs such as retail, sales, food service, customer service, tutoring, etc. 
Co-op Programs: Many students also opt for co-op programs (programs that constitute part-time as part of their structure) as well as internships to gain valuable work experience in their field of study. 
Salary Profile of Common Part-time Jobs in Canada  
The salary for common part-time international students in Canada varies depending on the type of job and location. Internships and co-op jobs will have different salaries depending on the field you are working on, but according to talent.com, on average co-op jobs pay 21.50 CAD per hour.  According to the retail council of Canada, the minimum wage in Canada varies from 13.60 CAD (Manitoba) to 16 CAD (Nunavat), depending on the province.
Some common jobs for international students and their average salary ranges include
| | |
| --- | --- |
| Type of Job  | Average Salary/Hour  |
| Research Assistant  | 20 CAD  |
| Library Attendant  | 23 CAD  |
| Retail Sales Associate  | 15-17 CAD  |
| Food Service Worker (e.g., server, barista) | 17 CAD + tips   |
| Call Centre Representative  | 18.45 CAD  |
| Customer Service Representative  | 18.57 CAD  |
| Data Entry Clerk  | 19.72 CAD  |
| Warehouse Worker  | 17-20 CAD  |
Conclusion 
In conclusion, working while studying in Canada can provide international students with valuable opportunities to offset tuition fees and living expenses, gain valuable work experience, and build skills and networks. By understanding your work rights and options, researching potential employers, and using various job searching strategies, you can find the perfect part-time job to complement your academic career in Canada. As such, as an international student, you should look forward to working while studying in Canada. We hope this guide helped you in clearing your doubts regarding working while studying in Canada. For more information, contact Gyanberry.