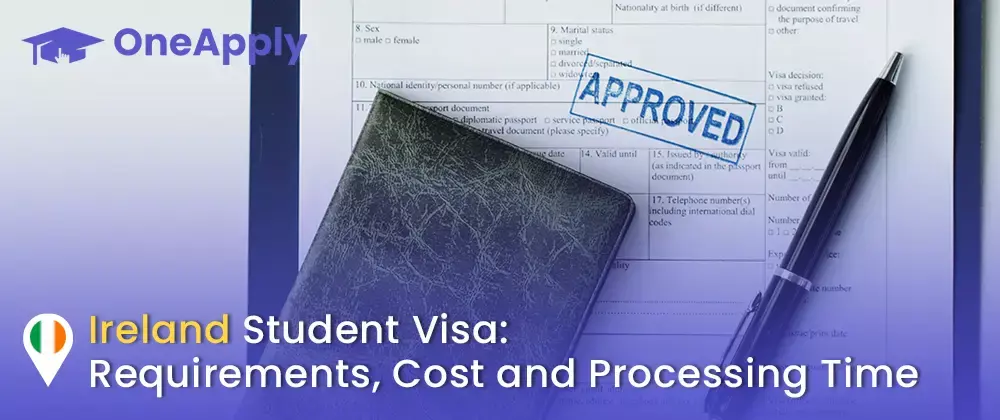 Known for being immensely creative, tech-savvy, and one of the most progressive countries in the world, the aggregate of total applications for Ireland student visas is reaching sky-high numbers. A student visa is required to get admission to any Irish university. While students from EU/EEA member states do not require an Ireland student visa to study in Ireland, all non-EU students must get one. There are different types of Irish student visas, depending on your age, the course you wish to pursue your education in Ireland and the duration of your study.
Although many countries' student visas require an immense amount of documentation and filing, Ireland has relatively less hassle, thanks to the country's proactive approach to being student-friendly. The rejection rate of visas in Ireland is between 1 and 4%, so the scope of getting into an Irish university of your choice becomes relatively free of the stress of obtaining a student visa.
There are many factors associated with getting a student visa; we at Gyanberry aim to give you all the information you need to get that Irish student visa in this article and, subsequently, get into your dream college.
Overview: Ireland Student Visa
The Irish student visa application isn't a complicated process, but we have tabulated below a brief for easy assessment and quick information.
Irish Student Visa Fees

Single Entry: 60-80 EUR

Multiple Entry: 100-120 EUR

Requirements

Valid passport

Letter of acceptance from an Irish university

Pursuing a program mentioned in the ILEP

Attested application stating contact details and reasons why you are pursuing study in Ireland

English proficiency score card of IELTS/TOEFL/PTE

Benefits 

Studying in a credited Irish university

Part-time work opportunities are extensive, working during the vacations are also available

Stay and study for the whole duration of your course

Avail various internship opportunities and industrial offers

Types

C – Short term, D – Long Term, Re-entry/Multiple Entry

Time Required for Processing

10-20 days depending on the type of visa applied for

Rejection Rate

1-4%
Benefits of Obtaining an Irish Student Visa
All international students studying at credited and recognized institutions can apply for a student visa. The student visa has advantages over other types of visas (traveler or business visas) since it's a special visa designed exclusively for students. Below are some of the top benefits available to students holding an Ireland student visa:
Studying in a reputed Irish university recognized by the Interim List of Programs (ILEP).

Upto 40 hours per week during college vacations and up to 20 hours a week, students can pursue part-time jobs in Ireland to manage their finances and keep a bit of money to spend here and there!

Get into Europe's research, innovation, and creative hub, with major MNCs such as Google, Amazon, Microsoft, etc., setting up their European bases in Ireland.

For the complete duration of your study, there is no need for renewal; you can stay and enjoy the various aspects Ireland offers for the whole time.

Avail of various internship opportunities and bag industrial offers easily.
Types of Irish Student Visas Available to International Students
There are three major types of student visas for international students looking to study in Ireland. 
C-type study visa:

This type of visa is generally provided when the duration of your study is less than three months, i.e., 90 days. 
D-type study visa (the most common type of student visa):

This type of visa is provided for international students whose educational course is over three months.
Re-entry/Multiple Entry:

You can file for a multiple entry visa if you have previously held single entry cards and have complied with their requirements. With a multiple-entrance passport, you can visit Ireland more than once while it's still in effect.
How to Apply for an Irish Visa?
Applying for an Irish student visa isn't tiring but needs to be accurate. Depending on your nationality, the criterion for an Irish student visa differs. Suppose you are a student from the EU (European Union) or EEA (European Economic Area). In that case, you need not require an Irish student visa to apply to universities in Ireland or even enter Ireland.
Since Ireland has become the technology center, it is natural for the application process to get digitalized. Now you can apply for an Irish student visa easily online. Applying for an Irish student visa online requires the following steps: 
Make sure you meet the requirements for student visa applications. 

Visit the official website,

AVATS

, and pick a visa that suits your requirements and study program.
The online system will create an application form, which you must fill in with accurate information.

Follow the application form; it will guide you on all documents to submit and how to submit them.

You will receive a 'Unique Visa Transaction Number'. Make sure to note it down since it will be of utmost importance.

Take a printout of the application form and the corroborating documents, self-attest it, and upload it on the website accordingly.

You can also submit the self-attested application form and documentation via mail/post at your convenience.
While applying, the website may ask for your biometrics as part of the application process.
Time Required to Process Irish Visas
Since the visa applications are processed according to the date they are submitted, it is advisable not to book your tickets until and unless you get your visa. Processing time has many factors to consider, such as processing between countries and Visa Offices, Embassies, or Consulates. It also depends on the volume of students applying for visas during the year. 
Irish visas usually take eight weeks to appraise you of the result of your application. You can keep checking the application's website for updates on your visa application using your Unique Visa Transaction Number. But your application may take longer if:
You have not submitted all the necessary documentation.

The office needs to verify all your supporting documents.

If you have a criminal conviction, personal record, etc.
Irish Student Visa Fees and Residence Permit 
The student visa application costs 60-80 EUR. After you submit the application form and all the necessary documentation, you will be waiting for approval on your visa. After the approval of your applications arrives, and once you reach Ireland, you will have to make an appointment with the registration office at the Irish Naturalisation & Immigration office and pay the mandatory 300 EUR fee for obtaining your residence permit card.
Irish Student Visa Eligibility
An Irish visa is only provided to those students pursuing credited programs mentioned in the Interim List of Eligible Programs (ILEP). They must have a confirmation letter from the university. A provisional or tentative confirmation letter is not accepted for application under the Irish student visa. 
Students also require basic proficiency in acknowledged English proficiency tests such as IELTS/TOEFL or PTE. other than these base requirements, the documents required for applying for an Irish student visa are listed below.
Documents Required for Irish Student Visa Application
Ireland's criteria for D-type visas are unbinding. It pays close attention to each of its requirements. All documents you submit must be originals, but make sure to take photocopies of your documentation before sending it across. Below is the documentation required to apply for an Irish student visa:
Valid passport/current passport and all previous passports

English Proficiency Scorecard of IELTS/TOEFL or PTE

Two recent color-sized photographs

Letter of acceptance from an Irish University/ recognized college in Ireland

Pursuing a program mentioned in the Interim List of Programs (ILEP)

Proof of payment transactions of fees and registration to the Irish university

Medical insurance

Copies of all academic transcripts

Copies of all exam results 

Evidence accounting for any gaps in your educational history

Evidence showing you have the caliber to study your chosen program at an Irish university

Proof of sufficient baseline funds required according to the

cost of living in Ireland

Commitment to leave Ireland on expiry of your visa

An attested application form stating your contact details and reasons stating why you wish to

study in Ireland

Any previous visa refusals
Documents such as invitation letter, bank statements, etc. shall not be returned.
Conclusion
Since the application process is quite hectic and requires a truckload of documents, signatures, and filing, we have tried simplifying it and provided you with the basics of obtaining an Irish student visa. Make sure to follow all procedures earnestly, and you'll obtain your visa in no time.
Ireland is the 10th most friendly country by the US News & World Report 2023, so don't worry and fill out the Irish student visa application form! If you want more details, kindly contact our admissions counseling services or schedule a video consultation with our experts.