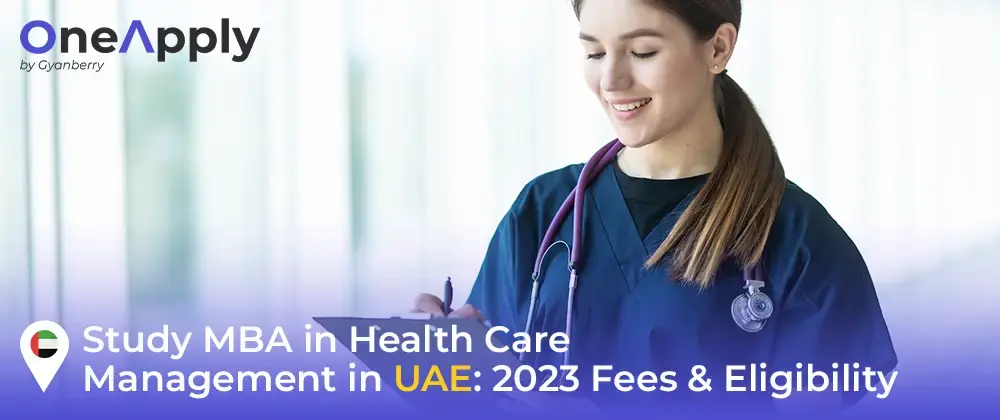 An MBA in Healthcare Management in UAE is a postgraduate-level degree course that is offered by premier business institutions. The program allows its students to intricately understand any healthcare setup, which might range from tertiary care centers to corporate hospitals.
Via this course, graduates are taught to seamlessly integrate business principles with the health industry's requirements. The goals include improving patient care while addressing the challenges of this dynamic and ever-evolving sector of the economy. The logistics behind delivering healthcare services are taught at length, with importance given to the legal and financial aspects of the practice. 
Let us take a look at some of the best MBA universities in Dubai offering courses in healthcare management. 
Working professionals can also check out our blog on applying for an Executive MBA in UAE. Despite being home to elite business institutions, quality education is still provided at affordable prices for international students in the country.
Top Universities for MBA in Healthcare Management in UAE
UAE abides by a business-savvy model of education that is on par with global accreditation standards. Thus, MBA programs in this nation are a lucrative choice for international students. Even bachelor's of business administration in UAE has witnessed significant growth and demand in recent years.
The top universities for MBA in Healthcare Management in UAE include 
Al Ain University, Al Ain
The College of Business (COB) at Al Ain University strives to impart business education that is on par with the transitional trends of global healthcare markets. With affordable tuition fees and multiple scholarship options, the university takes the requisite steps to make even a coveted, pricey degree like an MBA accessible for deserving applicants. Al Ain University has been consistently ranked among the top universities in UAE.
Non-BBA UG graduates are accepted to the MBA program, provided they study the 4 remedial courses decided by the department. To graduate, students need to clock a minimum of 33 credit hours with a 3.0 GPA on a 4.0 scale. 
| | |
| --- | --- |
| Name of the University  | Al Ain University |
| Tuition fees for international students  | 86,625 AED for the entire program  |
Westford University College, Sharjah 
Having enrolled over 10,000+ students across all its programs, Westford University College in Sharjah has a stronghold over business education. With students from 130+ nationalities, the Institute fosters an atmosphere of cultural diversity and harmony. 
The MBA program offered by the university is particularly flexible. It gives students the option to enroll online or part-time, according to their convenience. Thus, working professionals are also often seen applying to this regular MBA course. The degree is offered in conjunction with Westford's strategic partners, some of which are Cardiff Metropolitan University (CMU), Abertay University in the UK, UCAM in Spain, Guglielmo University in Italy, and Girne American University in Cyprus.
| | |
| --- | --- |
| Name of the University  | Westford University College, Sharjah |
| Tuition fees for international students  | 32,000- 40,000 AED* |
*The university does not state its exact fees for the MBA program. Interested applicants can contact the admissions office directly for more details.
Middlesex University, Dubai 
Accredited by the CIM and CIMA, the MBA program offered by Middlesex University Dubai is a class apart. It is an internationally recognized UK degree, offered in the heart of the business center in Dubai. 
Students are encouraged to inculcate cross-cultural leadership skills with international trips to Paris, Milan, Shanghai, and more. Flexible evening classes are offered on campus to accommodate the unique needs of each individual student. As a rule of thumb, students enrolled full-time to complete the course in one year while those enrolled part-time complete it in two years. 
| | |
| --- | --- |
| Name of the University  | Middlesex University, Dubai  |
| Tuition fees for international students  | 107,600 AED for the whole program  |
Murdoch University, Dubai 
An Australian university with a global campus in Dubai, Murdoch University has a network of over 25,000 students. As per KHDA's Higher Education Manual, the university has a 5-star rating, demonstrating strength across all educational programs. 
Accredited by the Tertiary Education Quality Standards Agency (TEQSA) in Australia, students graduating from the Murdoch Dubai campus have a 94% satisfaction rate. They join an international nexus of 90,000+ alumni, who are all well-established in their respective fields. 
| | |
| --- | --- |
| Name of the University  | Murdoch University, Dubai  |
| Tuition fees for international students  | 165,498 AED for 48 credits |
Ascensia Business School, Sharjah 
Originally based in Paris, Ascensia Business School has expanded beyond French borders to set up a global campus in Sharjah. The private university operates on a work-study management model. 
Business fundamentals are emphasized, with attention given to core courses such as accounting, finance, marketing, and management. Elective subjects give students the autonomy to choose what they like. The blended learning format is followed for greater flexibility, with a course duration of around 13 months. 
| | |
| --- | --- |
| Name of the University  | Ascensia Business School, Sharjah |
| Tuition fees for international students  | NA |
Eligibility Criteria for MBA in Healthcare Management in UAE 
At the graduate level, applicants must have 
An undergraduate degree in business administration or its equivalent. Holders of graduate-level qualifications are also welcome to apply. 

A minimum GPA of 3.0 on a 4.0 scale 

Past managerial work experience of 1-2 years. This includes anything from running family businesses to working in large-sized corporations. 

English Language Proficiency test scores. A minimum of 6.5 (with 6.0 in each band) is required for IELTS while the minimum TOEFL iBT score should range between 87-89. 
Documents required for international students
All past academic transcripts

A photocopy of a valid passport

Letters of recommendation from senior academicians or other officials 

Proof of secondary school graduation in English including its official translation

Proof of English Language Proficiency test results 

An updated CV 
Conclusion 
With the government taking active measures to improve healthcare infrastructure, pursuing an MBA in Healthcare Management in UAE can prove to be an excellent investment. International students and domestic graduates can occupy managerial positions in healthcare setups, and work as consultants, or start their own organizations. 
If you are interested in studying abroad in the UAE, our one-stop portal, OneApply, will help you choose the right university and program. Talk to our experts to learn more.