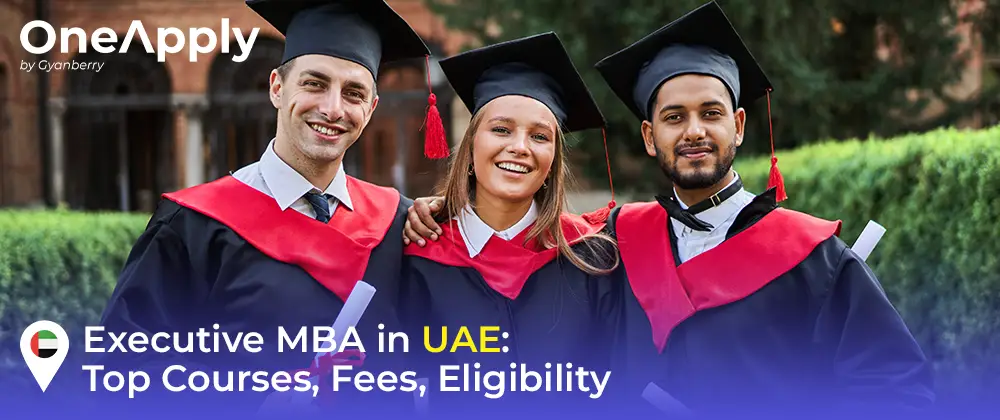 The United Arab Emirates (UAE) has rapidly emerged as a global hub for business and innovation in recent times. With its vibrant economy and strategic location, there are more than enough reasons why UAE is a perfect location for prospective students. UAE offers a wealth of opportunities for career advancement, making it an ideal destination for everyone, especially ambitious executives. UAE is well known for its business-savvy environment and offers extensive business programs including BBA, MBA, and executive MBA.  
The Executive MBA in UAE is designed for experienced professionals who are seeking to enhance their skills and realize their professional potential. In fact, UAE has many top-class universities that offer flexible and versatile EMBA programs. EMBA programs are often part-time and usually last between 18 and 24 months, although some can be completed in as little as 12 months.
In this article, we'll explore the best EMBA programs in the UAE, along with the best universities, application deadlines, as well as tuition fees. We hope our guide helps restructure your professional ambitions. You can also check out our guides for EMBA programs in Canada and Germany. 
Overview of Executive MBA in the UAE
| | |
| --- | --- |
| No of programs  | 10+  |
| No of Universities  | 10+  |
| Degrees Offered  | EMBA |
| Average Tuition Fees  | 75000 – 200000 AED  |
Why Study Executive MBA in the UAE?
High-Quality Education: The UAE is home to some of the best universities in the Gulf region and many internationally recognized universities and business schools offer EMBA programs accredited by reputable accreditation bodies.
Networking Opportunities: The UAE is known for its vibrant business community, providing ample opportunities for networking and building professional connections. EMBA programs in the UAE often include networking events, guest lectures by industry experts, and opportunities for internships or capstone projects, allowing students to expand their professional network.
Career Advancement: An EMBA from a reputable institution in the UAE can provide executives with the credentials and skills needed to advance their careers to senior leadership roles.
Multicultural Environment: Studying for an EMBA in the UAE provides students with exposure to diverse perspectives and cross-cultural interactions, which can be invaluable in today's global business landscape.
Executive-Focused Curriculum: EMBA programs in the UAE are tailored to the needs of experienced professionals. The program is often delivered in a flexible format, allowing executives to balance their work commitments while pursuing their studies.
Top Executive MBA programs in UAE
| | | | | |
| --- | --- | --- | --- | --- |
| University Name  | Programs offered  | Duration of Study  | Application Deadline  | Annual Tuition Fees (2023/24) |
| University of Sharjah  | Executive MBA | 2 – 4 Years  | 4 June 2023  | 73084 AED  |
| INSEAD Business School (Middle East Campus)  | Global Executive MBA  | 14 – 17 months  | 1 August 2023  | 240537 AED |
| Hult International Business School (Dubai) | Executive MBA | 2 years | September 7, 2023 | 329000 AED |
| Bayes Business School, University of London | Executive MBA  | 20 Months | TBC | TBC |
| SP Jain School of Management  | Executive MBA | 18 Months  | September  | 99350 AED |
| London Business School  | Executive MBA | 20 Months  | September 2023  | 143955 AED |
Admission Requirements for EMBA Programs in the UAE 
Admission requirements may vary for the EMBA program depending on the institution, but here are some of the most general requirements for EMBA in the UAE:
A recognized bachelor's degree from an accredited institution with a good academic record. 

English language proficiency certification in a test like IELTS (6.5), TOEFL iBT (80), etc.

Most programs require a minimum amount of work experience, typically ranging from 3 to 5 years, although some programs may require more.

Some EMBA programs require scores in standardized tests such as GMAT, GRE, etc. 

Letters of Recommendation 

Some programs involve an interview process

All previous academic transcripts
Cost of Studying EMBA in the UAE
Studying in the UAE involves expenditure at various levels from immigration, transportation, tuition, living costs, etc. The cost of pursuing an EMBA program in the UAE depends on various factors such as institution type, program duration, etc. 
However, on average, for most EMBA programs, the cost ranges from 75000 – 200000 AED. The cost of living for international students in the UAE, on the other hand,  can range from AED 25,000 to AED 50,000 per year, depending on the location and lifestyle. Therefore, it is important to budget accordingly to cover all the expenses. Many universities in the UAE offer scholarships to academically bright students. 
Here is a breakdown of some of the basic monthly expenses in the UAE: 
| | |
| --- | --- |
| Expense Type  | Monthly expense  |
| Accommodation  | 1,500 – 3,500 AED |
| Food  | 500 – 1,000 AED |
| Transportation  | 250 – 350 AED |
| Misc.  | 100 – 150 AED |
Career Opportunities for EMBA Graduates
Graduates of an EMBA program are highly sought after for management positions in various industries. Some of the most common fields of employment for EMBA graduates include marketing, finance, executive leadership, consulting, etc. Here are some of the most common job profiles of EMBA graduates as well as their monthly salaries according to Gulftalent.com. 
| | |
| --- | --- |
| Job Profile  | Average Monthly Salary  |
| Chief Executive Officer  | 47500 AED  |
| Chief Financial Officer  | 31229 AED |
| Director of Operations  | 408231 AED |
| Senior Project Manager  | 34500 AED |
| Executive Manager  | 30500 AED |
| General Manager  | 30500 AED |
Conclusion 
In conclusion, pursuing an Executive MBA in the UAE can be a game-changer for professionals seeking to advance their careers and gain a competitive edge in the dynamic business landscape of the region. The UAE offers a unique environment that fosters innovation, diversity, and global business perspectives, making it an ideal destination for ambitious executives looking to elevate their leadership skills and broaden their horizons. For more information on the same, book a free consultation call with our admission experts.