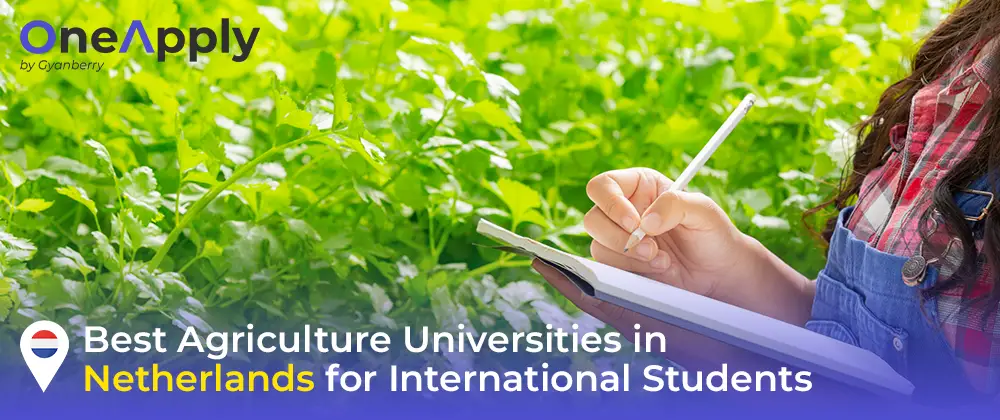 The Dutch have a long-standing reputation for being pioneers in agriculture and horticulture. Top agriculture universities in Netherlands emphasize practical learning and research, with a focus on sustainable practices. International students who wish to pursue higher education in the Netherlands will find an inclusive environment with cosmopolitan minds. Here, universities offer 2000+ programs taught entirely in English to accommodate foreign applicants. 
Some of the popular agriculture-related programs at universities in Netherlands include Agricultural Sciences, Animal Sciences, Plant Sciences, Horticulture, Food Science and Technology, Agribusiness, and Rural Development. With a student body representing 160 nations across the world, the country is a flagbearer for diversity. Apart from classroom lectures, students partake in practical training sessions, field trips, and research projects. This is how agriculture universities in Netherlands take active initiative in training the next generation of farmers and researchers.
Universities in the Netherlands offer Agriculture and related programs as bachelor's degrees, master's degrees, short courses, or doctorate degrees. A handful of universities also offer MBA programs in the Netherlands with specializations in Food & Horticulture, Agribusiness, Food Security, Water Management, and more.
In this blog, we have only covered universities in the Netherlands that offer English-taught programs in Agriculture and related fields. You can use our search tool to look for any universities, courses, scholarships in Netherlands, and other popular student destinations.
Highlights: Agriculture Courses in Netherlands
Degree Type

Undergraduate, postgraduate, and professional education 

Duration 

3 to 4 years for UG programs 

1 to 2 years for PG programs 

Top Universities 

Wageningen University & Research, VHL University of Applied Sciences, Aeres University of Applied Sciences, HAS University of Applied Sciences

Medium of instruction 

English 

Average program costs 

€8,000- 10,000 annually for UG courses

 €10,000 annually for PG courses 

Career prospects 

Food production, research, farm management, government/corporate roles. 

Job titles will include the likes of Farm Manager, Agricultural Consultant, Research Scientist, Agricultural Economist, etc. 

Median salary for international agriculture graduates in the Netherlands

€ 55,000- 68,000 annually
Why Study Agriculture in Netherlands?
Before we dive into the details of English-taught Agriculture-related courses in Netherlands, let's understand why it is such a popular country to pursue a degree in Agriculture.
According to the World Bank, despite having a relatively small land area, the Netherlands is the second-largest exporter of agricultural products globally.

The Netherlands is a global leader when it comes to technological advancements in agricultural practices. Precision farming, greenhouse horticulture, and aquaculture technologies are being used by Dutch farmers for a long time.

Universities in the Netherlands offer world-class education and have made significant contributions to the landscape of agricultural studies. Wageningen University, in particular, is specially dedicated to agricultural & environmental studies and consistently ranks among the top global universities for agriculture.

According to

Nuffic

, studying agriculture in the Netherlands provides excellent career prospects. The country has a strong agricultural sector and a demand for skilled professionals in various fields, including agronomy, horticulture, livestock management, sustainable agriculture, and food technology.
Suggested Read: Top Engineering Universities in the Netherlands for International Students.
Best Agriculture Universities in Netherlands
Universities in the Netherlands offer a world-class education that prepares students for rewarding careers in the agriculture and horticulture industry. Research and innovation is the cornerstone at these institutions, with the common goal to improve agricultural practices, increase sustainability, and promote food security.
Wageningen University & Research, Wageningen 
Occupying the #1 spot on the global list, Wageningen University in the Netherlands is in a league of its own. It has a rich history dating back to 1918 when Wageningen Agricultural College became a full-fledged university offering undergraduate, graduate, and professional programs in various fields related to agriculture. 
Wageningen University is notable for drawing on the individual skills of researchers and empowering them at the university level. This union of diverse areas from both the natural and social sciences helps drive potential scientific solutions forward and repurpose them for use in education. This strength is clearly demonstrated by Wageningen's figures, where they received 804 million dollars in funding in 2021. 
At the PG level, a Master's program in Agroecology can be availed by students. Upon graduating, applicants get two diplomas. (WU: MSc Organic Agriculture, Isara: MSc Agroecology). This program is part of the Organic Agriculture master's and empowers you with the resources required to understand the structure and function of complex agroecosystems. Students enrolling in the program get the option to complete their first year in Wageningen. For the second year of study, students can transfer to ISARA-Lyon in Lyon, France.
Program Name
Program Level
Program Duration
2023 Tuition Fees for non-EU Students

BSc in Animal Sciences

Undergraduate 

3 years 

€16,400 annually

for non-EU students.

BSc Food Technology

BSc Environmental Sciences

Double Degree in Agroecology

Postgraduate 

2 years

€19,600 annually

for non-EU students

Plant Breeding

Online courses 

7-10 weeks long, with a course duration of 20 hours 

€2,050- 2,800

Plant Pathology

Genetics

Epidemiology
Van Hall Larenstein (VHL) University of Applied Sciences, Leeuwarden
Established first as an agricultural school in the Netherlands, Van Hall Larenstein University offers a wide range of academic offerings that are designed to prepare students for careers in the rapidly-evolving field of agriculture. 
Making up 10% of the school's general enrolment, VHL has numerous international candidates in its student body. Additionally, the university collaborated with four other European universities in setting up the "European University Alliance INVEST" at the same time. Starting in September 2021, these universities offer minors/specializations to 3rd and 4th-year undergraduate students as well as interested international candidates. In addition to this, VHL also has close-knit partnerships with Baramati College of Agriculture and Allied Sciences in India and Yunnan Agricultural University in China.
Program Name
Program Level
Program Duration
2023 Tuition Fees for non-EU Students

Bachelor of Animal Husbandry

Undergraduate 

4 years 

€7,900- 8,900 annually

Food Technology

International Agribusiness and Trade

Master of Agricultural Production Chain Management

Postgraduate 

1 year

€8,500- 13,750 annually

Innovative Dairy Chain Management
Aeres University of Applied Sciences 
Aeres University is an esteemed institute in the Netherlands for those interested in studying agriculture. Their programs are of exemplary quality and feature faculty members with years of experience and impressive credentials. 
Aeres University of Applied Sciences offers a number of different agriculture programs at its three campuses. The university is located in the villages of Dronten, Slochteren, and Wageningen. The epicenter of the teaching at Aeres draws back to sustainability, and making young minds conscious about the consequences of their actions. The double degree programs offered have a duration of 1.5 years and give applicants international experience that is unparalleled. The first semester is taught at Dronten while the remaining two semesters are covered in the lush French city of Angers.
At the master's level, The Agribusiness Development course can also be pursued on a part-time basis, in which case the program duration will extend to 2 years. The Food Systems program is quite unique and incorporates working visits, a boot camp week, and a city study trip in its curriculum.
Program Name
Program Level
Program Duration
2023 Tuition Fees for non-EU Students

European Food Business

Undergraduate 

4 years 

€8,215 annually

International Food Business

International Food Operations Management 

Food Chain Management

1 year

International Dairy Management

Plant Breeding

Plant Production 

1.5 years 

Livestock Production

International Agribusiness

Master of Applied Science in Food Systems Innovation

Postgraduate 

1 year 

€8,215 annually

Master of Science in Agribusiness Development
HAS University of Applied Sciences
HAS University of Applied Sciences offers numerous agriculture-related courses for students who are interested in farming management and getting an insight into the food industry. The university boasts of a hands-on approach to learning, with programs designed to equip 450,000+ students with dexterity and knowledge that can be applied to real-world scenarios. 
What started as a solely agriculture-based university has now expanded to offer 18 higher professional study programs, including two international programs. Collaborations with partner institutions and companies ensure graduates are job-ready and take a multidisciplinary approach to perplexing problems. 
Program Name
Program Level
Program Duration
2023 Tuition Fees for non-EU Students

Horticulture and Business Management

Undergraduate

4 years 

€ 9,200 annually

International Food and Agribusiness

International Agribusiness

Diploma 

20 weeks

NA

Exchange International Food and Agribusiness

Applied Plant Research 

Applied Animal Sciences

Circular Agriculture 

Farming with Nature

Future Food Systems

High Tech Agrosystems

Exchange Horticulture and Business Management
Suggested Read: Scholarships in Netherlands for International Students
Admission Requirements for Agriculture Courses in Netherlands 
To be eligible for admission to an agriculture-related program at a Dutch university or university of applied sciences, you will need to have completed a relevant secondary education program. Alternatively, you may be eligible for admission if you have completed a vocational training program in agriculture or a related field.
If you have completed your secondary education or vocational training outside of the Netherlands, you will need to have your qualifications recognized by the Dutch authorities before you can apply. 

For bachelor's courses, the applicant's level of previous education should be equivalent to the

Dutch Pre-University Diploma (VWO)

. 

Tests may be conducted at the institutional level to test students' proficiency in subjects like Biology, Social Sciences, Statistics, and Agricultural Sciences. 

Some universities also ask for minimum test scores in standardized tests such as IELTS, and TOEFL. Although university-specific requirements may vary, a TOEFL iBT score of 79 and an IELTS score of 6.0 is considered safe for UG. On the other hand, a TOEFL iBT score of 80-90 and an IELTS score of 6.5 (with no individual band score below 6.0)  is considered best for PG admissions. 
Documents required for international students 
Before confirmation of acceptance, international students will be asked to furnish the following records 
All past academic transcripts

2-3 references from senior officials who can vouch for your academic ability and qualifications

Proof of English Language Proficiency exam results 

Updated CV

Passport photos and proof of residence 
For the timely submission of documents, you can employ our admissions counseling services and apply to any university of your picking. 
Career Prospects for Agriculture Graduates in Netherlands
The Netherlands is second only to the United States in terms of global agricultural exports, with a yearly output pegged at € 65 billion. The agricultural and horticultural sectors make up a contribution of 10% to the total Dutch economy, playing a crucial role in the country's fiscal development.
Thus, students who have completed their studies at the top agriculture universities in Netherlands can venture down the following career paths. 
One potential career path for graduates is farm management. This involves overseeing the day-to-day operations of a farm, including crop production, livestock management, and financial planning. 

A career in agricultural research is exceedingly rewarding. Here, you will be working to develop new techniques or technologies that improve crop yields or animal health. For careers involving research, it is preferable if you have a Master's degree in the subject. 

Another option is food production, where graduates can work in food processing or manufacturing facilities to ensure that products meet quality standards and are produced efficiently.

If interested, you may also choose to work in government agencies or non-profit organizations focused on sustainable agriculture practices and environmental stewardship.
To sum it up, graduates in agriculture courses in the Netherlands can occupy job roles such as Farm Manager, Agricultural Consultant, Research Scientist, Agricultural Economist, and more. The average remuneration for the same varies between € 55,000- 68,000 annually. 
Conclusion 
In conclusion, agricultural universities in the Netherlands play an integral role in ensuring sustainable agricultural development and innovation in the country. Furthermore, the research conducted In these universities helps maintain the country's dominance in agricultural practices and contributes to the promotion of food security and sustainability at a global level. 
Thus, it is safe to say that the agriculture universities in the Netherlands not only have a far-reaching effect on the country's indigenous agricultural sector, but their true impact also extends beyond the borders of the Netherlands. 
If you also wish to pursue this enthralling course in the land of the Dutch, you can contact us at OneApply for a hassle-free admissions process. Please schedule a video conversation with one of our specialists for further information.