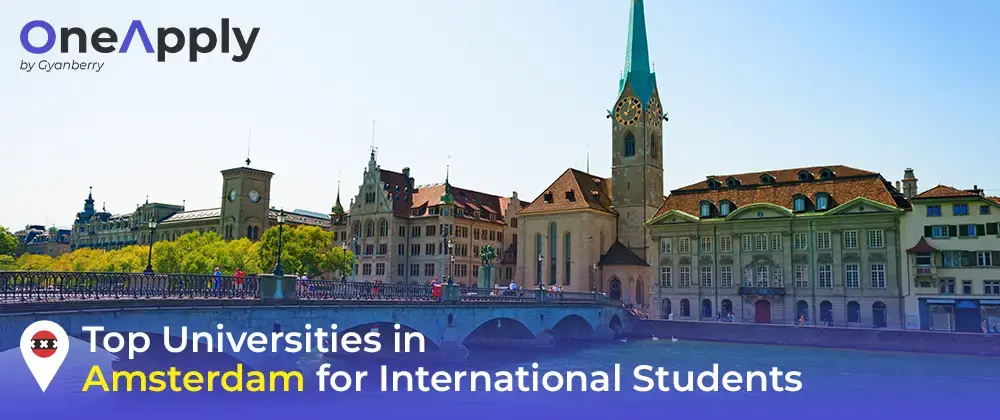 Amsterdam is the vibrant and culturally rich capital city of the Netherlands. From its iconic canals and world-renowned art galleries, the city is an ode to beauty and history. Beyond its alluring sights, Amsterdam also boasts a thriving academic scene. A range of world-class universities that attract a diverse community of international students can be found here. From the University of Amsterdam to Vrije University, the universities in Amsterdam occupy top positions on international ranking lists. 
Popular fields of study include business, economics, engineering and associated fields, social sciences, and natural sciences. According to the Netherlands Organization for International Cooperation in Higher Education (Nuffic), 115,068 international degree students enrolled in Dutch higher education institutions in 2021-22. With 2000+ English-taught programs and an estimated cost of living for international students in the Netherlands ranging between € 9,600- €13,200, the country is a hub for inbound international student mobility. 
Through this article, we at Gyanberry will help you explore some of the top universities in Amsterdam with popular program choices, fee details, scholarship options, and more. 
Suggested Read: Top Engineering Universities in the Netherlands for International Students
Why Study In Amsterdam?
A Globally-Recognized Education:

The Netherlands is also known for its comprehensive and unique approach to higher education. According to the QS World University Rankings 2023, both the University of Amsterdam and VU University Amsterdam are listed among the top 150 universities worldwide. This serves as a testament to show that universities in Amsterdam abide by international standards and are globally famed. 

Diverse Student Population

: Amsterdam welcomes students of all nationalities, and is home to a harmonious community of international students. According to

CBS government statistics

, there are over 42,000 international students studying in the Netherlands, accounting for almost 40% of the total student population. 

Cultural Capital

: Amsterdam is a vibrant and captivating city brimming with culture. Home to world-famous exhibits in the Van Gogh Museum and Rijksmuseum, Amsterdam provides an array of cultural experiences that cannot be found anywhere else. The city also hosts an impressive coterie of annual events, such as the Amsterdam Pride Parade and the world-famous Amsterdam Dance Event. No matter what time of the year it is, you can always count on something exciting happening here. 

Scope for Employability and Career Opportunities

: The Netherlands has a strong job market and offers favorable post-study work opportunities for international students. The

Netherlands post-study work visa

, also called 'orientation year', is a residence permit that lasts one year. It allows such foreign applicants to find jobs in the Netherlands or start a business of their own. According to Nuffic statistics, around 80% of international graduates find employment within three years of completing their studies. 

Commitment to Sustainable Innovation:

This European metropolis is widely regarded as a global leader in sustainable urban development, and has implemented numerous initiatives to promote sustainable living. Prominent examples include the extensive cycling infrastructure, which has seen Amsterdam become one of the world's most bike-friendly cities. In addition to this, a host of innovative startups and initiatives are transforming the city into a hub of modern technology. 
Top 5 Universities in Amsterdam: Programs, Fees, & Admissions
University of Amsterdam (UvA)
Founded in 1632, the University of Amsterdam positions itself among the best 15 universities in Europe. The institution ranks well on the global university stage because of its focused commitment to research with over 3000 esteemed analysts. UvA actively invites international scholars from all over the world and currently has representation from 100+ nations. 
Offering a plethora of undergraduate, graduate, exchange, and professional programs, the university sets a benchmark for all educational institutions in the country. It is also the top pick for those who wish to pursue a Masters (MS) in Data Science in Netherlands. 
Programs Offered 

More than 20 Bachelor's and 150 English-taught Master's programs in Science, Economics, Informatics, and more 

Professional development programs in Management and Business Administration

Multiple Ph.D. programs available on campus 

Research Opportunities 

Focused departmental research by 7 faculties 

Interfaculty, multidisciplinary research is also fostered with a focus on artificial intelligence in various sectors 

Application Dates

Fall Intake: 1st April 

Spring Intake: Applications start in June 

Fee Details 

The university charges a statutory fee and an institutional fee.

An average of € 8,600- 10,000 annually for international UG students 

An average of € 17,000- 19,000 annually for international PG programs

Scholarship Options 

Scholarships are available for Master's candidates. 

These comprise the Faculty scholarships for Master's students, Amsterdam Merit Scholarship (merit-based), and Amsterdam Economics and Business Talent Fund (need-based). 
Vrije University (VU)
VU University Amsterdam holds the esteemed status of a leading educational institution in the city, and it is highly sought-after for research in the arena of social sciences, humanities, and natural sciences.
The university's commitment to the creation of an inclusive environment for all has resulted in a vibrant learning and research atmosphere. VU University Amsterdam's research output and impact contribute significantly to scientific advancements and societal challenges across four profile themes. The institution hosts a library that spans five floors in the building and houses over a million printed volumes, 70,000 manuscripts, and other digital learning resources. The campus building also houses the main auditorium, fair trade store, bookstores, a restaurant, and several kiosks. 
Programs Offered 

25+ Bachelor's and 100+ Master's English-taught programs in Liberal Arts, Psychology, Political Science, etc 

Research Opportunities 

Interdisciplinary research across 4 themes:

Connected World, Governance for Society, Human Health and Life Sciences, and Science for Sustainability.

Application Dates

Fall Intake: 1st April 

Spring Intake: 1st December 

Fee Details 

The university charges a statutory fee and an institutional fee.

Non-EU students have to pay the institutional fees unless they qualify for the exemptions listed on the DUO website.

An average of € 9,150- 12,900 annually for international UG students

An average of € 15,790- 17,150 annually for international PG programs 

Scholarship Options 

Multiple scholarships for international master's applicants. These comprise the VU Fellowship Programme, Holland Scholarship Programme, Orange Tulip Scholarship programme, and the Fulbright Scholarship. 

All of these scholarships offer a complete/partial tuition fee waiver. 
The Amsterdam University of Applied Sciences (AUAS)
A prominent institution renowned for its practical, hands-on approach to education, AUAS prepares students for careers in sectors such as business, technology, healthcare, and media. 
International students seeking practical experience and work-ready skills will find a welcoming environment at the Amsterdam University of Applied Sciences. It is one of the oldest business institutes in the Netherlands and collaborates with 250 institutes in 50 countries on a variety of educational programs. These include curriculum creation, research projects, student exchanges, and job placements in an international setting.
Programs Offered 

4 Bachelor's and 3 Master's English-taught programs in Business, Physiotherapy, Digital Design, and Fashion. 

Research Opportunities 

AUAS concentrates its research on six major areas. These comprise themes such as  Amsterdam's creative industries, entrepreneurship, urban education, urban management, urban technology, and urban vitality.

Application Dates

1st May is the application deadline for full-time programs and 31st August is the application deadline for part-time programs

Fee Details 

The university charges a statutory fee and an institutional fee.

Non-EU students have to pay an institutional fee of €9,146 annually. 

Scholarship Options 

Holland Scholarship and Amsterdam Talent Scholarship for students outside the EU. 
Tinbergen Institute 
The Tinbergen Institute is a leading research institution dedicated to advancing the fields of economics and related disciplines. It was established in 1987 in honor of Jan Tinbergen, a Nobel laureate renowned for creating dynamic models for economic analysis.
With 150 research fellows and over 200 Ph.D. students, the Institute is a joint venture of the University of Amsterdam, VU University Amsterdam, and Erasmus University Rotterdam. Tinbergen focuses on creating a stimulating academic atmosphere for researchers and graduate students, with a special emphasis on promoting diversity in the academic community. It offers a single, selective research master's program in economics, econometrics, and finance that gives applicants a headstart in pursuing Ph.D. studies. 
Suggested Read: BBA in Netherlands: Top Universities, Eligibility, Fees & Scholarships
| | |
| --- | --- |
| Programs Offered  | Single research master's program in economics, econometrics, and finance with the prospect of Ph.D. opportunities.  |
| Research Opportunities  | Research fields include Behavioural Economics, Complexity, Econometrics, Finance, Empirical Microeconomics, Macroeconomics, Organization and Markets, and Spatial Economics.  |
| Application Dates | For non-EU students, the early application deadline is 1st December. No applications are accepted after 1st February.  |
| Fee Details  | € 16,200 annually for non-EU international students  |
| Scholarship Options  | Tinberg offers its own merit-based scholarship for students in the research master's program. |
Amsterdam School of the Arts 
The Amsterdam School of the Arts (AHK) is a coveted institution that has been cultivating and promoting the arts since it was founded in 1987. It has since grown to become one of the best higher education universities in the Netherlands and is widely seen as a beacon of creativity, innovation, and excellence. 
The AHK is home to a vibrant and diverse community of students and faculty, all of whom are well-settled in their respective fields. The university currently houses 7 academies that give students a world-class education in subjects like theatre, film, digital design, architecture, and more. 
| | |
| --- | --- |
| Programs Offered  | Bachelor's and Master's courses in Cinematography, Film, Design, Art and more offered across 7 Academies.  |
| Research Opportunities  | Research in the arts is encouraged, with the theme 'Engagement through critical creative practice'.  |
| Application Dates | NA |
| Fee Details  | For non-EU students, fees for all programs range between € 5,615- 8,726 annually.  |
| Scholarship Options  | Scholarships are available for non-EU students. These include the Holland Scholarship, Orange Knowledge Programmes, the Orange Tulip Scholarship, and Talent Grants.  |
Conclusion 
There are many top-ranked universities in Amsterdam that adhere to international standards and offer premier education at affordable prices. Depending on the career you wish to pursue, you can opt for a more finance-oriented university like the Tinbergen Institute. If you are more inclined towards creative arts, the Amsterdam School of Arts is the right fit for you. 
International students from outside the EU have to pay a fixed institutional fee but can avail of scholarships. In case you wish to work alongside college to make some extra money, you can also check out our blog on Part-time Jobs for International Students in Netherlands. 
To know more, kindly book a video appointment with our experts at Gyanberry.