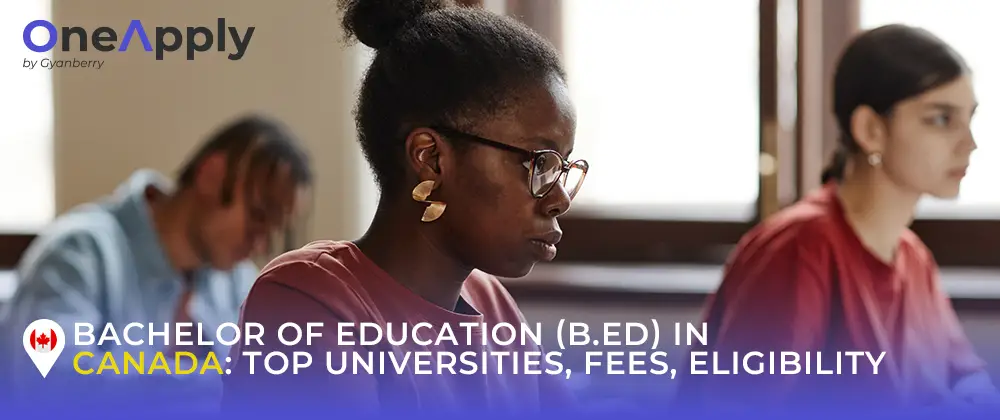 Canada is home to some of the best institutions offering programs in the educational field. The country also has a long-standing reputation for its high-quality education system, which consistently ranks among the top in the world, thanks to its commitment to high-quality education across the board.
Bachelor of Education (B.Ed) programs in Canada are designed to equip students with the knowledge, skills, and experience necessary to succeed in the dynamic and evolving classroom. These programs aim to prepare skilled and resourceful teachers to further enhance the quality of education in the country. Canada has some of the best universities in the world for education. They offer top-notch infrastructure, highly qualified faculty, and innovative strategies, providing you with a comprehensive and holistic education to meet the demands of the ever-growing education industry. 
This article will provide you with an overview of the Bachelor of Education program in Canada, including the best universities and programs, the types of degrees offered, job profiles of graduates, tuition fees, cost of living, etc. We hope that our guide is instrumental in helping to achieve your aspirations as a prospective B Ed. student in Canada. 
Overview of Bachelor of Education (B. Ed) in Canada 
| | |
| --- | --- |
| No of Universities  | 50 +  |
| No of Programs  | 100 +  |
| Job Profiles  | School Teacher, Administration, Education Consultant, Curriculum Developer, etc.  |
| Specializations  | Elementary, Intermediate, Senior. Specialization also includes subject areas such as Maths, English, etc.  |
| Average Tuition Fees  | 20000 – 45000 CAD |
Bachelor of Education (B. Ed) in Canada: Program Structure
The typical duration of a B.Ed. program is two years, including theoretical coursework and practical experience such as internships, teaching practicals, etc. However, some universities in Canada do offer four-year concurrent B.Ed. programs, which combine the B.Ed. degree with a related undergraduate degree.
These four-year B.Ed. programs are designed for students who want to pursue a teaching career but do not have an undergraduate degree in a related field, as well as for fresh high school graduates. During the program, students are required to take courses in education theory, curriculum design, teaching methodologies, etc. 
More importantly, B.Ed. programs in Canada often require students to specialize in a particular age group, such as primary, middle, or secondary education. Moreover, within each division, students can specialize in specific subject areas such as English, Math, Science, Social Studies, etc. Students are also encouraged to take elective courses that align with their personal interests and career goals. Graduates of B.Ed. programs are required to complete a certification process before they can begin teaching in their respective provinces or territories.
Why study Bachelor of Education (B. Ed) in Canada? 
Quality education: Canadian universities and colleges are known for providing high-quality education and B.Ed programs in Canada are no exception. They are designed to provide students with a strong theoretical foundation, practical experience, and opportunities for professional development.
Job opportunities: Canada has a strong and growing education sector with many opportunities for qualified teachers. B.Ed graduates can work in various educational settings, such as public or private schools, community organizations, etc.  
Practical experience: B.Ed programs in Canada typically include practical experience in terms of teaching practicals and internships. This allows students to gain hands-on experience in real classrooms and develop their teaching skills. 
Professional networks: B.Ed programs in Canada often provide opportunities for students to network with other educators, which can lead to valuable connections and job opportunities after graduation.
Diversity and inclusion: Canada is known for its multicultural and inclusive society. As such, students have the opportunity to learn about different cultures and gain a better understanding of the needs of the diverse students in modern classrooms. 
Quality of life: Canada is consistently ranked as one of the best places to live in the world, with a high standard of living, excellent healthcare, and a safe and welcoming environment.
Top Ranked Universities for B. Ed in Canada
| | |
| --- | --- |
| University Name  | QS World University Rankings 2022 (Education and Training) |
| University of Toronto  | 4 |
| University of British Columbia  | 14 |
| Mcgill University  | 27 |
| University of Calgary  | 56 |
| Universite De Montreal  | 72 |
| University of Alberta  | 87 |
| Queen's University at Kingston  | 101 – 150  |
| University of Ottawa  | 101 – 150  |
| Simon Fraser University  | 151 – 200  |
| Universite du Quebec  | 201 – 250  |
| Western University  | 201 – 250  |
| Concordia University  | 301 – 350  |
Top B. Ed programs in Canada
University Name 
Programs offered 
Duration of Study 
Application Deadline 
Annual Tuition Fees (2023/24)

University of British Columbia 

B Ed. Elementary and Middle Years 

11 Months 

January 2024 

58991 CAD

B Ed. Secondary

Mcgill University 

B Ed. Teaching English as a Second Language (TESL)

3 or 4 years 

January 15 2024 

23662  CAD

B Ed. Kindergarten & Elementary

3 or 4 years

BEd. 

Secondary Education

2 or 4 years

University of Calgary 

B Ed 

4 years 

April 1 2023 

26849 CAD

B Ed (After Degree pathway)

2 years 

University of Alberta 

B Ed Elementary 

4 Years 

March 1 2024 

29192 CAD

B Ed Secondary 

B Ed Adult Education 

University of Ottawa 

BEd (Primary, Intermediate, Senior)

2 years 

December 2023 

18984 CAD

Simon Fraser University 

B Ed 

4 years

September 2023

31770 CAD

B Ed as a second degree 

2 years

May 2023 (Start Date)

Western University 

B Ed Primary/Junior 

2 years 

March 1, 2024

38532 CAD

B Ed 

Junior/Intermediate 

B Ed Intermediate/Senior

Concordia University 

BA Early Childhood and Elementary Education 

2 years 

February 1, 2024 

25650 CAD

B Ed Teaching English as a Second Language
Admission Requirements for B. Ed Programs 
A higher secondary school completion certificate or equivalent credential. Some universities may also require specific high school courses in English, mathematics, and science.

 

For after-degree B Ed programs, students must have completed a relevant undergraduate degree according to their preferred B Ed specialization. 

English language proficiency certificate. (IELTS – 6.5, TOEFL iBT – 90) 

Academic Transcripts. 

Letters of Reference. 

Statement of Intent. 

Some BEd programs may require applicants to have relevant work or volunteer experience in the field of education or related fields, such as childcare, social work, etc. 
Cost of studying B. Ed in Canada 
The tuition fees for pursuing a B. Ed program in Canada vary depending on the type of institution, degree type, level of study, etc. However, on average, the tuition fees for a year ranges from 20000 CAD to 45,000 CAD. 
For international students, there are many options for scholarships, grants, and other forms of financial aid to help cover the costs of studying education in Canada. International students on a study permit are allowed to work while studying in Canada. There are many popular student jobs available easily for international students. 
The cost of living in Canada typically ranges from 15,000 CAD to 20,000 CAD, depending on the type of accommodation, city of residence, lifestyle, etc. 
Here are some of the monthly expenses in Canada:
| | |
| --- | --- |
| Expense Type  | Monthly Expense  |
| Accommodation  | 400 – 600 CAD  |
| Food  | 200 – 300 CAD |
| Transportation  | 100 – 150 CAD  |
| Utilities (Internet, Phone, etc) | 50 – 100 CAD |
| Misc.  | 100 – 150 CAD |
Career opportunities for B. Ed Graduates in Canada 
Bachelor of Education graduates in Canada work in a variety of roles across the field of education, including teaching, administration, materials development, consulting, tutoring, research, etc. Here are some of the most common job profiles of B Ed graduates along with their average annual salary, according to talent.com. 
| | |
| --- | --- |
| Job Profile  | Average Annual Salary  |
| School Teacher  | 53022 CAD |
| Educational Administrator  | 107250 CAD |
| Curriculum Developer  | 72602 CAD |
| Education Consultant  | 64350 CAD |
| Instructional Designer  | 76177 CAD |
| Adult Education Teacher  | 44363 CAD |
Conclusion
A Bachelor of Education degree in Canada can be an excellent choice for passionate students who care deeply about teaching and education. A B. Ed degree from a Canadian university can open many doors for you, including a fruitful career in education which can extend to research, development, etc.  Throughout the program, you will gain an understanding of educational theory, learn classroom management strategies and gain practical experience to accelerate your career progress. 
With the sheer variety of universities and programs available across the country, you can easily find a program that suits your needs and interests. Despite the challenges of the current job market, a B. Ed degree can lead to a rewarding career, allowing you to make a positive impact on the lives of students. To find out more about the best B. Ed programs in Canada, book a free call with our admission experts.