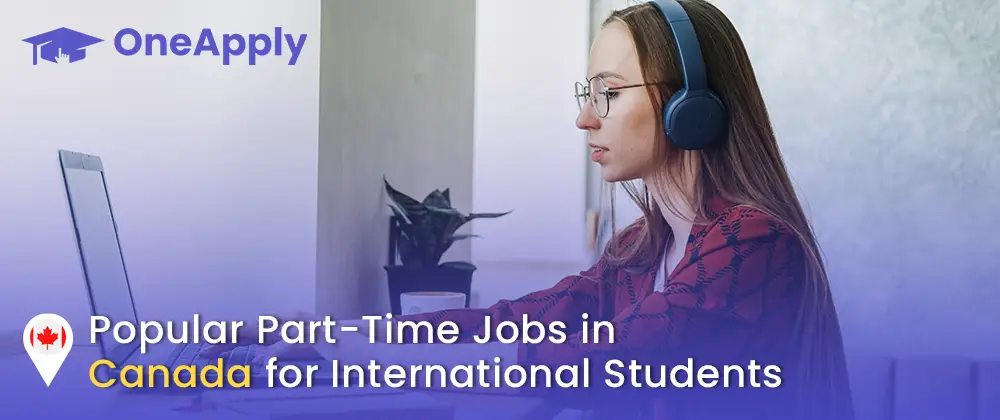 Canada is an immigrant-friendly country. It allows foreign students to work while studying, and graduates to work and live in Canada after graduation. Working while studying helps students earn some extra cash and helps them gain practical work experience and build networking skills. This article talks exclusively about popular part-time jobs in Canada for international students. It also explains how your part-time job experience helps find work in Canada after graduation and makes you eligible for permanent residency. 
There are numerous choices when it comes to part-time jobs in Canada. For instance, students can work on or off campus or go for co-op placements or internships. You can do these jobs in the evening, on weekends, or during holidays at your convenience. Your study permit will state whether you are allowed to work while studying in Canada or not. All the rules and regulations for working while studying in Canada are laid down by Immigration, Refugees, and Citizenship Canada. 
Overview: Popular Part-Time Jobs in Canada
Popular part-time jobs in Canada 

On campus, off campus, internships, and co-ops

Permitted work hours 

20 hours per week (off campus)

No time limit (on campus)

<50% of the total duration of the course (co-op)

Concerned authority 

Immigration, Refugees, and Citizenship Canada

Minimum hourly wage 

13-22 CAD 
Popular Part-Time Jobs in Canada
International students are allowed to work in Canada if they have a study permit or work permit. There are a variety of part-time jobs for international students in Canada. These majorly fall under on campus, off campus, co-ops, and internships. On campus and off campus work requires students to have a valid study permit, whereas co-ops and internships usually require study permits as well as work permits. Your study permit will list if you are allowed to work on campus or off campus in Canada. 
Note: Students can start working in Canada only after the start of their study program. If a student works before the start of their studies, he or she will be deported to their home country. 
On Campus
This includes working at all university buildings on campus. Even at universities with more than one campus, students can work mostly at the campus where they are studying. An exception to this is if you are working as a teaching or research assistant. In this situation, you can work in a hospital, library, or research facility located outside the campus. The eligibility requirements for on campus work in Canada include
The student must be a full-time student at a Canadian university

He or she must have a valid student permit (a work permit is not required)

The student must have a Social Insurance Number (SIN)
SIN is a 9-digit number issued by the Government of Canada. It entitles students to government benefits and services. There is no time limit to working on campus but students must manage their studies along with work and must meet the eligibility requirements. Students who are changing schools or on permitted leave are not allowed to work on campus. They can return to work once they resume their studies. Also, they must stop working the day they finish full-time studies.
Popular On Campus Jobs in Canada 
For on campus jobs, students can contact their university office or student organizations. Some universities also advertise open positions on their website or notice boards. You can prepare a short resume and apply for the relevant job. They can work on campus for the university, a faculty member, a student organization, a private business, or a contractor that provides on campus services to the university. The most popular departments to find on campus jobs are
Cafeteria

Library 

Research lab 

Teaching department 

Administrative office 

Student organizations

Campus guide for newcomers and visitors
Off Campus
Working off campus in Canada entails working in an area of town or city that is not on the campus of a university. By law, students can work off campus for 20 hours per week. They can work more than 1 job to make up the hours. Additionally, they are allowed to work full-time during semester breaks like winter and summer holidays. The student is responsible to track the number of hours they work off campus. Violation of set working hours can lead to losing their student status in Canada. The following are the eligibility requirements to work off campus in Canada
The student must be a full-time student at a designated learning institution (DLI) in Canada

The program must be at least 6 months long or must lead to a degree or diploma 

He or she must have a valid student permit (a work permit is not required)

The student must have a Social Insurance Number (SIN)
If the study permit does not authorize students to work off campus, they can ask to have it added if they meet eligibility requirements. Students can work remotely for employers outside Canada as long as they have a valid student permit. This type of work does not add to their 20 hours per week work limit. If a student is on authorized leave or changes their study program, they are not eligible for off campus work. In this case, they must apply for a new study permit from within Canada. 
Popular Off Campus Jobs in Canada 
Students can find thousands of off campus jobs at StudyinCanada.com. They can use filters on the website to search for suitable jobs based on their location and experience level. The most popular part-time jobs in Canada under the category of off campus jobs are
Bartender/Server: They are in charge of preparing and pouring drinks for consumers (salary: 16.34* CAD per hour).

Sales assistant: This position is responsible for locating items for customers, placing orders, processing transactions, and keeping the isles organized and well-stocked (salary: 17.06* CAD per hour). 

Dog walker: This job is perfect for dog lovers. It includes walking dog/s on a professional basis (salary: 19.58* CAD per hour).  

Delivery driver: It entails collecting items or food, and transporting it to its destination while adhering to driving routes and schedules (salary: 20.61* CAD per hour). 

Barista: It is a professional who makes and serves coffee and other beverages and specialties like tea (salary: 15.83* CAD per hour).  

Accounting clerk: This position aids with clerical and administrative duties (salary: 22.28* CAD per hour). 

Graphic designer: Assembling pictures, text, or motion graphics, etc., to create graphics for printed, published, or electronic media comes under this job profile (salary: 22.38* CAD per hour). 

Content writer: Given the increasing need for digital material, many students are opting to work as freelance writers. They assist brands in promoting their products by writing useful and interesting articles (salary: 21.18* CAD per hour). 
*Source: Indeed
Remark: As per a news release by Immigration, Refugees, and Citizenship Canada, international students who are in Canada and who are allowed to work off campus will be allowed to work more than 20 hours per week. This temporary change will be effective from November 15, 2022, until December 31, 2023, to cope with labor shortage issues created in the country in the wake of the COVID-19 pandemic. 
Co-Op Placements
Many courses in Canada like computer science, engineering, architecture, etc., include work experience called co-op placements as part of their curriculum. This type of work includes working either on or off campus depending on the type of study. The usual duration of a co-op is 3 to 4 months (or more) each year and includes working in the field of study. But it requires a co-op work permit, following are its requirements 
A valid study permit 

The work is integrated into the study program 

A confirmation letter from the DLI that the program requires work placements to attain the degree

The co-op with 50% or less of the total duration of the course 
Popular Co-Ops in Canada
Different organizations in collaboration with the university offers co-op programs. Most Canadian universities have dedicated staff members to assist in finding course-specific co-op placements. There are some universities that offer work-abroad co-ops too. Students can contact the concerned personnel and apply for the job; once selected, they can choose between the different options that are available. The average hourly salary for co-op jobs is higher than on-campus and off-campus jobs in Canada, i.e., 22.33 CAD per hour.
The University of Waterloo runs the largest co-op program in Canada. Other popular co-ops are offered by Wilfrid Laurier University, the University of British Columbia, Simon Fraser University, the University of Victoria, the University of Quebec, the University of Calgary, and the University of Ottawa. They offer co-ops in the following disciplines:
Business and economics co-ops: Accounting, finance, international business, human resources, marketing, supply chain, etc. 
Engineering, technology, and architecture co-ops: Electrical engineering, mechanical engineering, software engineering, gaming and programming, biotechnology, architecture, etc.
Arts co-ops: Archaeology, history, language, heritage studies, sociology, political science, philosophy, etc.
Science co-ops: Physics, mathematics, pharmacology, statistics, neuroscience, biochemistry, biology, chemistry, astronomy, etc. 
Remark: As per the temporary policy change due to the pandemic, from November 15, 2022, to December 31, 2023, students are not required to apply for a work permit if they have a valid study permit and are authorized to work off campus. But the co-op placement must end on December 31, 2023. If not, students must apply for a permit to cover the period after that date.
Internships
Students in Canada can work as interns for various organizations. It provides them with on-job-training where a supervisor supervises the work. Students must apply for a work permit before starting their internship. They can inquire about internships by contacting their university's administrative department or a student organization. Students can also look for internships online or by submitting their résumé directly to the company. As per Indeed, the average salary for interns in Canada is 20.59 CAD per hour. Here are some websites provided by the government of Canada that offer popular internship programs:
Canadian Conservation Institute internship programs

Volunteering and internships abroad

Young Canada Works

Students on Ice Foundation

Odyssey – language assistant program
Minimum Wage Across Different Canadian Provinces
The minimum wage varies from province to province in Canada. According to the Retail Council of Canada, they range from 13 to 16 CAD per hour. Nunavut has the highest hourly wage, at 16 CAD, while Saskatchewan has the lowest, at 13 CAD. International students working in Canada are paid hourly rates based on the province listed in the table below.
| | |
| --- | --- |
| Province Name  | Minimum Wage in CAD (Hourly) |
| Nunavut | 16.00 |
| Yukon | 15.70 |
| British Columbia | 15.65 |
| Ontario | 15.50 |
| Northwest Territories | 15.20 |
| Alberta | 15.00 |
| Prince Edward Island | 14.50 |
| Quebec | 14.25 |
| New Brunswick | 13.75 |
| Newfoundland & Labrador | 13.70 |
| Nova Scotia | 13.60 |
| Manitoba | 13.50 |
| Saskatchewan | 13.00 |
Work in Canada After Graduation
Students need a work permit to work in Canada after they graduate. There are two types: a temporary permit and a permanent residence. Only graduates of a DLI can apply for a Post-graduation work permit (PGWP) to work temporarily in the country. The length of the PGWP depends on the duration of the course the student completes. For example, courses that last less than 8 months are not considered for PGWP. Students who pursue courses >8 months and <2 years are eligible for a 9-month PGWP. If the program is >2 years then the student is eligible for PGWP of up to 3 years. 
Note: PGWP is valid only until the expiry of the passport, thus students must make sure that their passport is valid for the entire duration of their PGWP. 
Students who are not eligible for PGWP can apply for an employer-specific work permit or an open permit. The experience they gain while working will help students qualify for permanent residence in Canada.
Conclusion 
Besides world-class education, another perk of studying in Canada is that international students have the right to work. This helps offset tuition and living costs to a great extent, and students get to earn some insightful experience. International students can work part-time off campus for 20 hours a week during their semesters and full-time during the holiday season. They can also choose to work on campus or go for an internship or a co-op if their program allows it.
Some popular part-time jobs in Canada include serving, bartending, sales assistance, teaching, research assistance, dog walking, delivery drivers, baristas, etc. Students can expect to get paid hourly wages that usually range from 13 to 22 CAD based on the type of job and province. If you are interested in going to Canada for further education, contact Gyanberry. Our one-stop portal, Gyanberry, will help you choose the right university and program. Talk to our experts to learn more.