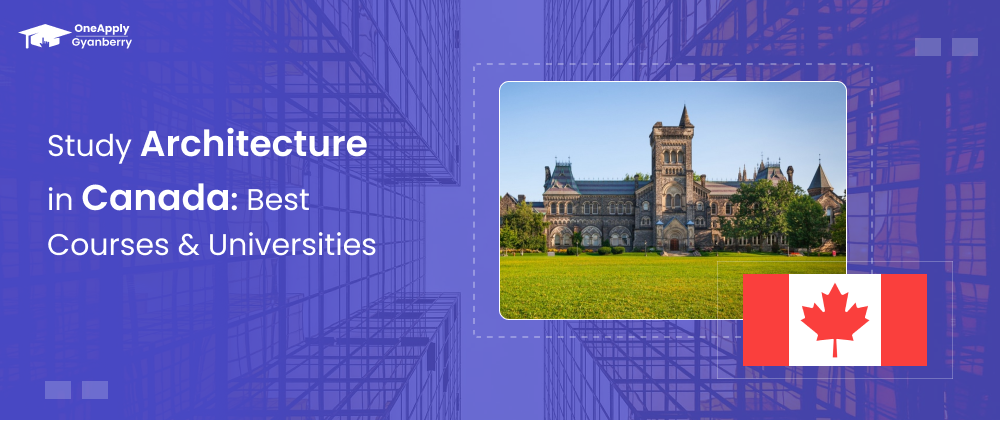 The Bachelor of Architecture in Canada is the most well-organized choice among the many-sorted courses. Undergraduate Architecture programs in Canada are offered as a Bachelor of Architecture (B.Arch), Bachelor of Science (BS), or Bachelor of Arts degree. In Canada, obtaining a bachelor's degree in architecture typically takes 3-4 years.
Several academic institutions in Canada provide bachelor's degrees in architecture. International students typically apply to Canadian architectural programs in an effort to pursue lucrative careers through a combination of real-world experience and academic study. The best architecture schools in Canada offer co-ops, online coaching, and practical learning possibilities.
The cost of studying architecture in Canada varies depending on the university and program you select. The average tuition fee for an architectural course in Canadian colleges and universities is between 25,000 to 59,000 CAD per year. A Canadian architect's average yearly salary, according to talent.com, is $99,289, or $50.75 per hour. Starting salaries for entry-level positions are $81,566 a year, while those with the most experience can earn up to $143,472 annually.
Canada is well known for offering top-notch education at affordable tuition costs with degrees that are recognized internationally, and it currently enrolls around 620,000 international students. When you factor in a good standard of living, a wide range of post-study work prospects, and immigration opportunities, Canada is one of the best places to study abroad with some of the most popular student cities.
Why Choose Canada for Bachelor in Architecture?
Prestigious Universities
Several of Canada's leading colleges offer a bachelor of architecture program. 8 Canadian universities are listed among the Top 200 architecture institutes in the world, based on the QS Rankings.
Job Opportunities
According to the Canadian government, there should be over 6,800 additional employment openings for architecture students between 2017 and 2026 in Canada. Around 7,400 new job searchers, including immigrants, are expected to enter the labor force soon.
Great Demand
Canada has some of the world's fastest-growing cities. Cities are growing rapidly, and these developments have increased the demand for architects in the area. As a result, there is a significant need for architects, and studying for a B.Arch in Canada broadens your options. Students can also go for a master's in architecture in Canada after their bachelor's degree.
Broad Scope
In Canada, bachelor's degree programs in architecture encourage great innovation, which is relatively uncommon in other disciplines today. You are free to pursue your interests and plunge into architectural design. Additionally, there are more prospects for employment in the field of architecture, and the average annual salary in Canada for an architect is $98,961.
Overview: Bachelor of Architecture in Canada
| | |
| --- | --- |
| Program Level | Undergraduate |
| Duration of Program | 3-4 years |
| Annual Fee | 25,000-65,000 CAD |
| Entrance Exams | NA |
Some of the course materials offered in the curriculum of Canadian universities' bachelor of architecture programs are
Architectural graphics and design elements

Building and design

Ecological design

Engineering and architecture for sustainability

Building, environment, and energy

Architecture's goals Vitruvius
Top Universities Offering Bachelor of Architecture in Canada
There are numerous prestigious colleges in Canada that provide Bachelor of Architecture programs for overseas students, 6 of which are ranked under 200 in the QS Education Ranking of 2022 and 12 in the Times Education Universities Ranking of 2023. Some of the best universities, their academic offerings, and their most recent rankings are included here.
Universities
Course(s)
Program Type/Duration
Times Higher Education Ranking 2023
QS Top Universities Ranking 2023

University of British Columbia

Architecture, Landscape Architecture, and Urbanism

 

4 years

40

47

University of Toronto

Architectural Studies

4 years

18

34

McGill University

BSc Architecture

4 years

46

31

Universite de Montreal

Bachelor of Landscape Architecture

3 years

111

116

University of Waterloo

Honors Bachelor of Architectural Studies

4 years

201-250

154

Carleton University

Bachelor of Architectural Studies

4 years

601-800

601-650

Ryerson University

Architectural Science

4 years

–

801-1000

Universite Laval

Bachelor of Architecture

4 years

251-300

433
Admission Requirements for Studying Bachelor in Architecture in Canada
To pursue a bachelor's in architecture in Canada, you must generally meet specific requirements. The common requirements for entrance to the degree are the same across all universities, despite variations. Let's swiftly and effectively glance at the stuff!
A High School Graduation
For application to a BA or B. Arch in Canada, students are required to have a high school degree or a 10+2 certificate from an accredited institution with an overall grade point average of 60% or higher. It is essential for you to visit the university's official website to collect the most accurate information about the course as the average score may differ from university to university.
Results of English Language Proficiency (ELP) Tests
For all international applicants seeking admission to Canadian universities and colleges, the ELP Test scores are a must. Depending on the tests, the minimum expected scores are
| | |
| --- | --- |
| Name of Test | Minimum Language Test |
| IELTS | 6.0-7.0 |
| TOEFL | 85-100 |
| PTE | 68 |
| CAEL | 70 |
Normative Test Results
The SAT or ACT test results might be required as part of the application procedure for international students seeking admission to the bachelor's degree program. However, the majority of universities and colleges do not require test scores as a requirement.
Study Permit
All international students must have a passport and a valid study permit in order to enroll in any courses throughout Canada. A minimum of three months prior to the day you want to visit, make sure to apply for the study permit visa.
Cost of Studying Bachelor of Architecture in Canada
Fees may vary depending on the degree and university of choice. Many reasonably priced universities in Canada offer this course. Local students usually pay less than foreign students to attend public colleges. International students must manage their living expenses and additional costs like food and transportation in addition to the difference in tuition.
The following list of top Canadian institutions' bachelor of architecture degree program tuition fees is for international students:
| | |
| --- | --- |
| Universities  | Tuition Fees 2023-24 in CAD |
| Carleton University | 44,578 |
| Universite de Montreal | 22,831 |
| University of British Columbia  | 44,838 |
| McGill University | 29,973 |
| University of Waterloo | 65,000 |
| Universite Laval | 24,010 |
| Ryerson University | 36,487 |
| University of Toronto | 60,510 |
There are several low-cost universities in Canada that international students on a budget can look into. We have also compiled a list of the cheapest engineering universities in Canada for international students.
Scholarships for Bachelor in Architecture in Canada
Getting financial aid from many sources will be helpful as you pursue a bachelor's degree in Canada. Undergraduate scholarships come in many forms and are generously financed by both internal and external sources in Canada to help students manage their expenses. The following section discusses several significant scholarships you may want to consider for Canadian bachelor of architecture programs.
| | | |
| --- | --- | --- |
| Name of Scholarship | Eligibility Requirements | Amount Offered in CAD |
| Cyril M. Leeder Award, Carleton University  | Students that excelled in their engineering courses | Varies |
| Seite & Mary Kole Kerim Scholarship, the University of Toronto | Students from other countries enrolling in architecture course | 1,250 |
| Sheila Baillie Scholarships in Architecture, McGill University | International students enrolled in the BSc Architecture program that excels academically | 5,000 |
| International Student Entrance Scholarship President's Scholarship, the University of Waterloo | International students admitted with average scores of at least 90% | 2,000-10,000 |
| President's Entrance Scholarships, Ryerson University | International students are required to have a 90% average | 10,000 |
International students on a valid study permit are allowed to work while studying in Canada. There are different types of part-time jobs available for interested students that pay equal to or above the minimum wage.
Job Opportunities In Canada After Bachelor in Architecture
Canadian graduates with a bachelor's degree in architecture can find work in various entry-level positions that can help them launch their professional careers.
The demand for architects in Canada is very high. The Canadian government is providing enormous chances for architects in the nation to satisfy the needs of the country's expanding population and economy.
Following the completion of your architecture bachelor's degree, you may want to think about the following employment profiles.
Architect

Architectural Assistant

Architectural Historian/Journalist

Project Assistant Manager

Architecture Designer

Architecture Engineer

Building Contractor

Interior Designer

Architecture Draftsman

Technical Assistant

Manager

Landscape Architect
Top Canadian employers for architecture graduates include: 
Government of Canada

Corporates

Provincial Governments

Architectural Firms

Self Employed
Additionally, students can consider doing their Master's in Architecture from Canada or a relevant masters in the field.
Conclusion
Canada is the best country to study architecture since there are more opportunities for jobs in disciplines related to architecture there. Furthermore, growth in opportunities and job openings in this sector is anticipated in Canada.
Making a decision requires taking into account elements including price, academic standard, on-campus amenities, and global rankings. Thousands of students have benefited from our admissions counseling services in getting into the institutions of their dreams. Please schedule a video consultation with one of our specialists for further information.