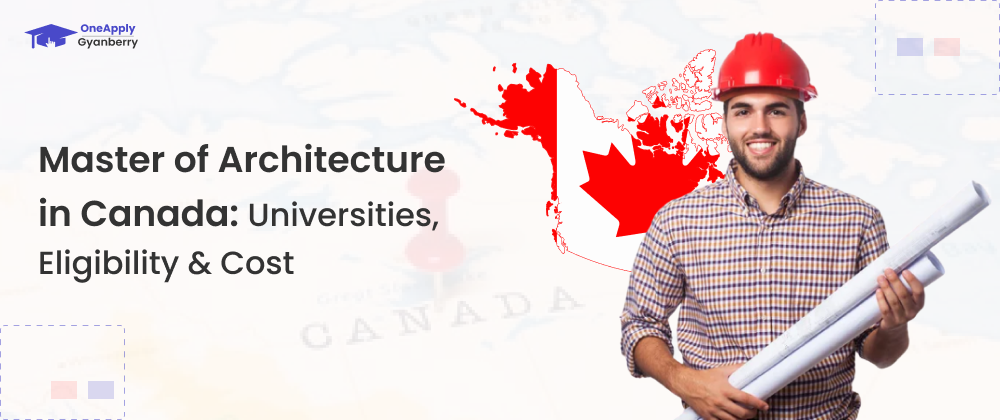 A master of architecture in Canada is a great option for students looking for high-quality education with lucrative career opportunities. The Canadian Architecture curriculum is designed to provide pupils with a thorough understanding of both the architecture and urban planning of various cities. The course emphasizes multiple philosophies, history, design, and software usage.
In Canada, a number of universities offer architecture master's degrees. In order to pursue profitable employment through a combination of practical experience and academic study, international students frequently apply to Canadian architectural schools. The top architecture programs in Canada provide opportunities for co-ops, online coaching, and hands-on training.
Depending on the university and program you choose, studying architecture graduate programs in Canada might cost a variety of amounts. In Canadian colleges and institutions, a master's in architecture typically costs between 10,200 and  50,000 CAD each year. According to talent.com, the typical yearly wage for an architect in Canada is $99,289, or $50.75 per hour. Entry-level positions typically start at $81,566 per year, with the highest earners reaching $143,472 per year.
Canada is well regarded for providing excellent education at reasonable tuition levels with internationally recognized degrees, and it has more than 600,000 foreign students enrolled currently. Canada is among the finest countries to study abroad with some of the most well-liked student cities when you take into account a high standard of living, a wide range of post-study employment prospects, and immigration options.
Why Choose Canada for a Master of Architecture?
Renowned Universities
A Master of Architecture in Canada is provided by a number of prestigious universities. According to the QS Rankings, seven Canadian universities are among the top 250 architecture schools worldwide.
Job Possibilities
The Canadian government claims Between 2017 and 2026, there should be more than 6,800 new job openings in Canada for architecture students. It's anticipated that 7,400 new job seekers, including immigrants, will shortly join the labor sector.
High Demand
Cities in Canada are among the fastest-growing in the world. Cities are expanding quickly, and as a result, there is a greater need for architects in the region. Consequently, there is a substantial demand for architects, and earning an M.Arch. in Canada increases your career prospects.
Vast Scope
In contrast to other disciplines today, Canadian master's degree programs in architecture strongly promote innovation. You have the freedom to explore your interests in the field of architectural design. Additionally, there are more work opportunities in the profession of architecture, and an architect in Canada makes an average annual salary of $98,961.
Overview: Master of Architecture in Canada
| | |
| --- | --- |
| Program Level | Postgraduate (M.Arch, M.Sc, M.Asc) |
| Number of Canadian Universities Offering the Program | 10 (approx) |
| Duration of Program | 1.5-3 years |
| Annual Fee | 10,200-50,000 CAD |
| Entrance Exams | GRE (optional) |
The master of architecture programs at Canadian universities include the following among their course offerings:
Architectural elements and graphics

Construction and design environmental design

Sustainable engineering and architecture

Construction, the environment, and energy

Architectural objectives Vitruvius
Top Universities Offering Master of Architecture in Canada
Numerous esteemed universities across Canada offer master of architecture programs to international students, including 7 that are ranked under 250 in the QS Education Ranking of 2022 and 7 that are listed under 250 in the Times Education Universities Ranking of 2023. Here are some of the top universities, their academic programs, and the most recent rankings.
Universities
Course(s) 
Duration
QS Ranking 2022 (Subject Ranking)
Times Higher Education Ranking 2023 (Subject Ranking)

University of British Columbia

Master of Architecture

(M.Arch)

3.5 years

35

40

University of Toronto

Master of Architecture

(M.Arch)

1-3.5 years

47

18

Master of Science (M.Sc) Planning 

McGill University

Master of Architecture (M.Arch) Design Studio- Directed Research

1.5 years

51-100

46

Master of Architecture (M.Arch) Architectural History and Theory

Master of Architecture (M.Arch) Urban Design and Housing

Universite de Montreal

Master of Applied Science (M.Asc) Planning 

1.5 years

101-150

111

Master of Architecture (M.Arch) 

Master of Landscape Architecture (M.L.A)

Master of Urban Planning (M.U.P)

University of Waterloo

Master of Architecture

(M.Arch)

2 years

101-150

201-250

Ryerson University 

Master of Architecture (M.Arch)

2 years

801-1000

801-1000

University of Calgary

Master of Architecture 

2 years

235

201-250

University of Manitoba

Master of Architecture (M.Arch)

2 years

651-700

351-400
Admission Requirements for Master of Architecture in Canada
You must often complete specific requirements in order to pursue a master's degree in architecture in Canada. Despite differences, the common entrance criteria for the degree are the same at all universities. Let's quickly and effectively skim the material.
Bachelor's Degree
A master of architecture application In Canada, candidates must hold a 4-year bachelor's degree in architecture or an academically equivalent degree from an accredited university with a minimum cumulative grade point average of 75% (or 3.0/4.0). As the average score may vary from university to university, it is imperative that you check the university's official website to gather the most up-to-date information about the course.
Results of English Language Proficiency (ELP) Tests
For all international applicants seeking admission to Canadian universities and colleges, the ELP test scores are a must. Depending on the tests, the minimum expected scores are
TOEFL iBT: overall 93 to 100

IELTS: overall score of 6.5 to 7.5
Results of Normative Tests
Some colleges require the submission of GRE exam results as part of the admission process for international students applying to the master's program. The vast majority of educational institutions, however, do not demand this.
Study Permit
To enroll in any courses across Canada, international students must have a passport and a current study permit. Make sure to apply for the study permit visa at least three months before the day you wish to travel.
Cost of Studying Master of Architecture in Canada
Depending on the degree and university of choice, fees may change. This course is offered by numerous colleges in Canada at fair prices. Local residents typically pay less to attend public colleges than foreigners. In addition to the difference in tuition, international students must manage their living expenditures, and other expenses like food, and transportation.
For overseas students, the following list of top Canadian universities' master of architecture degree program tuition costs:
| | |
| --- | --- |
| University | Tuition Fee/Year (in CAD) |
| University of British Columbia | 49,520 |
| University of Toronto | 43,990 |
| McGill University | 25,860 |
| University of Manitoba | 18,069 |
| University of Waterloo | 15,172 |
| Ryerson University | 27,463 |
| University Calgary | 22,050 |
Scholarships for Master of Architecture in Canada
It will be beneficial to receive financial aid from a variety of sources when you pursue a master's degree in Canada. In Canada, postgraduate scholarships come in a variety of shapes and sizes and are generously funded by both internal and external sources to assist students in managing their costs. Moreover, international students can work while studying in Canada to better manage their expenses.
The section that follows details a number of notable scholarships for Canadian masters in architecture programs that you might want to consider.
| | | |
| --- | --- | --- |
| Name of Scholarship | Eligibility Requirements | Amount Offered in CAD |
| International Entrance Scholarships (UBC) | Best academic qualification (85% and 6.5 plus IELTS Score) | 2,000 for the first couple of semesters |
| University of Waterloo Entrance Scholarship | Available to those who have been accepted to Waterloo's full-time first-year degree program and will be starting their post-secondary education for the first time in September. | 2,000 |
| Dr Soo Kim Lan Prize Architecture  | Students at McGill University who are in the second semester of their M.Arch | 2,000 |
| Wilfred Onions Memorial Prize | Awarded to a student with a single Sketching School project by the School of Architecture committee | 200 |
| International Major Entrance Scholarship | IMESs (Overseas Major Entrance Scholarships) are given to outstanding international students enrolling in University of British Columbia programs. | Decided by the university |
Job Opportunities In Canada After a Master of Architecture
Graduates from architecture postgraduate programs in Canada can work in a range of entry-level jobs that can assist them to start their professional careers.
Canada has a huge demand for architects. To meet the demands of the country's growing economy and population, the Canadian government is offering huge opportunities for architects across the country.
After earning your master's in architecture, you might want to consider the following job descriptions.
Architect 

Architectural technologist

Interior and spatial designer 

Building surveyor

Town planner

Production designer

Historic buildings inspector

Structural engineer
Top Canadian employers for architecture graduates include: 
Canadian government

Corporates

Provincial Administrations 

Architects' firms

Independent contractors
Conclusion
Canada is one of the best places to study for a master's of architecture because it offers a variety of career prospects in fields related to architecture. Your considerations for a Canadian university in your decision-making process must include cost, academic standards, on-campus amenities, and international rankings. Our admissions counseling services have helped thousands of students get into the Canadian schools of their choice. For further information, please arrange an appointment with one of our experts.