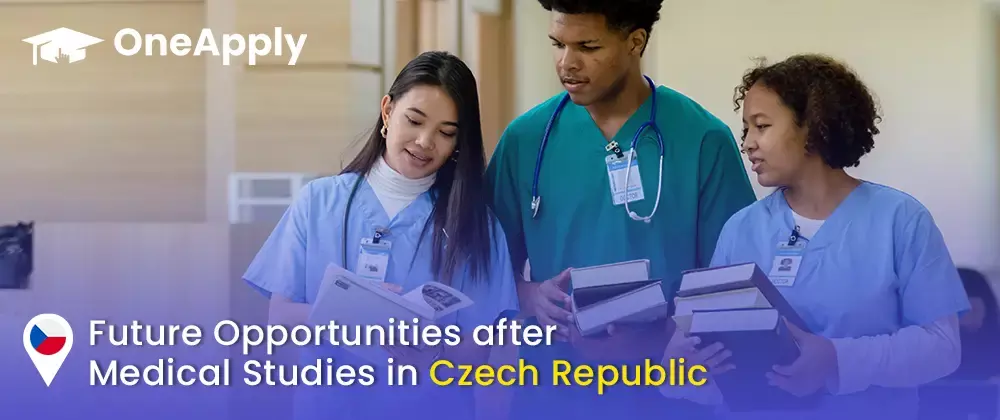 Medical professionals hold an esteemed position in society. A career in medicine is respectable and lucrative with graduates earning around 56,000- 90,000 USD per year. Degrees from old, prestigious Czechian universities can unlock several avenues of future opportunities for medical students. This is one of the top reasons why foreign applicants opt to study medicine in the Czech Republic. A General Medicine qualifying course in the Czech Republic takes six years to complete. Graduates from medical universities in the Czech Republic receive the title of Medicinae Universae Doctor (MUDr.) and can work in any specialization in the field of medicine. They are also eligible to practice independently in any part of the world. Following are the future opportunities after medical studies in the Czech Republic, students primarily have three future prospects
Become a medical practitioner 

Pursue Post Graduation or Doctoral Research

Specialization training program 
Future Opportunities for Medical Graduates in the Czech Republic
Clinical practice 
Practice medicine in the Czech Republic
If you wish to work in the Czech Republic after your studies, you will need to apply for an employee card.
Graduates from Czechian medical institutions in a language other than Czech who wish to practice medicine in the country must mandatorily register with the Czech Medical Chamber.
Czech Hospital Placements Program 
This unique Czechian program allows you to observe professionals in a live clinical environment during their daily surgeries, interactions with patients, and treatment modalities. This takes place at the University Hospital in Motol, which is the largest healthcare setting in Central Europe. The program duration can be catered to fit your convenience, although a minimum of 2-4 weeks are preferred. 
Average Salary
General practitioners in the Czech Republic earn around 56,000- 90,000 USD per year. The pay scale increases with specialist training. 

You need a license to practice medicine in the UAE. 
The licensing authorities and their specific areas of jurisdiction are outlined below
| | |
| --- | --- |
| Authority | Territory |
| DHA (Dubai Health Authority) | Four Government Hospitals |
| MOHAP (Ministry of Health and Prevention) | Northern emirates (excluding Dubai and Abu Dhabi) |
| DHCC (Dubai Healthcare City) | Dubai |
| HAAD (Health Authority Abu Dhabi) | Abu Dhabi |
Resident doctors, consultants, nurse practitioners, pharmacists,  dentists, and general practitioners are eligible to apply for licensing.
It takes 2-4 weeks to review the initial application. After the exam is given and cleared, the labour and insurance card has to be uploaded in under 5 working days.
Eligibility Criteria
Basic medicine degree (MBBS) from a recognized university or college.

All the certificates should be recognized by the WHO listing.
Average salary
According to the Payscale statistics, the average yearly salary for a doctor in the UAE is 68,000- 110,00 USD.
Practice Medicine in India 
Foreign graduates who were not enrolled in Indian medical colleges have to mandatorily for a licensing exam conducted by the apex medical regulatory body in the country. 
Thus, the candidate has to appear for the National Medical Commission (NMC) screening test or the Foreign Medical Graduates Examination (FMGE) to get a license.
Examination dates
This exam is conducted twice a year in June and December.
Eligibility Criteria:
Basic medicine degree (MBBS) from the university approved by MCI.

Documents in support of the candidate having passed the final examination. 
Documentary requirements:
Admit Card issued by the National Board of Examinations (NBE).

Candidate's photograph (min 35x45mm), comprising the name of the candidate and the date of capturing at the bottom of the photograph.

PAN Card, Driving License, Voter ID, Passport, or Aadhar Card may also be required. 
Average salary:
According to statistics, the average yearly salary for a General Physician in India is 7,300- 15,500 USD. 
Postgraduation in the Czech Republic 
Graduates of medicine (MUDr) can opt for the PhD programs offered by medical colleges in the Czech Republic. 
The oldest and most prestigious medical university, Charles University's Faculty of Medicine offers 22 doctoral study programs. You can also choose a full-time or distance form of study. Here, you get the opportunity to be part of a core research team and conduct valuable analysis and experimentation.
Universities that offer post-doctoral programs (4 years) in medicine in the English language are: 
Charles University- Third Faculty of Medicine

Charles University- Faculty of Medicine in Pilsen 
Specialization Training Program in the Czech Republic
After completing a Master's degree, students can continue in a specialization training program from Charles University. 
The students are trained and given the status of full-time employment in an accredited medical facility. It involves interacting with patients and therefore sufficient knowledge of the Czech language is required. 
It is also important to note that medical graduates in the Czech Republic cannot work independently without undertaking the Specialization Training Program. 
Conclusion
There are ample opportunities after medical studies in the Czech Republic. International students can either practice medicine in the country itself or choose any other country as a degree from Czech is valid worldwide. They can also choose to do post-graduation or specialization courses in the Czech Republic after medicine. For more information on how to apply to medical universities in the Czech Republic, get in touch with OneApply Gyanberry.