Become a Nurse in the UK: Educational Qualifications, Registration, Test of Competence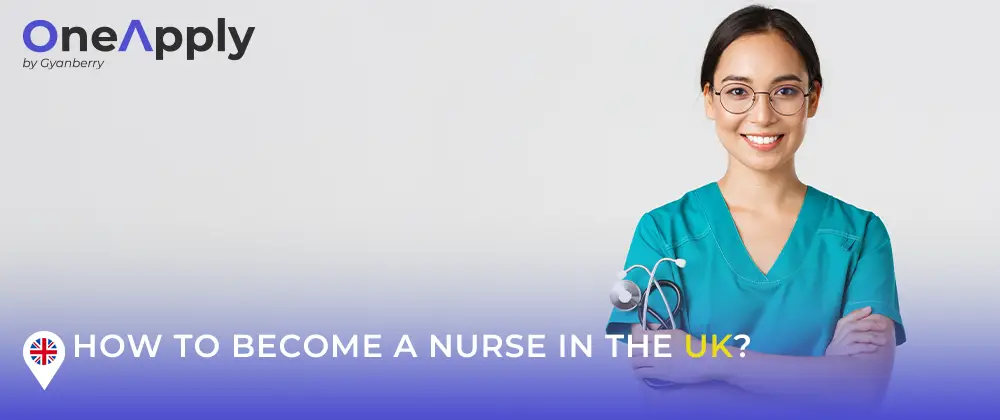 A nursing degree makes you eligible to be part of one of the most employable professions in the UK. According to NHS statistics, 94% of students find jobs within the first 6 months. Thus, it comes as no surprise that a rising number of candidates are interested in learning about how to become a nurse in the UK. Graduates get to make a real difference in patients' lives by opting to work in one of 4 disciplines
Adult nursing

Children's nursing

Learning disability nursing

Mental health nursing
If this piques your interest, you might consider pursuing a career in nursing. We at OneApply by Gyanberry will help navigate you through the process of becoming a nurse in the UK. Book a free consultation with us and keep reading to learn more. 
Key Highlights- How to Become a Nurse in the UK?
Here are the highlights of all the criteria to become a UK registered nurse. 
Accrediting and regulating body

Nursing and Midwifery Council (NMC)

Entry-level degree

BN (Hons) Nursing, BSc (Hons) Nursing

Specializations

MSc

Eligibility 

Applicants must hold a high school diploma with an aggregate of 65% in chemistry, maths, biology, physics, or psychology as core subjects*. This diploma must be equivalent to the GCSE in the UK. 

University-specific IELTS and TOEFL scores are also required during admission.

*As per UK educational guidelines, students need at least five Grade A to C GCSE in English, Maths, and a Science subject with preferably two A levels. 

Registration exam for overseas graduates 

NMC Test of Competence

Test of Competence fees

£83 for the CBT exam, £794 for the OSCE

Entry-level salary of nurses in the UK

£26,317 annually 

Salary of experienced nurses in the UK

£41,090 annually 
Why study Nursing in the UK?
Nurses were in high demand in the UK (and around the world), as evidenced by the recent COVID-19 pandemic. This pandemic has persuaded many students to choose a noble profession like nursing to help humanity. With the internationally-accredited standard of education offered, there are multiple perks of studying in the UK.
As per the statistics published by the Nursing Times, UK nursing universities consistently rank as some of the best in the world. 

Students have a wide range of alternatives when it comes to selecting a nursing college in the UK. There are more than 50 nursing colleges in the country

There are a wide variety of

UK nursing courses

and specializations to choose from

In order to boost students to take up nursing, the government of the UK is providing £5,000 as part of financial support for eligible candidates. 

The chances of getting employment are high as there is a national shortage of 39,652 nurses in the UK (

The Guardian News

)

NHS, the National Health Service of the UK is one of the largest healthcare employers in the world (The Guardian News)

UK nursing degrees are recognized worldwide and hence make for highly employable professionals in other countries. 
Eligibility Criteria to Become a Nurse in the UK
Earlier a diploma or a certificate course was enough to become a nurse in the UK. As of 2013, the minimum qualification to become a nurse is a degree (3 to 4 years). All nursing degrees are accredited and regulated by the Nursing and Midwifery Council (NMC) of the UK. Therefore, students should choose a nursing college that is recognized by NMC.
The entry-level degree is BN (Hons) Nursing or BSc (Hons) Nursing. There are branch specialties for nursing BN or BSc degrees like
Adult nursing

Child nursing 

Mental health nursing 

Learning disabilities nursing   
Students can choose whichever specialization they are interested in. These degrees typically run for three to four years (mostly three). 50% of coursework is academics and the other 50% is in practice. The first year is called the common foundation program (CFP), where students learn the basic skills and knowledge required for nursing. The remainder of the course focuses on specialty training in the chosen branch of nursing. 
Documents required for international students 
These comprise 
A high school diploma (A-levels or equivalent) with an aggregate of 65% and above with chemistry, maths, biology, physics, or psychology as core subjects

Grade C and above in GCSEs (SSC or equivalent) in English, a Science subject, and Maths (many universities ask for A levels in Biology)

Proof of work or volunteer experience (healthcare-related)

Personal statement 

English language tests score like IELTS (7.0) or TOEFL (90)

Students visa

Occupational health clearance

Academic transcripts (UK equivalency)

Passport photographs

A copy of a bank statement showing adequate funds for at least one academic year of tuition

Disclosure and Barring Services (DBS) checks
Top Universities to Study Nursing in the UK with Fees 
Since there is no standardized test for the selection of candidates to nursing colleges, the section is entirely based on academic credentials, performance in interviews, and personal essays. 
Students can take the help of OneApply's admission services to make their applications more compelling. We also have tie-ups with UK universities that offer nursing degrees. 
Here is a list of the top universities in the UK according to the QS World Subject Rankings 2023. We have also included some of our partner universities with their respective fee structures.
Upon completion of their degree, prospective nurses can go for further studies like a master's and a Ph.D. to advance their careers in research, academics, management, or more. But to be able to practice and work as a nurse in the UK, graduates have to register themselves with the NMC. Let us learn more about this process in the upcoming sections. 
Career Prospects for Nursing Students in the UK
NMC registration for Nurses in the UK
Since NMC is the regulatory body for nursing in the UK, it handles all the registration processes for UK and international nurses. The first step of registration starts with checking your eligibility. NMC has a checklist of eligibility that applicants should go through before starting their registration process. They can download it from the NMC website. 
To be qualified for registration, international applicants with a nursing degree from another country must have the following:
A current, unrestricted nursing license/registration in the country where they are qualified or are presently practicing 

English language requirement

A valid passport (should not be expired or near expiry)

Health clearance

Character evidence (criminal background check)

Professional indemnity arrangement
Once everything checks out, applicants have to create an NMC account. Fill out all the eligibility requirements and upload the supporting documents and pay the evaluation fee of £140.  
NMC Test of Competence for international candidates
Once NMC confirms the eligibility (usually 14 days), international nurses (without a European qualification) then have to appear for the Test of Competence. This test assesses the skills and knowledge of the applicants to ensure that they are fit for European nursing standards. For students with Europen qualifications, the Test of Competence is not needed. The competence test is divided into two parts:
A multiple-choice computer-based test called the CBT

A practical test that is known as the Objective Structured Clinical Examination (OSCE)
The students who fail and need to reappear for the test have to pay extra charges (kindly refer to the table below). International students do not have to travel to the UK to take the Test of Competence. The test is conducted at different centers across the countries by a third-party organization called Pearson VUE. Students have to select the test subject based on their specialty i.e.
Adult nursing

Child nursing 

Mental health nursing 

Learning disabilities nursing   
Once the student clears the Test of Competence, then they can go ahead and complete the rest of the registration process by paying the registration fee. Upon verification of all the information and test scores, NMC will notify students of their application status. 
The following table summarizes the overall cost of registration:
| | |
| --- | --- |
| Type of Fees | Cost |
| Qualification evaluation fee | £140 |
| Computer-based test (CBT) cost | £83 |
| Objective structured clinical examination (OSCE) cost | £784 |
| OSCE resit cost (for reattempt) | £397 |
| Registration fee | £23 |
Working with the NHS
The NHS employs healthcare professionals from over 350 different fields of expertise. Nursing positions are always understaffed, and the NHS releases a long list of vacancies for nurses each year. Once registered, you can apply to work with the NHS.
Nurses are directly involved in providing patient care and work as part of a multidisciplinary unit. New recruits are paid as per the regulations set up in pay band 5, which entitles them to over £25,000 annually. 
Conclusion 
Nursing is considered to be the backbone of the entire healthcare system. To become a registered nurse in the UK, applicants have to undertake extensive training and abide by the highest standards of patient care. 
If you wish to pursue a career in this rewarding profession in the UK, contact OneApply by Gyanberry. Our trained counselors will walk you through the whole application process, from selecting the right university to submitting all your documents in a timely fashion.