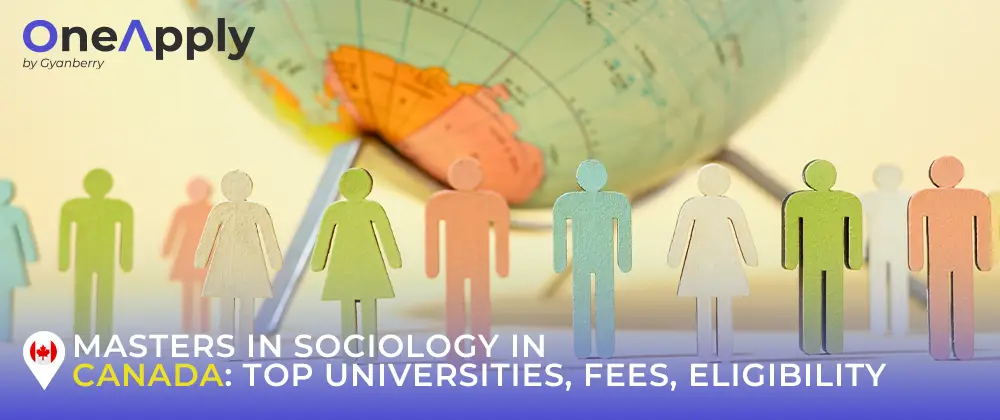 Sociology, the study of society and human behavior, has become increasingly relevant in our complex and rapidly changing world. A Master's in Sociology in Canada is one of the best programs in the field globally, with Canada housing many renowned universities, faculties, etc. With the growing demand for professionals with a strong understanding of social issues and cultural diversity, Canada has become an excellent place to study the social sciences, including social work and sociology. 
According to educanada, there are more than 50 master's programs in sociology offered in Canada, making it one of the more popular courses among the social sciences. Canada is also a popular destination for international students pursuing a Master's in Sociology. With a diverse population and a welcoming attitude towards immigrants, Canada offers a unique opportunity for students to study and engage with different cultures and perspectives. With a Master's degree in Sociology, you can explore the complex terrain of social processes with a variety of career paths including research, policy analysis, education, social work, etc.
For those interested in pursuing a Master's in Sociology in Canada, this article hopes to shed some light on the overall dynamics of studying sociology in Canada, including the best programs, universities, tuition fees, application deadlines, etc. 
Overview: Masters in Sociology in Canada
| | |
| --- | --- |
| No of programs  | 50+  |
| No of Universities  | 10+  |
| Degrees Offered  | MA  |
| Annual Tuition Fees  | 10000 – 30000 CAD |
| Program Duration  | 1 to 2 years  |
| Deadline for Application | Generally around December to February  |
Why study Sociology in Canada? 
High-Quality Education: Canada is home to some of the best universities in the world, and many of them offer outstanding sociology programs.
Diverse Country: Studying sociology in Canada provides students with the opportunity to understand and explore different cultures and communities, including Indigenous peoples, immigrants, and refugees.
Real-World Applications: Sociology has practical applications in many fields, including public policy, social work, education, and business. Canada is an excellent place to study sociology and apply sociological theories to real-world issues.
Research Opportunities: Canada has a strong tradition of social research, and sociology students have access to many research opportunities, including working with leading sociologists, conducting independent research projects, and participating in community-based research initiatives.
Career Opportunities: Sociology graduates in Canada have a wide range of career opportunities available to them, including social policy analysis, social research, community development, and social services. There are also several part-time jobs students can take up during their studies.
Sociology Specializations in Canada 
In Canada, there are several specializations within the field of sociology. Most of the master's programs in Canada provide the option to specialize in one or more areas since many of the programs are thesis-based and research extensive. Some of the most common specializations are:
Race, Ethnicity, and Migration

Sex, Gender, and Sexuality

Environment and Community

Sociology of Health

Urban Sociology 

Indigenous studies 
Top Masters in Sociology programs in Canada
University Name 
Programs offered 
Duration of Study
Application Deadline 
Application Fees
Annual Tuition fees (2023/24)

University of Toronto 

MA Sociology 

2 years 

December 1, 2023 

125 CAD

29732 CAD

MA Sociology – Collaborative (Dual Degree – Addiction studies, Gender studies, Developmental policy, etc.)

2 years

Depends on the combination of programs. 

University of British Columbia 

MA Sociology

2 years 

December 2023 

168.25 CAD

9500 CAD

Mcgill University 

MA Sociology (Thesis)

2 years 

January 2024 

129 CAD

19154 CAD

MA Sociology (Non-Thesis)

27014 CAD

Simon Fraser University 

MA Sociology (Research Based)

2 years 

February 2024

125 CAD

6075 CAD

York University 

MA Sociology 

1 year 

January 15, 2024 

130 CAD

19662 CAD

University of Alberta 

MA Sociology (Thesis Based)

2 years 

January 15, 2024 

125 CAD

9000 CAD

12000 CAD 

MA Sociology (Course Based)

12 – 16 Months 

Western University 

MA Sociology (Thesis)

2 years 

December 1, 2023 

125 CAD

22665 CAD

MA Sociology (Research Paper Stream)

1 year 

Queen's University 

MA Sociology 

1 to 2 years 

January 15, 2024 

100 CAD

15096 CAD

University of Ottawa 

MA Sociology 

2 years 

April 30, 2023 

75 CAD

18000-27000 CAD
Admission Requirements for Masters in Sociology in Canada 
The admission requirements for MA Sociology in Canada for international students may vary depending on the university and the specific program. However, some general requirements are:
Students must have a related bachelor's degree from a recognized university or college with good academic standing. Some universities insist on an undergrad degree in sociology itself. 

English Language Proficiency certification in tests such as IELTS (6.5) or TOEFL iBT (90)

Top universities prefer students with prior research experience in the field of sociology and basic statistical knowledge. 

Students are typically required to provide two to three letters of recommendation from teachers, professors, etc. 

Statement of Purpose (Usually not more than 1000 words)

Some universities require prospective students to provide a writing sample, such as a research paper, essay, or thesis.

Academic Transcripts from all previous institutions. 

Some universities also expect a personal CV from the candidate. 
Cost of Studying Masters in Sociology in Canada 
The tuition fees for master's programs in Sociology in Canada vary depending on factors such as the type of institution, degree type, level of study, etc. However, on average, the tuition fees range from 10000 to 30000 CAD.  
International students have many options to cover the cost of tuition including scholarships, grants, and other forms of financial aid. A lot of students also opt for part-time jobs while studying in Canada. Canada is an excellent place to develop a strong sense of independence and explore career options all the while studying. There are many popular part-time jobs available easily for international students. 
The living expenses in Canada typically range from 15,000 CAD to 20,000 CAD, and it varies depending on the accommodation type, city of residence, lifestyle, etc. 
Here are some of the most common monthly expenses in Canada, to give you an estimate of the living costs in the country: 
| | |
| --- | --- |
| Expense Type  | Monthly Expense  |
| Accommodation  | 400 – 600 CAD  |
| Food  | 200 – 300 CAD |
| Transportation  | 100 – 150 CAD  |
| Utilities (Internet, Phone, etc) | 50 – 100 CAD |
| Misc.  | 100 – 150 CAD |
Career Pathways for sociology graduates in Canada
Sociology is one of the more employable degrees among the social sciences due to its excessive reliance on advanced skills in analytical and critical thinking, problem-solving, data analysis, communication, and teamwork. A graduate degree in Sociology provides extensive skills and knowledge valuable for several rewarding careers. Sociology graduates are known for their high-level skills in data analysis and their knowledge of social patterns. Sociology graduates in general have a high rate of employment with many finding work in fields such as social services, research, and education.
Most of the universities have career centers and counselors to help you figure out possible future pathways in terms of career and research. However, here are some of the most common jobs opted for by sociology graduates, and their average annual salaries according to Glassdoor. 
| | |
| --- | --- |
| Job Profile  | Average Annual Salary  |
| Research Sociologist  | 57310 CAD |
| Social Worker  | 71396 CAD |
| Community Organizer  | 64001 CAD |
| Human Resource Specialist  | 68152 CAD |
| Policy Analyst  | 75692 CAD |
| Marketing Researcher  | 92493 CAD |
| Urban Planner  | 75187 CAD |
Conclusion 
Overall, the field of sociology continues to be relevant and important in Canada and beyond, and pursuing a Master's in Sociology can provide students with the knowledge, skills, and experience they need to make a positive difference in the world. These programs are designed to advance your knowledge and skills, as sociology continues to find relevance across many different fields. With a wide range of universities offering programs that cater to a wide array of research interests, you'll have access to top-notch faculty and resources. As such, Canada offers a perfect opportunity to study sociology and make a meaningful contribution. For more information regarding sociology in Canada, contact our admission experts.