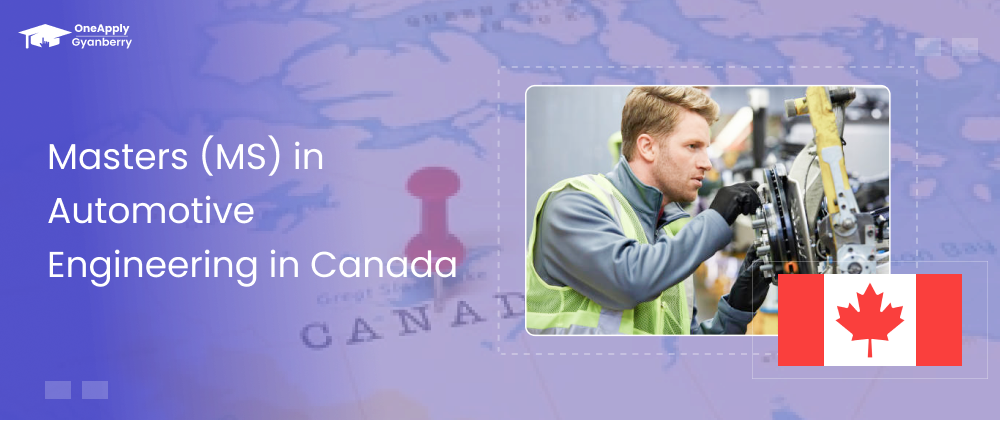 Contributing to about 20 billion dollars in the GDP of Canada, the automotive sector is the hot sector of the economy. Hence comes the rise in the number of international students wanting to pursue a Master's (MS) in Automotive Engineering from Canada itself. With an average salary of about CAD 78,000 annually for automotive engineers, a master's degree in this field from Canada can be a very lucrative choice for international students.
Along with being a significant contributor to Canada's economy, the automotive sector has a significant impact on an ever-evolving global economy. An edge of new technology, design, and production techniques is brought about by the modern vehicle industry's ongoing advancement. You can learn about autos' technical and practical aspects by pursuing a Masters in Automotive Engineering in Canada.
Overview: MS in Automotive Engineering in Canada
Number of universities 

2 universities – University of Windsor & University of Ontario

Program type 

Postgraduate (Masters in Automotive Engineering)

Degree type 

MASc or MEng

Program duration 

2 years 

Annual tuition fees in CAD

9,600

–

16,800 (University of Windsor) and 28,960 (University of Ontario) 
Why Study Masters in Automotive Engineering in Canada?
One of the most popular places for graduate students to continue their post-graduate degrees is Canada. With reasonable tuition prices far lower than those charged by American colleges, it primarily focuses on ensuring that the students are entirely protected, fairly rewarded, and enjoy their time there while living and learning. The following are the main justifications for earning a Master's in Automotive Engineering in Canada:
Career Possibilities:

Masters in automotive engineering programs are highly sought after in Canada due to a scarcity of competent workers to fill open positions in the automotive or automobile engineering industries.
Research:

The country's and its government's strong emphasis on research and innovation through the liberal support of vocational engineering specialties is one of the most persuasive arguments for

studying in Canada.
Training:

Universities in Canada specializing in automobile engineering offer project-based, practical education. International students are permitted to work up to 20 hours per week at Canadian universities during their semester holidays. All of these assist students in gaining appropriate hands-on experience in the automotive sector and preparing them to fulfill career requirements.
Safety:

To experience Canada's vibrant nightlife, students who intend to study there should be confident to venture outside after dark. Canada is now ranked 12th internationally on the Global Peace Index Report 2023.

Employment Rate:

The university rankings, training, research, and further career possibilities make Canada the perfect place if looking to study automotive engineering from abroad.
Top Universities Offering Masters in Automotive Engineering in Canada
Students can thoroughly grasp cutting-edge technologies and procedures connected to automotive systems through the Master of Applied Science (MASc) and Master of Engineering (MEng) programs in automotive engineering. Students can learn all key topics related to automotive systems through these programs. These topics cover analytical methods, design procedures, and scientific ideas. 
The University of Windsor, Windsor
One of Canada's leading research institutions, the University of Windsor focuses on student research and high-quality instruction. It gives international students entry to the MASc in Automotive Engineering program, which focuses on providing the intense professional training and real-world experience required to succeed in this cutthroat, international job market.
The most remarkable degree available through this university is the dual post-graduate specialization degree in automotive engineering. Through a groundbreaking dual degree arrangement, graduate students from the University of Windsor and Politecnico di Torino in Italy may earn two master's degrees in two different nations while taking part in cutting-edge research and development initiatives with Fiat Chrysler Automobiles.
Program(s)

MASc in Automotive Engineering

MEng in Automotive Engineering

Duration

2 years

Annual Tuition Fees for International Students

CAD 9,600 (MEng) and 16,000 (MASc)
University of Ontario Institute of Technology
Having set its place in the world ranking as the one-stop destination for automotive engineering, the University of Ontario is a public university with an emphasis on expanding knowledge discovery and applications to enhance social innovation, regional development, and economic prosperity.
| | |
| --- | --- |
| Program(s) | International MASc in Automotive Engineering |
| Duration | 2 years |
| Annual Tuition Fees for International Students | CAD 28,960 |
Admission Requirements for MS in Automotive Engineering in Canada
Let's take a quick look into the various eligibility criterion for admission to a master's degree in automotive engineering for Canada for international students:
Minimum Scores in English Language Proficiency Test:
IELTS: 6.5
TOEFL: 80-90
Pearson: 65
Bachelor's Degree: A minimum GPA score of 3-3.5 or above in a 4-year relevant bachelor's course from a recognized university is mandatory for admission to a master's program. Even if not automotive or automobile engineering, a bachelor's in electronics, mechanical, or aerospace engineering is suitable for pursuing a master's in automotive engineering.
Study Permit Visa: After receiving an acceptance letter from the university of your choice, all international students pursuing a master's degree in Canada must apply for a study permit visa upon starting their studies.
Statement of Purpose: A personal statement of purpose is advisable while applying to the university to give an edge over other numerous candidates.
Cost of Studying Masters in Automotive Engineering in Canada
Although Canada isn't a cheap country, it is the utmost favorable for students and, even more so, for international students due to the immigration policies and scholarships available. The average tuition fee for pursuing a Master's in Automotive Engineering from Canada for international students will cost you about 9,600-28,960 CAD annually, depending on the course you have opted for and the university from which you will pursue the same.
Cost of Living in Canada
The projected cost of living for an international student in Canada is between CAD 15,000 and 20,000 a year, which covers housing, transportation, food, and all essential utilities. However, the cost of living dynamically varies depending on lifestyle, location, and preferences. Additionally, international students shouldn't worry too much about the expense of studying in Canada because many options for scholarships will help them pay for their tuition there (scroll further for details).
There are several part-time job options in Canada with very modest prerequisites if you want to save some money. You may take a part-time job while taking classes to save money for a nice four-wheeler in the future!
Scholarships for MS in Automotive Engineering in Canada
Canada offers numerous scholarships to international students, some of which are listed below:
| | |
| --- | --- |
| Scholarship* | Value  |
| Vanier Graduate Scholarship | 50,000 CAD (one-time) |
| Delta Kappa Gamma World Fellowship | 5,000 CAD |
| Ontario Graduate Scholarship | 5,000 CAD per term |
| Arbour Foundation | 13,000 CAD (one-time) |
| GREAT Scholarships | Decided by faculty members |
*eligibility criterion for international students varies based on gender, thesis, and research-based courses.
Job Opportunities After MS in Automotive Engineering in Canada
Students with a Canadian master's degree in automotive engineering are prepared for the various forms of automotive software and technology employed in the sector's fast expansion and transformation. Since automotive engineering is an up-and-coming field, the job opportunities are extensive. Some such opportunities include:
Automotive Engineer

Vehicle Dynamics Controller

Automotive Engineering Technician

Operations Research 

University Professor

Manufacturing Engineer

Safety Engineer

Emissions Research 

Performance Engineer

Automotive Design Engineer
Conclusion
It's reasonable to assert that automotive engineering has never been out of demand given the ever-expanding innovation in both the automotive industry and engineering industries. Automotive engineers must, however, earn a Master's degree in Automotive Engineering from a prestigious university to finish their required coursework.
Before pursuing MS in Automotive Engineering in Canada, several factors need to be considered, including cost, academic standards, on-campus amenities, and international rankings. Our admissions counseling services have helped thousands of students get into the schools of their choice. If you'd like more information, you can schedule a free video consultation with one of our experts.