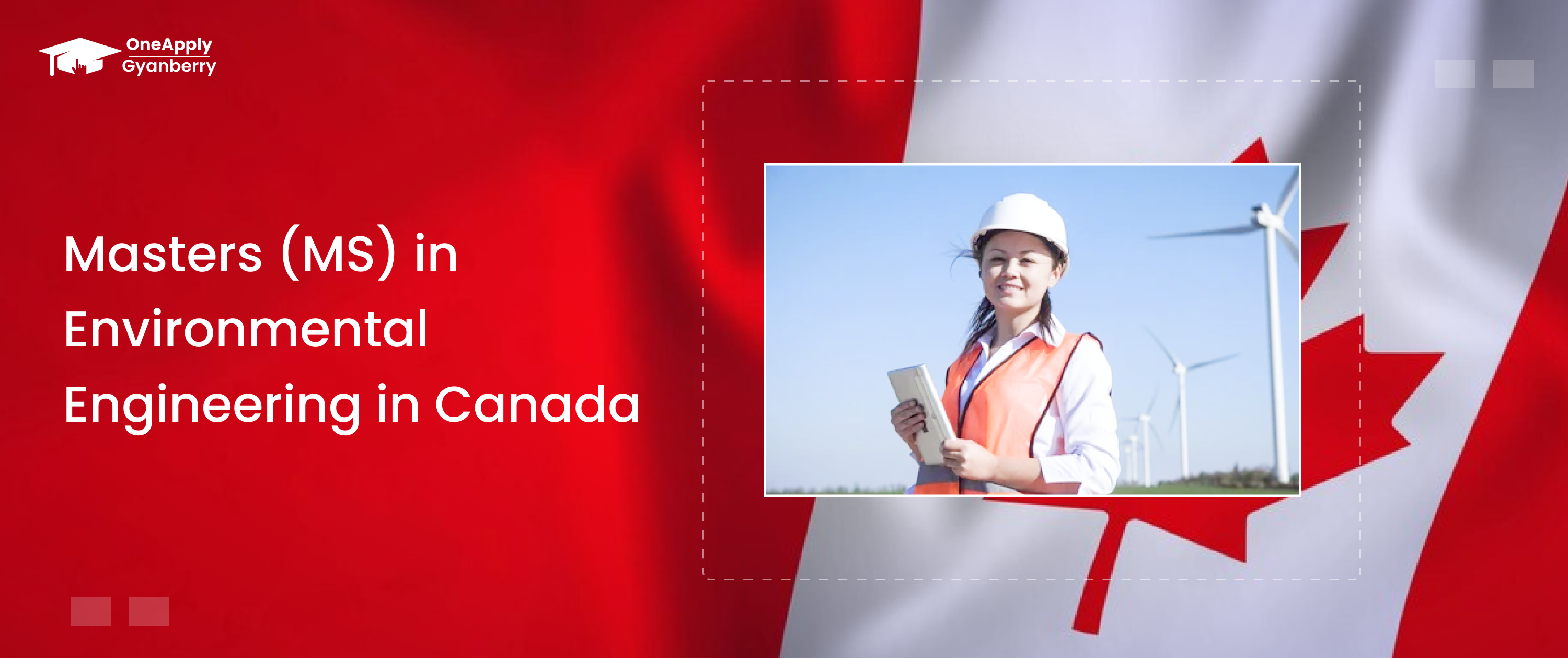 The postgraduate Canadian education stands on the principles of ample research opportunities and extensive cultural diversity. It is thus a matter of little wonder how Canadian provinces occupy a prominent position in every study abroad aspirant's list. With a student community that is diverse, vast, and thriving, colleges in the country invite applications from a multinational coterie. The highest number of applicants is seen in disciplines such as engineering, interior design, environmental science, and communications. In recent years, a Master in Environmental Engineering in Canada has become a popular PG course choice. 
With sustainable living rising through the ranks to become the need of the hour, the importance of environmental engineering cannot be undermined. As of today, 8 colleges offer an MS in the subject to those who wish to study in Canada. Within a duration of 2 years, the degree equips students with the aptitude needed to shape infrastructure that prevents the exhaustion and contamination of natural resources. 
Environmental Engineering Masters in Canada: Highlights Table 
Degree Type

Postgraduate degree 

(M.Eng in Environmental Engineering and MASc in Environmental Engineering)

Duration 

2 years

Number of institutes in Canada offering the course

8

Medium of instruction 

English

Eligibility 

A four-year baccalaureate degree in engineering from a recognized institution with a minimum GPA of 3.0 on a 4.0 scale. 

Minimum TOEFL score of 86 and IELTS score of 6.5 

*University-specific eligibility criteria may vary. 

Application deadlines 

Summer term: December-January 

Fall term: February-March

Winter term: July-August

Average program costs 

32,000-58,000 CAD

Scholarships 

Funding packages are generally available for students in thesis-based programs (MASc). Course-based students (M.Eng) may be eligible for university-specific scholarships and donor awards. 

Career prospects 

Graduates can apply to managerial, research, and project engineer roles in areas of environmental sustainability, waste management, water quality, air quality, site assessment and reclamation, natural resource management, and energy.

Median salary for international engineering graduates 

64,000-76,000 CAD
What is a Master of Environmental Engineering in Canada?
Environmental engineering has recently developed as an offset specialization from the branch of Civil Engineering. Deriving its origin under the umbrella of what was once known as 'sanitation engineering', the cornerstone of the degree draws from multiple disciplines. These include the likes of chemistry, ecology, microbiology, geology, hydraulics, and mathematics, where graduates seek solutions to environmental challenges that impact the health and well-being of society. 
In most institutes, it is now taught as an adjunct between the Department of Civil and Chemical Engineering. 
Canadian colleges primarily offer 2 main course options to international students. These comprise a Master of Engineering or a Master of Applied Science.
| | |
| --- | --- |
| Master of Engineering (M.Engg) | Master of Applied Science (MASc) |
| Is an industry-oriented degree with a more practical approach. | Is a stepping stone to a postdoctoral degree. |
| M.Engg students have the option of pursuing a project under the supervision of an experienced faculty member. | The MASc program culminates in the presentation of an oral and written thesis. |
| The M.Engg program is self-funded and interested applicants may look into government student funding or a student line of credit. | MASc students receive funding during the program and can apply for various scholarships. |
| The average program fee lies in the range of 20,000-40,000 CAD. | The average program fee lies in the range of 10,000-20,000 CAD. |
It should be noted that primarily course-based programs like that of M.Engg require a minimum of 8-10 courses for the completion of the degree. Generally, four of these are core engineering courses in engineering tools, sustainability engineering, climate change adaptation, and ethics and laws governing the engineering profession. The fields of specialization evoking the maximum interest from applicants worldwide include 
Air Pollution

Management of Solid and Hazardous Waste

Water Resources and Groundwater Management

Water and Waste Water Processing and Treatment

Environmental Impact Assessment, Sustainability and Climate Change
Top Canadian Universities for Masters in Environmental Engineering
Noted for academic excellence and their student-friendly milieu, Canadian engineering universities open their doors to students of all nationalities. At these institutions, students are trained to be at the forefront of sustainable development practices. 
Some of the universities emerging as the top picks for global applicants consist of 
Concordia University, Montreal

Dalhousie University, Halifax

University of Ottawa, Ottawa

University of Waterloo, Ontario

Carleton University, Ottawa

University of Calgary, Alberta
Admission Requirements for Masters in Environmental Engineering in Canada
To ensure a hassle-free admissions process and the timely submission of all documents, interested students should apply via Gyanberry. 
The detailed eligibility criterion for MASc and M.Eng programs includes 
A four-year baccalaureate degree in engineering from a recognized institution with a minimum GPA of 3.0 on a 4.0 scale. This may be from a Canadian university or its equivalent from a recognized institution

Minimum test scores in standardized tests such as IELTS, TOEFL, and GRE. IELTS and TOEFL scores are mandatory for graduate admissions. Although university-specific requirements may vary, a TOEFL score of 86 and an IELTS score of 6.5 is considered safe. 

For colleges that require GRE scores, the desired range of marks lies in the 90 percentile range and above.

Although prior work experience in a related field is not necessary, it provides a consequential advantage in securing admission.
Documents required for international students 
Before confirmation of acceptance, international students will be asked to furnish the following records 
All past academic transcripts

2-3 Letters of Recommendation (LORs) 

A 'statement of intent' underscoring your interest, purpose, and basis behind selecting the course and the university  

Proof of the English Language Proficiency (ELP) exam results 

A Canadian Study Permit which will be provided after receiving an acceptance letter from the university of your choice. 
Fee Structure for Popular Universities Offering Environmental Engineering Masters in Canada
Having adequate knowledge regarding the fee structure of any university empowers you to plan your budgetary expenses accordingly. For your convenience, the same has been outlined below 
Name of the university 
Annual tuition fees in CAD

Concordia University

$15,000

Dalhousie University

$27,000

University of Ottawa

$11,682

University of Waterloo

$14,944 (MASc)

$27,780 (M.Eng)

Carleton University

$12,250

University of Calgary

$13,400
Cost of living 
In addition to the difference in tuition, international students also have to shell out a lot of money to cover their cost of living. This includes the price of on-campus or off-campus accommodation and other expenses like food and transportation. 
Depending on the province of residence, the type of accommodation, and other personal spending habits, living expenses tend to fall in the range of CAD 15,000 to CAD 20,000 per year. Some variables to be accounted for include 
Variables
Average Expenditure Per Year

Food

CAD 2,400-3,600

Transportation 

CAD 1,400-3,000

Accommodation

On-campus: CAD 3,000-7,500 

Off-campus: CAD 9,000-26,000 

Health insurance 

CAD 600-1,000

Miscellaneous

CAD 7,200-8,400
Financial Aid and Scholarships for International Students 
The Canadian government strives to make education more accessible to high-performing candidates regardless of their financial standing. It thus offers partial scholarships to committed prospective students in addition to other financing options. 
Some scholarships featured by EduCanada comprise 
| | |
| --- | --- |
| Name of the scholarship  | Scholarship amount in CAD |
| Canada-ASEAN Scholarships and Educational Exchanges for Development | $10,200 to $12,700 |
| Study in Canada Scholarships | $10,200 to $12,700 |
In addition to this, Canadian universities also present meritorious students with the opportunity to qualify for an array of scholarships and grants. A few of these at the Master's level include 
| | | |
| --- | --- | --- |
| Name of the scholarship  | Name of the institution  | Scholarship amount in CAD |
| AOSTRA/ Devenny Graduate Scholarship | University of Calgary | $900 |
| A.S. Mowat Prize | Dalhousie University  | $1500 |
| Nova Scotia Graduate Scholarship | Dalhousie University | $10,000 per year for up to two years |
| Killam Predoctoral Scholarships | Dalhousie University | Up to $42,000 per year for up to two years, plus $2,500 toward international tuition fees and relocation allowance, if applicable.  |
| Graduate Entrance Scholarship | University of Alberta | Stipend value of $17,500, international students will receive an additional $10,000 to help cover fees.  |
MASc courses are generally funded for while M.Eng courses are self-financed. Thus, international students are often seen working part-time to cover their expenses. According to Canadian law provisions, foreign students can work off campus without a work permit if they meet the following requirements 
They are registered as full-time students at a designated learning institution (DLI)

Their study program is at least 6 months long and leads to a degree, diploma or certificate

They are currently enrolled in such a course 

They have a Social Insurance Number (SIN)
In addition to this, prospective applicants can also apply for education loans in their respective countries. Tuition fee waivers and other funding opportunities available to you will vary significantly based on your nationality and university-specific criterion. 
Career Prospects for Graduates after Masters in Environmental Engineering in Canada
In recent years, environmental issues have become a paramount problem on the radar of the Canadian government. Thus, it comes as no surprise that job prospects for Environmental Engineering graduates have grown by leaps and bounds in such a scenario. However, regulations vary from state to state, so graduates must be willing to relocate to different areas for better career opportunities. 
With a median annual salary between 64,000-76,000 CAD, these engineers can work as consultants or directly in collaboration with governmental agencies. Some positions held by graduates of Environmental Engineering include 
Air Quality Inspector

Environmental Engineer

Environmental Health and Safety Director

Waste Management Team Leader

Natural Resource Management Engineer, etc.