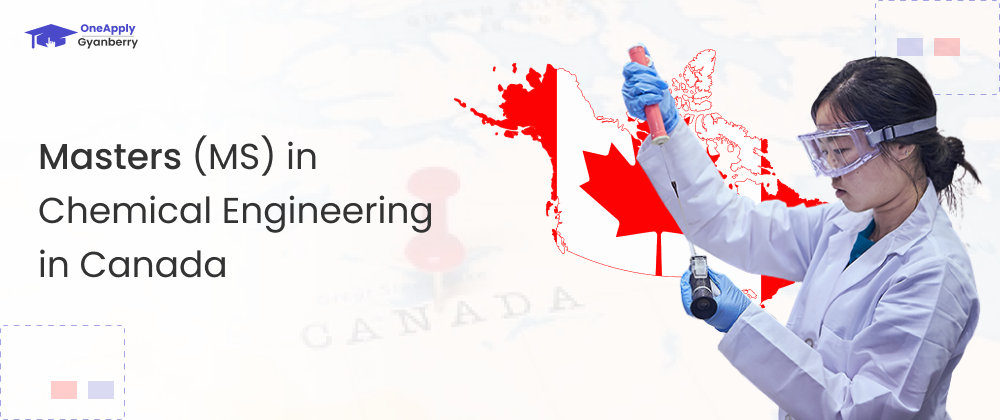 Masters in Chemical Engineering is a graduate degree program that offers knowledge of Chemical Engineering on an analytical and technical level to students. Ten universities in Canada are among the top 250 universities worldwide for chemical engineering, according to the QS Ranking. Through this course, students can develop the skills necessary to work in positions of great responsibility in research facilities, businesses, the chemical industry, and educational institutions.
 Many universities in Canada offer master's degrees in chemical engineering. International students regularly submit applications to chemical engineering programs in Canada in order to pursue lucrative employment through a combination of professional experience and academic studies. The best chemical engineering programs in Canada provide co-ops, online tutoring, and practical training.
The length of a masters in chemical engineering in Canada varies depending on the degree chosen. The degree is available as an MES (Master of Engineering Science), MEng (Master of Engineering), MS (Master of Science), MASc (Master of Applied Science), and other variations. Costs for the full program range from 10,500 to 61,500 Canadian dollars for an MEng degree and 11,000 to 52,000 dollars for a MASc degree.
Some other popular graduate engineering programs in Canada include civil engineering, mechanical engineering, electrical engineering, biomedical engineering, and automotive engineering.
Currently, there are more than 600,000 international students enrolled in Canadian universities since the country is renowned for offering top-notch education at affordable tuition rates with degrees that are internationally recognized. When you consider a good standard of living, a large range of post-study work opportunities, and immigration alternatives, Canada is among the best nations to study abroad with some of the most well-liked student cities.
Overview: Masters in Chemical Engineering in Canada
| | |
| --- | --- |
| Program Level | Postgraduate (M.Sc, MEng, M.ASc) |
| Duration of Program | 1-2 years |
| Annual Fee | 10,000- 61,500 CAD, |
| Entrance Exams | GRE, GMAT (optional) |
Why Choose Canada for Masters in Chemical Engineering?
Good Job Opportunities
Depending on the industry they operate in, chemical engineers in Canada have high employment prospects. 3,600 new positions (resulting from expansion demand and replacement demand) are anticipated for chemical engineers between 2019 and 2028. You can choose to work in the field or the lab after earning a master's degree in chemical engineering in Canada.
Work that Stimulates the Mind
Chemical engineers always have interesting and thought-provoking tasks to do. Chemical engineers frequently work with the Environmental Protection Agency to clean up extremely polluted Superfund sites or develop more effective processes for processing rapid hydrocarbons at refineries.
Superior Academic Programs
Chemical engineering colleges in Canada have distinguished themselves internationally due to their top-notch facilities and academic programs. Also, Canadian colleges and universities are well known for providing excellent educational and technical experiences to international students.
Best Universities in Canada for Master's Degrees in Chemical Engineering
Chemical Engineering master's degrees are widely available from Canadian universities, which are also very cutting-edge and forward-thinking in their approaches. The programs at these universities are designed to mold the students for the industry. Some of the top Canadian institutions that grant master's degrees in Chemical engineering are listed below.
| | | | |
| --- | --- | --- | --- |
| University Name | QS Ranking 2023 | Times Higher Education Ranking 2023 | QS Subject Ranking for Chemical Engineering  |
| McGill University, Quebec | 31 | 46 | 49 |
| University of Alberta, Alberta | 110 | 118 | 81 |
| McMaster University, Ontario | 152 | – | 101-150 |
| University of Waterloo, Ontario | 154 | 201-250 | 75 |
| University of Ottawa, Ontario | 237 | 137 | 201-250 |
| University of Calgary | 242 | 201-250 | 101-150 |
| Dalhousie University, Nova Scotia | 308 | 301-350 | – |
| University of Saskatchewan | 473 | 501-600 | 401-410 |
| Concordia University, Quebec | 551-560 | 601-800 | – |
Cost of Masters in Chemical Engineering in Canada
The leading universities in Canada charge between CAD 9,500 and CAD 65,000 per year for a master's degree in chemical engineering. The cost of a master's in chemical engineering at a Canadian university is briefly described in the section that follows. The annual cost of living in Canada is between 15,000 to 25,000 CAD.
The annual tuition for some of the well-known Chemical Engineering programs offered by Canadian colleges is shown in the table below.
University Name
Program
2023 Tuition Fee/year in CAD

University of Waterloo, Ontario

MASc in Chemical Engineering

23,088

Dalhousie University Nova Scotia

MASc in Chemical Engineering

23,439

MEng in Chemical Engineering

32,917

McGill University, Quebec

MEng in Chemical Engineering

15,576

University of Saskatchewan, Saskatchewan

MSc in Chemical Engineering

9,396

University of Ottawa, Ontario

MASc in Chemical Engineering

29,445

MEng in Chemical Engineering

55,776

McMaster University, Ontario

MASc in Chemical Engineering

25,413

Concordia University, Quebec

MASc in Chemical Engineering

20,994

University of Alberta, Alberta

MSc in Chemical and Material Engineering

40,290

Toronto Metropolitan University

MEng in Chemical Engineering

27,463
Looking for low-cost universities in Canada? Read our article on the cheapest Engineering universities in Canada for international students.
Admissions Requirements and Eligibility: Masters in Chemical Engineering in Canada
The qualifying requirements for Chemical Engineering courses primarily depend on the programs and universities you've chosen. Given below are the common entry requirements for a Master's in Chemical Engineering in Canada
Bachelor's Degree(in engineering or the physical/chemical/biological sciences)

English Language Proficiency Test (

the minimum requirement for IELTS is 6.5 and for TOEFL iBT is 79). Might vary depending on the university.

GRE/GMAT Scores (if available)

Canadian Study Permit

Letter of Recommendation

SOP

Updated Resume

Authentic passport

Evidence of funds
Students who need assistance submitting an application are advised to get in touch with OneApply. We can speed up and make the application process simpler for you because we have more than ten years of experience placing students in colleges abroad.
Students can also submit their applications on their own by following the guidelines on the official websites of the universities.
The academic year is divided into three semesters in Canada
 Autumn (late August through the beginning of September until December or January),

 Winter (January to April)

 Summer April/May to July 
The fall semester is the time of year when Canadian universities are most likely to accept international applications. For students who were unable to enroll in the fall intake, the winter intake is the next best option. It should be noted that not all courses are open for summer admission.
Scholarships for Masters (MS) in Chemical Engineering in Canada
Nearly every university in Canada offers a variety of financial aid and scholarships for international students pursuing a master's degree in chemical engineering. A list of some of them, along with a few outside scholarships, is shown in the table below.
Name of Scholarship
Eligibility
Amount in CAD

Jean Isabel Soper Memorial Graduate Scholarship in Science

Enrolled at University of Alberta, conducting research in engineering and medical fields, and displaying academic excellence

10,000

International Master's Award of Excellence)

Academic excellence, enrolled in a master's degree at the University of Waterloo

Up to 12,500

President's Scholarship for International Students

(University of Ottawa)

Greater than or equal to 92%; leadership abilities;

commitment to extracurricular and academic pursuits

7,500 

Ontario Graduate Scholarship

(University of Waterloo)

Under the Immigration and Refugee Protection Act, an international student may study in Ontario.

Students must have completed their last two academic years with a minimum first-class GPA of A-/80%.

5000\term

International Student Merit Scholarship

(Toronto Metropolitan University)

Awarded to students who have first-class standing, international student status, and authorization at the time of enrollment and during the fall semester and who have never before attended a full-time secondary school in Ontario or a post-secondary institution in Canada.

5000

Geoff Boyes International Entrance Award

( Toronto Metropolitan University)

Awarded to International Graduate Students

2500

TLester B. Pearson International Scholarships

Students who have shown remarkable academic ability and inventiveness, who are recognized as leaders in their schools, and who have the potential to make future contributions to the global community are considered to be Pearson Scholars.

Varies
International students also have the option to work while studying in Canada.
Career Options after Masters in Chemical Engineering in Canada
Students who complete their studies at renowned Canadian universities have a variety of employment options available to them. Canadian industries are famous for offering the best job placement opportunities for international students. According to Talent.com, graduates from the top Chemical engineering programs in Canada are said to earn an average salary of 80,000 CAD per year. Jobs in chemical engineering can have interesting job titles and duties. Several of the job titles include
Petrochemical engineer

Refinery engineer

Liquid fuels engineer

Chemical engineer, environmental

Pulp and paper engineer

Waste treatment engineer

Industrial waste treatment engineer

Industrial hygiene engineer

Biotechnical engineer

Chemical process control engineer

Adhesives engineer
Salary Ranges for Chemical Engineers Across Canada
| | |
| --- | --- |
| Province | Average Annual Salary in CAD |
| British Columbia | 81,500 |
| Ontario | 72,813 |
| Quebec | 65,267 |
| Alberta | 55,000 |
*According to the research conducted by talent.com
Conclusion
 For international students, studying chemical engineering in Canada is a great option. After completing their training, students are permitted to stay in Canada for up to three years in order to hunt for employment or even to open their own practice. Chemical engineers can find rich employment possibilities not only in Canada but also throughout the rest of North America and other developed nations.
 Your decision-making process for a Canadian university must take into account factors including cost, academic requirements, on-campus amenities, and global rankings. Many students have benefited from our admissions counseling services in getting into the Canadian universities of their choosing. Please schedule a video conversation with one of our specialists for further information.