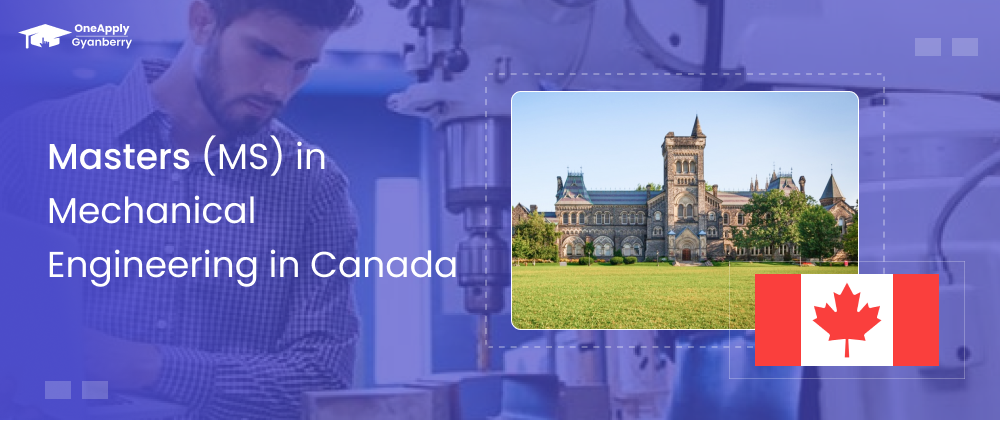 Over the years, the vast majority of students going abroad for higher education have been for postgraduate-level courses. One such sought-after course is a Master's in Mechanical Engineering in Canada. The country is a booming international hub due to its dominant service sector and excellent quality of life. As of 2021, the foreign student strength in the country stood at 621,600, standing testimony to its student-friendly overtones. These numbers are in accordance with the data made available on Statistics Canada, the government-monitored national agency of statistical information. 
With engineering being a lucrative profession, it comes as no surprise that an uptick in UG students looking to enroll in graduate engineering courses has been duly noted. For those coming from core engineering backgrounds, a Master's in Mechanical Engineering degree in Canada is a coveted postgraduate program. It spans a course of 2 years and covers an advanced understanding of the principles of kinematics, machine design, and mechanics which translate directly into fieldwork.
With annual tuition fees as low as 9,500 CAD, the country also provides a plethora of post-study employment options and immigration opportunities for its international graduates. As of today, nearly 20 universities offer MS in mechanical engineering to those who wish to study in Canada. 
Mechanical Engineering Master's Courses in Canada: Highlights
Degree Type

Postgraduate degree

Duration 

2 years

Number of institutes in Canada offering the course

20

Medium of instruction 

English

Eligibility 

Minimum GPA requirement of 3.0 on a 4.0 scale in the final two years of undergraduate study.

Minimum TOEFL score of 93 and IELTS score of 6.5 

*University-specific eligibility criteria may vary. 

Application deadlines 

Summer term: January-February 

Fall term: April 

Winter term: August-October

Average program costs 

14,000- 22,000 CAD annually 

Scholarships 

Most top universities provide merit-based scholarships to international students seeking admission. 

Career prospects 

Research engineers and project leaders in industries including mechanical design,  manufacturing, and material handling. 

Median salary for international engineering graduates 

75,000- 80,000 CAD annually 
Masters in Mechanical Engineering in Canada: Program Structure and Overview 
In most universities, students can enroll either part-time or full-time. Traditional programs like those offered by the University of British Columbia normally involve 
two years of full-time study

pertinent research under the supervision of a faculty member, and

 a thesis. 
Although Mechanical Engineering covers an in-depth analysis of core fields such as solid mechanics, thermofluids, and kinematics, students get the distinctive option to customize their area of technical emphasis. 
Multidisciplinary areas of focus include the likes of microfluidics, biomedical engineering, mechatronics, advanced materials manufacturing, and more. 
As of today, the two 2 main course options available for international students include a Master of Engineering or a Master of Applied Science. Let us compare the two to determine the best fit for you
| | |
| --- | --- |
| Master of Engineering (M.Engg) | Master of Applied Science (MASc) |
| Is an industry-oriented degree with a more practical approach. | Is a stepping stone to a postdoctoral degree. |
| M.Engg students have the option of pursuing a project under the supervision of an experienced faculty member. | The MASc program culminates in the presentation of an oral and written thesis. |
| The M.Engg program is self-funded and interested applicants may look into government student funding or a student line of credit. | MASc students receive funding during the program and can apply for various scholarships. |
| The average program fee lies in the range of 20,000-40,000 CAD. | The average program fee lies in the range of 10,000-20,000 CAD. |
Under these programs, some of the most popular graduate research fields are 
Automation and Controls

Fluid Mechanics

Materials Engineering and Processing

Solid-Body Mechanics and Mechanical Design

Thermal Engineering
Top Canadian Universities for Masters in Mechanical Engineering
Top mechanical engineering universities worldwide aim to combine the synergistic relationship between design and innovation as the key to sustaining corporate performance. Students are encouraged to come up with optimal solutions under integrated course formats that focus on the most advanced real-world design concepts.
However, choosing a university that caters to your specific needs is of utmost importance. It is this institution that will equip you with the knowledge and additional soft skills to accredit your transition from graduate school to the workplace. 
According to data compiled from Edu Canada, the best institutes for Masters in Mechanical Engineering in Canada comprise 
University of British Columbia, Vancouver

University of Toronto, Toronto

University of Victoria, Victoria

York University, Toronto

McGill University, Montreal

University of Alberta, Edmonton

University of Waterloo, Waterloo

University of Western Ontario, London

Ontario Tech University, Oshawa
Admission Requirements for Masters in Mechanical Engineering in Canada
Most colleges have a dedicated Admissions Cell that establishes the minimum admission requirements common to all Master's program applicants. For graduate mechanical engineering courses, a minimum overall average in the B+ range (73% and above) is considered mandatory. 
The detailed criterion includes 
Holding a four-year honours undergraduate engineering degree in a relevant field from an engineering program. This may be from a Canadian university or its equivalent from a recognized institution.
*3-year degree courses from some countries like India may also be accepted, subject to the merit of the candidate and the past university's accreditation scores. 
A good academic standing consisting of a GPA of 3.0 on a 4.0 scale (73- 76% and above), with a minimum B grade in the last two full-time years (four semesters) of undergraduate work. B+ is preferred for MASc applicants.

Minimum test scores in standardized tests such as IELTS, TOEFL, and GRE. IELTS and TOEFL scores are mandatory for graduate admissions. Although university-specific requirements may vary, a TOEFL score of 93 and an IELTS score of 6.5 is considered safe.

For colleges that require GRE scores, the desired range of marks lies in the 90 percentile range and above.

Although prior work experience in a related field is not necessary, it provides a consequential advantage in securing admission.
Documents required for international students 
Before confirmation of acceptance, international students will be asked to furnish the following records 
All past academic transcripts

2-3 references from senior officials who can vouch for your academic ability and qualifications

A 'statement of intent' underscoring your interest, purpose, and basis behind selecting the course and the university  

Proof of the English Language Proficiency (ELP) exam results 

A Canadian Study Permit will be provided after receiving an acceptance letter from the university of your choice. 
Fee Structure for Popular Universities offering MS in Canada for Mechanical Engineering 
Name of the University 
Annual Fee for International Students in CAD

University of British Columbia, Vancouver

$23,914 (M.Engg)

$9,500 (MASc)

University of Toronto, Toronto

$63,379 (M.Engg)

$24,854 (MASc)

University of Victoria, Victoria

$15,840 (for M.Engg and MASc)

York University, Toronto

$21,000 

University of Manitoba, Winnipeg

$18,971

McGill University, Montreal

$27,000

University of Alberta, Edmonton

$40,290

University of Waterloo, Waterloo

$22,416

University of Western Ontario, London

$41,200

Ontario Tech University, Oshawa

$28,960
Cost of living 
Shifting to a foreign city without factoring in the cost of living can significantly hamper your planned budgetary expenses. Although the cost of living in Canada for international students varies depending on the province your university is located in, a general estimate can be made using average prices.
A tabulated chart showcasing the cost of living in different cities for international students in Canada is provided below
Variables
Average Expenditure Per Year

Food

CAD 2,400-3,600

Transportation 

CAD 1,400-3,000

Accommodation

On-campus: CAD 3,000-7,500 

Off-campus: CAD 9,000-26,000 

Health insurance 

CAD 600-1,000

Miscellaneous

CAD 7,200-8,400
Accommodation takes up the biggest chunk of your annual expenditure. 
The most costly places to live in Canada include the bigger cities like Vancouver, Toronto, and Calgary. Therefore, an international student has to budget CAD 750 to 2,200 per month or CAD 9,000-26,000 per year for off-campus housing.
To save on the cost of living, international students should opt to stay in dorm rooms and resident halls on-campus, at least for the first year of their program. 
PG Diploma in Mechanical Engineering VS Masters in Mechanical Engineering 
A PG Diploma program is a 1-2 year course that helps offer industry exposure through co-op programs. 
Most students opt to enroll in diploma courses online through part-time programs. However, the on-campus mode of learning is preferred, as it allows the student to get hands-on exposure and significant insight into the world of materials and mechanical engineering. 
Those graduating from a PG Diploma course will be regarded as 'Mechanical Engineering technologists' and not 'Mechanical Engineers'. 
Although job opportunities are diversified in both diploma and Master's courses, a Master's in Mechanical Engineering is weighed to be academically superior. 
The eligibility criteria for a PG Diploma in Mechanical Engineering include 
Minimum overall of 60% in high school for all streams with a minimum overall of 50% in English. 50% marks in Mathematics,
OR
50% marks in any undergraduate program. 

IELTS score of 5.5 or 6.0, TOEFL score of 80. 
Some distinguished Canadian institutions offering this diploma course are 
Humber College

Conestoga College

George Brown College

Seneca College of Applied Arts and Technology

Concordia University

University of Ottawa

Canadore College
Scholarships and Financial Aid for International Students 
Fully-funded scholarships are hard to come by for international students applying for PG programs in Canada. The university of your choice may offer 2 forms of scholarships 
Entrance scholarships

: These are generally offered to undergraduates. Here, each student gets a fixed sum deducted from their overall tuition expenditure for the year. 

Application-based scholarships

: These scholarships are subject to the academic calibre of the student. They may be awarded in consonance with excellence in extracurriculars, sports, etc. Some minority-based scholarships are also application-based. 
Some popular colleges offering scholarships include 
Name of the Institute 
Name of the Scholarship 
Scholarship Amount in CAD

University of Toronto

Ontario Graduate Scholarship for MASc students 

$5,000 per session

University of British Columbia 

Affiliated Fellowships Master's Programs 

International Tuition Award

$16,000 is the maximum value of the scholarship 

Up to $3,200 per year

McGill University 

Graduate Excellence Fellowship Award (GEF)

The value of the GEF is at the discretion of the Department. 
Canadian colleges accept financial aid offered from the student's country of residence. Loans and other funding opportunities available to you will vary significantly based on your nationality. 
As a general rule of thumb, international applicants are encouraged to work while completing their degree. A part-time job can help offset the cost of tuition as well as living expenses, making your stay in Canada more sustainable and affordable.
According to Canadian law provisions, international students can work up to 20 hours a week while they are studying, and can work full-time on scheduled breaks such as vacations. The minimum wage ranges from 13.50-16 CAD per hour, which is enough to cover a slice of your daily personal expenses. However, to apply to these positions, applicants need to be enrolled in a full-time study program and possess a social insurance number issued by the Canadian government. 
Career Prospects for Graduates after Masters in Mechanical Engineering in Canada
In Canada, mechanical engineers occupy a respected position in society and earn handsomely. According to the official Job Bank website monitored by the Government of Canada, 'this occupational group is expected to face labor shortage conditions over the period of 2019-2028 at the national level.' 
This directly implies that the demand for skilled workers is going to rise steadily over the next few years. A master's program in Mechanical Engineering balances academics with real-world skills that equip students to solve perplexing problems with great acuity. 
From 2020 to 2025, the in-migration for mechanical engineers is believed to be higher in the provinces of Ontario, Alberta, and British Columbia. With a median salary between 75,000-80,000 CAD annually, available job roles will be 
Project Engineer

Associate Engineer

Research and Development Supervisor

Team Leader 

Project Manager 

Mechanical Design Engineer