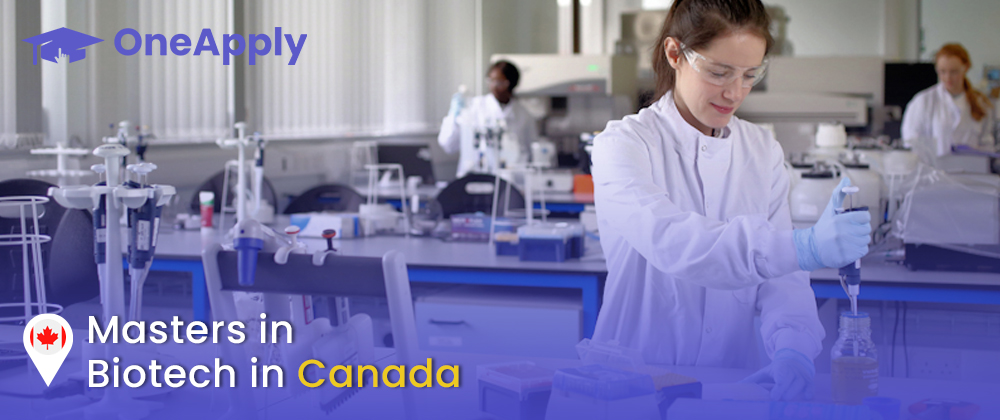 With the advent of genome aids to fight infectious diseases, the role of biotechnology in the post-COVID era is coming to the forefront. It is one of the few sectors of the Canadian economy that has charted tremendous growth in the past few years, despite the recent stunting of the country's GDP.  Thus, a Master's in Biotechnology in Canada can be a valuable asset that exceeds your expected returns on investment. 
With the emergence of new specializations in this evolving discipline and breakthroughs being documented each day, Biotechnology is expected to advance by leaps and bounds in the near future. International students are seen flocking to Canada for its dominant service sector and student-friendly milieu.
As reputed universities open their doors to foreign students, you should remember how a graduate degree in this subject will fast-track your career in research and academia. With annual program fees as low as 18,000 CAD and multiple funding options, let us explore the scope of Masters in Biotechnology in Canada with its possible job prospects.
Highlights: Masters in Biotechnology in Canada 
Degree type

Postgraduate degree

Duration 

2 years

Number of institutes in Canada offering the course

7

Medium of instruction 

English

Eligibility 

Minimum GPA requirement of 3.0 on a 4.0 scale in the final two years of undergraduate study.

Minimum TOEFL score of 93 and IELTS score of 6.5 

*University-specific eligibility criteria may vary. 

Application deadlines 

Summer term: January-February 

Fall term: April 

Winter term: August-October

Average program costs 

$18,000 – 22,000 annually (in CAD)

Scholarships 

Most top universities provide merit-based scholarships to international students seeking admission. 

Career prospects 

Biostatistician, researcher, or clinical laboratory roles with job titles such as Biomedical Engineer, Biotech Analyst, Process Development Scientist, Research Associate, Biotechnology Technician, etc. 

Median salary for international biotechnology graduates 

62,000- 80,000 (in CAD)
Program Structure of Masters Degree in Biotechnology 
The MS Biotechnology course is 2 years long. It is considered a research-based program of paramount importance, offered only by some elite colleges in the country. Offered on a full-time, part-time, online, and fast-track basis, you can choose a degree course that is tailored to your convenience. 
Through the course of their curriculum, students will learn extensively about molecular biology, cell physiology, genetics, chemistry, drug ethics, and biodiversity. Although the curriculum at some of the best Biomedical Engineering universities in Canada seems to be conjoint with that of Biotechnology, the divergence is striking in the core subjects of the two programs. 
Some core subjects covered in MS Biotechnology include 
Bioinformatics

Genomics and Gene Sequencing 

Industrial and Environmental Biotechnology

Agriculture Biotechnology

Biological Computing and Synthetic Biology

Protein Engineering and Design

Instrumentation

Drug Manufacturing and its Principles 

Management of Technological Innovation 
Top Universities for MS in Biotechnology in Canada
Canadian provinces occupy a prominent position in every study abroad aspirant's list. Institutes offering graduate degrees in Biotechnology strive to ensure that the highest echelon of education is offered. Extensive care is taken to foster a diverse space that promotes professional and personal growth for both domestic and foreign applicants. 
Given below is a list of the 7 universities that offer a Master's degree in Biotechnology for international students who wish to study in Canada– 
| | | |
| --- | --- | --- |
| University Name  | University Global Rank  (QS World University Ranking) | Program Name  |
| University of Toronto, Toronto | #34 | MBiotech |
| University of Guelph, Ontario | Top 600 | Master of Biotechnology  |
| University of Windsor, Windsor | Top 800 | Master of Medical Biotechnology (MMB) |
| University of Saskatchewan, Saskatoon | Top 500 | Msc in Biotechnology  |
| McGill University, Montreal | #31 | M.Sc.(Applied) degree in Biotechnology |
| University of Lethbridge, Alberta | Top 1800 | Agricultural Biotechnology (MSc) |
| Brock University, St. Catharines | Top 1200 | Msc in Biotechnology |
Eligibility Criteria for Pursuing a Masters in Biotechnology in Canada  
For graduate biotechnology, the detailed admissions criterion for international applicants includes 
Holding a four-year honors undergraduate degree in a relevant field, such as a Bachelors in Science, Biotechnology, or Biochemistry. This may be from a Canadian university or its equivalent from a recognized institution.

A good academic standing consisting of a GPA of 3.0 on a 4.0 scale. 

Minimum test scores in standardized tests such as IELTS, TOEFL, and GRE. IELTS and TOEFL scores are mandatory for graduate admissions. Although university-specific requirements may vary, a TOEFL score of 93 and an IELTS score of 6.5 is considered safe. 

Although prior work experience in a related field is not necessary, it provides a consequential advantage in securing admission.
Documents required for international students 
Before confirmation of acceptance, international students will be asked to furnish the following records 
All past academic transcripts

2-3 references from senior officials who can vouch for your academic ability and qualifications

A 'statement of intent' underscoring your interest, purpose, and basis behind selecting the course and the university  

Proof of the English Language Proficiency (ELP) exam results 

A Canadian Study Permit which will be provided after receiving an acceptance letter from the university of your choice. 
For the timely submission of documents, you can employ our admissions counseling services and get into any university of your picking. 
Please schedule a video conversation with one of our specialists for further information.
University Fees for MSc Biotechnology in Canada 
Home to some of the finest premier colleges offering Biotechnology courses, it comes as no surprise how the country is a prime destination for study-abroad applicants. 
Let us take a look at the annual fees of these institutions to help you assess your expenditure for a graduate degree in Biotechnology. 
| | |
| --- | --- |
| Name of the College  | Annual Tuition Fee for International Students (in CAD) |
| University of Toronto, Toronto | $14,500 |
| University of Guelph, Ontario | $20,600 |
| University of Windsor, Windsor | $20,200 |
| University of Saskatchewan, Saskatoon | $9,396  |
| McGill University, Montreal | $13,505 |
| University of Lethbridge, Alberta | $16,100 |
| Brock University, St. Catharines | $15,650 |
Cost of living 
According to information displayed on EduCanada, a government-monitored website, the country ranks in third place globally for its quality of life. 
Despite being the abode to the top-tier colleges in the world, even the best Canadian cities for international students are quite affordable compared to the US and the UK. 
However, individual living costs often depend on 
The city of residence, 

On-campus or off-campus accommodation, 

Subscription to meal plans

Personal expenses
The table provided below can help you get an average estimate of your cost of living as an international student in Canada 
| | |
| --- | --- |
| Particulars | Estimated Annual Expenses in CAD |
| Accommodation | $4,200- 9,000 |
| Food | $3,000 |
| Books and Supplies | $750- 1,000 |
| Transport | $1,500 |
| Personal Expenses | $2,000 |
Funding Options for Masters in Biotechnology in Canada
With international student enrollment making a significant contribution to Canada's economy, the government aims to make education more accessible to high-performing candidates regardless of their financial standing. 
It thus offers partial scholarships to committed prospective students in addition to other financing options. 
Some scholarships featured by EduCanada comprise 
| | |
| --- | --- |
| Name of the scholarship  | Scholarship amount in CAD |
| Canada-ASEAN Scholarships and Educational Exchanges for Development | $10,200 to $12,700 |
| Study in Canada Scholarships | $10,200 to $12,700 |
In addition to this, almost all universities provide university-specific scholarships and funding opportunities. For example, the University of Lethbridge offers
An admission award called the University of Lethbridge Graduate Research Award (ULGRA) 

Graduate Assistantship Awards 

Research Assistantship Awards 
Every student admitted to a full-time graduate program is considered to be eligible for the ULGRA. Similarly, the Graduate Assistantship Awards are assigned to new students with their offers of admission. The funding provided includes 
A Full assistantship of $3,600 for 112 hours of assigned work in a single semester

A Half assistantship of $1,800 for 56 hours of assigned work in a single semester
In contrast to this, Research Assistantships can only be offered to students by their supervisors.
Here, a graduate student is paid a stipend amount that comes from the supervisor's grant. In exchange for this stipend, the supervisor assigns the duties that the student must perform. 
International students can also work side jobs to recompense their living expenses. For those looking to work part-time while studying, the Canadian government asks that you meet the following requirements 
Being a full-time student at a designated learning institution (DLI) with a study permit that includes work conditions 

Having a Social Insurance Number (SIN)

Being enrolled in a study program that is at least 6 months long and leads to a degree, diploma or certificate. 
If you fulfill the above criteria, you will be allowed to work both on and off-campus for 20 hours a week, with a minimum wage ranging between $10-14 CAD per hour. 
Diplomas in Biotechnology in Canada 
For a more industry-oriented practical approach, international students are often seen opting for the shorter, less-intensive Post Graduate Diploma in Biotechnology. It can be done both on a part-time or full-time basis, depending on your preference. The program structure revolves around having an understanding of the cornerstones of this vast subject, comprising topics such as genomics, molecular genetics, protein biochemistry, and bioinformatics.
In addition to this, some colleges allow students to engage in co-ops while they are enrolled in their program, empowering them with the resources to become job-ready. 
Some of these universities offering Graduate Diplomas in Biotechnology include 
Concordia University

(GrDip)

Centennial College

(Advanced Diploma with Additional co-op)

Durham College

(Advanced Diploma)

Georgian College

(Advanced Diploma)

Algonquin College (Advanced Diploma with co-op and non-co-op options)
Career Prospects After Biotechnology Masters in Canada
Graduates of the MS Biotechnology program in Canada are qualified to hold both laboratory and project management positions. They can work in the disciplines of analysis, production, quality control, and research and development. 
With multiple roles opening up in major pharmaceutical companies, organizations usually hire MS Biotechnology graduates for positions such as 
Biotechnologist

Research Scientist 

Quality Control Specialist

Environmental Health and Safety Officer

Biostatistician

Analyst

Biomedical Equipment Technician

Clinical Technologist 
Although job profiles can vary based on vacancies and your location, biotechnologists generally earn a handsome salary in the range of $62,000- 80,000 annually. Those who garner 3-4 years of experience and work in the corporate sector can expect a yearly remuneration that is not short of $100,000- 120,000 CAD. 
In addition to this, international students can take advantage of the Post-Graduation Work Permit (PGWP) Program. This allows them to stay in Canada and gain valuable work experience for a maximum period of 3 years, after which they can return to apply for entrepreneurial or managerial roles in their home country. 
Conclusion
Biotechnology is a reputed course that finds several real-world applications in the current economy. Through their graduate program, students are continuously introduced to independent research using co-ops, managerial initiatives, and seminars conducted by professors from various universities across the globe. 
With a multitude of job opportunities at your disposal, you can consider pursuing a Masters in Biotechnology in Canada. Contact us at Gyanberry for a seamless admissions process.