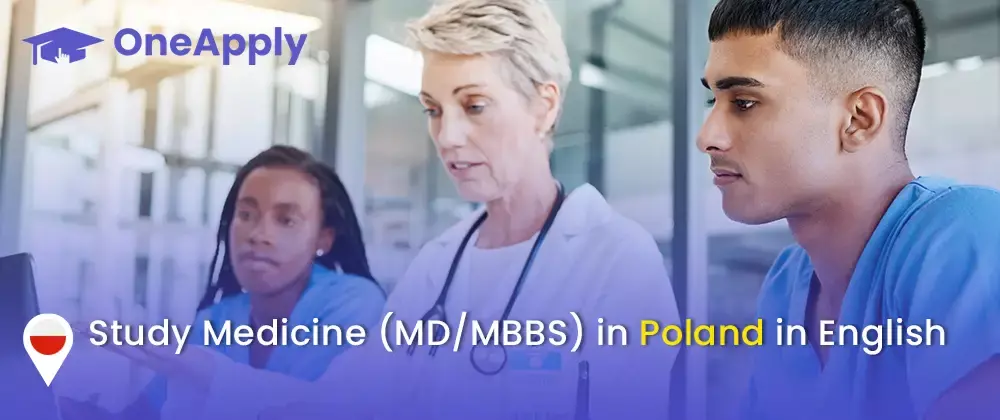 Poland is international students' favorite study destination for medicine. Being a developed economy, Poland offers high-quality medical education and training opportunities. Moreover, studying medicine in Poland is far more affordable than medicine in Ireland or the UK. Thus, students can study medicine in Poland at the same educational standards but at a lower cost.
The number of international students in Poland has been on a constant rise in recent years. As per the current data from the Central Statistics Office, the number of foreign students grew by 11,000 from last year, making a total of 57,000. 10% of these students are enrolled in medical faculties. The availability of English-taught MBBS programs at more than ten top medical universities places Poland among the popular Medicine/MBBS study destinations in Europe.
Read more to explore the best medical universities in Poland, admission requirements, and fee structure.
Study Medicine in Poland (MD): Highlights
| | |
| --- | --- |
| Number of Universities offering MD in English | 14 |
| Duration of MD in Poland | 6 years |
| First-Year Tuition Fees for MD | USD* 11,000-16,000 |
| Basic Eligibility Criteria | Higher secondary school (10+2) |
| Subject Prerequisite | 10+2 in biology, chemistry, and physics or mathematics (2 of 3 subjects mandatory) |
| IELTS/TOEFL Requirement | Yes |
| NEET-UG | Required for Indians |
| Application Deadline | May-July |
| Application Fees | USD 20-25 |
| Cost of Living in Poland | USD* 4,237-5,297 per year  |
| Number of International Students in Poland  | 57,000 |
Why Study Medicine in Poland?
The admission process and entry criteria for Polish medical universities are convenient and hassle-free. Applications can be submitted online.

Poland has several medical universities with impressive national and international rankings.

Jagiellonian University

is Poland's best medical university. It ranks #339 in US News Ranking for Medical Universities 2022-23. 

Medical Universities in Poland are among the first 1,000 best medical schools in the world. 
Students can study other medical programs such as pharmacy or nursing.

Dentistry studies in Poland

are also a popular choice among international students.
Medicine in Poland can open doors to several global career opportunities. The medical universities in Poland are recognized across Europe and the US. Students can do internships and traineeships abroad.
Tuition costs and living expenses in Poland are advantageous to international students, especially from low-income countries. 

The average MD tuition for one academic year is roughly between USD 11,000-16,000.
Poland enjoys the benefit of being located at the center of Europe. Moreover, Poland is well-connected to other European countries with a developed transportation system. 
Each city in Poland offers a unique cultural experience. Throughout their study period, students are exposed to Poland's cultural diversity. 
Best Universities to Study Medicine in Poland
CUWR  Ranking

(National)

US News Ranking (Clinical Medicine)
University
Annual Tuition Cost in EUR
Annual Tuition Cost in USD*

1

170

Jagiellonian University in Kraków

15,000 

15,831

9

445

Medical University of Warsaw

13,900

14,670

10

286

Wroclaw Medical University

11,103

11,718

12

470

Medical University of Lodz

12,600

13,298

13

918

Nicolaus Copernicus University Collegium Medicum

10,676

11,267

15

582

Medical University of Silesia

11,103

11,718

18

456

Medical University of Gdańsk

10,249

10,817

27

618

Poznan University of Medical Sciences

12,918

13,634

26

572

Pomeranian Medical University in Szczecin

10,249

10,817

25

684

Medical University of Lublin

13,000

13,507

29

NA

University of Warmia and Mazury in Olsztyn

10,463

11,043

31

765

Medical University of Białystok

13,500

14,248

39

961

University of Rzeszów

–

13,140

NA

NA

Jan Kochanowski University of Kielce

12,500

13,193
*Costs mentioned in EUR are converted to USD at 1 EUR = 1.06 USD. Exchange rates are subject to change.
MD/Medicine Admissions in Poland
The general medicine program in Poland is offered as an MD with a duration of six years. These programs are considered long-cycle Master's programs. Upon graduation, students receive the title of "Lekarz," which is equivalent to "Medical Doctor (MD)."
The admission process for Polish medical universities is straightforward. Applications can be submitted online. Prospective students must ensure they submit all documents listed by the university. 
General admission requirements
Higher secondary certificate (must have studied biology, chemistry, and physics or mathematics)

Academic transcripts with affixed apostille

Proof of English fluency (for non-native speakers) (IELTS – 6.5 / TOEFL iBT – 87 / or other equivalent scores)

Either entrance test or BMAT/MCAT/GAMSAT/UKCAT scores (optional)

Health certificate

Vaccination certificate

Recommendation letters

Passport photocopy
Admission requirements for Indian students
Indian students should submit their 12th CBSE or State Board certificate as proof of high-school completion. 

Indian students will also have to take the NEET to practice medicine in India after graduation.
Admission requirements for UAE students
Students from UAE must submit their secondary school certificate/technical secondary diploma.
This section presents a brief overview of the entry requirements. To read in detail about the 
admission process and criteria for medical universities in Poland, click here.
How to apply?
Medical Universities in Poland accept applications electronically. The application fees usually range from USD 20 to 25. The academic year in Poland starts at the beginning of October and the deadline for admission is typically from May to July. Students can apply via Gyanberry Gyanberry. We are the official partner of the universities listed in this article. Students can be assured of timely submission of the applications and documents, and be assisted in several other admission-related procedures.
Cost of MD in Poland
The cost of MD is a significant factor in selecting a country and university for studies abroad. This is where Poland outranks other European study destinations. The cost of medical education in Poland is usually in the range of USD 11,000-16,000. But, the cost can vary depending on the university. 
First-year tuition fees at the top three medical universities in Poland are:
| | | |
| --- | --- | --- |
| University | EUR | USD* |
| Jagiellonian University in Kraków | 15,000  | 15,831 |
| Medical University of Warsaw | 13,900 | 14,670 |
| Wroclaw Medical University | 11,103 | 11,718 |
Cost of living in Poland
The annual cost of living in Poland for international students is roughly EUR 4,000-5,000 (USD* 4,237-5,297). This estimate includes accommodation, food, transport, entertainment, etc. 
Cost of medical studies in Poland for Indian students
Tuition costs at top medical universities in Poland will range from INR 8,87,290 to 12,09,900** for Indian students.
The cost of attendance, which is the sum of tuition and living expenses, is estimated at INR 12,10,000 to 16,29,540** per year.
Cost of medical studies in Poland for UAE students
Tuition costs for UAE students may range between AED 42,400 and 57,830**.

The annual cost of attendance at medical universities in Poland will be approximately AED 57,835-77,884**.
*Costs mentioned in EUR are converted to USD at 1 EUR = 1.06 USD. Exchange rates are subject to change.
**Costs mentioned in INR and AED have been converted from USD at exchange rates of 1 USD = 81.63 INR and 1 USD = 3.67 AED, respectively. Please note that exchange rates change periodically.
Scholarships for International Students
International medical students in Poland are offered a variety of scholarships to pursue medicine in the country. 
Poland My First Choice Program
This program encourages students from other countries to pursue education at higher universities in Poland. 

The scholarship covers full-time second-cycle studies at public and private universities in all fields of study.

The monthly scholarship amounts to PLN 2,000 (EUR 460) to cover the living costs during the period of study in Poland. 

For public universities, the program offers an exemption from tuition fees.

The scholarship is a joint effort of the Ministry of Foreign Affairs and the Polish National Agency for Academic Exchange.
Apart from the above-mentioned government-funded program, there are university-specific scholarships for medical students. Click here to read more about the scholarship options for medical studies in Poland. Medical universities also provide financial aid to international students. Students should check their preferred university website to stay informed on the latest updates.
Medical Residency Programs in Poland 
After completing MD students have to finish a mandatory residency or internship of 13 months to get their medical license to practice in the country. These programs cover a range of specializations in the medical field. Most medical universities offer the following specializations for residency programs
Obstetrics

Physiotherapy

Public Health

Genetics

Bio­chemistry and Molecular Biology

Endocrinology

Cardiosurgery

Neurology

Pediatrics

Radiology

Immunology

Transplantology
Career Prospects After MD/Medicine in Poland
Students can work in Poland upon graduation. The average annual salary of doctors in Poland is EUR 52,170 or USD* 55,269.
Students can also work in other countries in Europe or the US. Students will have to clear the country's medical license exam, whatever may be the preferred work location.
In India, foreign graduates have to pass the NEET/FMGE conducted by the National Medical Council.
Students who wish to work in the UAE must clear exams held by the relevant medical authorities, DHA, MOH, DHCC, and HAAD.
Many may want to study further and enroll in a doctoral program. The top Polish medical universities offer excellent programs for postgraduate studies.
They provide career assistance services. Students can avail opportunities through internships, traineeships, counseling and guidance, and the latest job postings.
Conclusion
Medical education in Poland opens up several career opportunities for international students. It is at par with global education standards, and students often get placed in prominent medical institutions worldwide. There are over 14 universities to study medicine in Poland. The tuition fees for an MD range from USD 11,000-16,000 in Poland which is quite affordable compared to Ireland, US and other European countries. Admission to study medicine in Poland is either based on merit or entrance test results depending on the university.