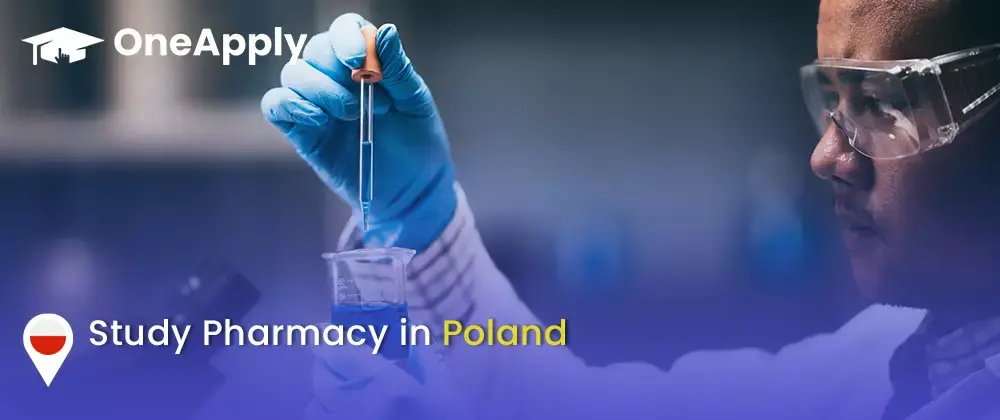 Poland is one of the leading countries for pharmacy studies. Pharmacy education in Poland starts with a long-cycle degree program called M Pharm. It consists of a total of 11 semesters and runs for a duration of 5.5 years. The last semester of the study consists of 6 months of pre-registration training. To study pharmacy in Poland, international students require high school or secondary education. Currently, there are six Polish universities that offer pharmacy courses; only two of them offer them in English, whereas the others offer them in Polish.
After completing M Pharm, students receive a Master of Pharmacy (magister) title. All the pharmacy universities in Poland follow the European Credit Transfer and Accumulation System (ECTS). Students have to complete 360 ECTS credits to obtain M Pharm degree. Following graduation and training, students can apply for pharmacist registration in Poland. All the member states of the EU recognize Polish registration. Let us discuss some more about pharmacy studies in Poland. 
Overview of Pharmacy Studies in Poland
| | |
| --- | --- |
| Entry-level degree  | Long-cycle Master of Pharmacy (M Pharm)  |
| Duration of M Pharm degree | 5.5 years including 6 months of pre-registration training  |
| Average tuition fees for M Pharm  | 7,500-8,000 USD*/year |
| Licensing authority | Polish Pharmaceutical Chamber |
About Pharmacy Courses in Poland
Poland has adopted the long cycle master's program called M Pharm for pharmacists. These programs integrate both basic studies and in-depth specialization. The M Pharm courses are 5.5 years long in duration. They comprise 360 credits and 11 semesters. The last semester is devoted to pre-registration training which consists of 6 months. 
The first year of the M Pharm course teaches the basics of pharmacy. The semester-wise division of the course is as follows:
First four semesters: pre-professional subjects like anatomy, physiology, biochemistry, microbiology, and chemistry (organic, physical, analytical, general, and inorganic)

Next five semesters: pharmacology, toxicology, epidemiology, cosmetology, drug chemistry, hospital pharmacy

Tenth semester: thesis on a research topic of choice 

Eleventh semester: pre-registration training in a public pharmacy or partly in a hospital pharmacy
After finishing their M Pharm, students can also go for specialized training to develop their knowledge earned during M Pharm. These courses last for 2 to 3 years. Or students can do their doctoral studies to enter research or academia. 
Top Pharmacy Universities in Poland 
University of Warsaw
The University of Warsaw is one of the oldest, largest, and top-ranked universities in Poland. It offers courses in the fields of medicine, dentistry, pharmacy, and health sciences. The university was started in 1993 and has a 20-year-old history of teaching. The Faculty of Pharmacy at the university is nationally and internationally reputed for research, innovative teaching, clinical and experiential placements, and business skills programs. It offers a 5-year long pharmacy program of 5,500 hours of instruction comprising:
Pre-professional subjects (4 semesters)

Professional subjects (5 semesters)

One semester of research thesis

Six-month of pre-registration training (in a community pharmacy, hospital pharmacy, research laboratory, or industrial plant)
The admission to its M Pharm programs is open from 6th June to 5th July for the academic year 2023-24. 
Medical University of Gdansk
It is the oldest medical university in Northern Poland established in the year 1945. Its Faculty of Pharmacy is recognized by the Ministry of Science and Higher Education in Poland as the leader among the nine faculties of pharmacy in the country. It is also acknowledged as the Leading National Research Centre (KNOW) in the field of medicine and health sciences. The faculty has 16 departments and laboratories. It offers a 5.5-year long Master of Pharmacy program in English. The course duration also includes a 6-month long training program for registration. As per the university website, admission for Fall 2023 will commence on the 6th of March 2023, and the deadline for the same is the 31st of July 2023. 
Jagiellonian University, Medical University of Wroclaw, Medical University of Lodz, and the Medical University of Bialystok also offer long cycle M Pharm courses but they are taught in the Polish language and not English. 
Tuition Fees and Cost of Studying Pharmacy in Poland
The cost of pharmacy studies in Poland includes tuition fees and living costs. Students should plan their budgets to avoid unnecessary expenses. Here is a list of tuition fees for top pharmacy universities in Poland. 
| | |
| --- | --- |
| University Name  | Tuition Fees (USD*/year) |
| Medical University of Wroclaw | 7,512 |
| Medical University of Gdansk | 8,009 |
| University of Warsaw | NA (the program is in the Polish language) |
| Jagiellonian University | NA (the program is in the Polish language) |
| University of Lodz | NA (the program is in the Polish language) |
| Medical University of Bialystok | NA (the program is in the Polish language) |
Poland is quite affordable to live in. The cost of living in Poland can be broken down into the following categories:
| | |
| --- | --- |
| Category | Cost in USD*/year |
| Rent | 1,000 to 1,920 |
| Food  | 2,400  |
| Transport  | 168  |
| Utilities | 216 to 276 |
| Personal expenses | 1,200 to 2,000 |
The average annual cost of living in Poland for international students adds up to 4,000 to 7,500 USD.
Admission Requirements for Pharmacy in Poland
The admission requirements to study M Pharm are mostly similar across all the pharmacy universities in Poland. There is no centralized application service, hence students have to apply through university websites. The following are some typical entry requirements to study M Pharm in Poland.
High school or secondary education (10+2) in biology, chemistry, and physics (GCE A-level)

Official transcripts (transcript in the Polish or English language)

University entrance test (if applicable)

Letter of recommendation

Motivation letter

Student visa 

Proof of English language proficiency (B2 level, or 6.5 IELTS score or TOEFL 87)

Health check 

Proof of financial stability
You can apply by filling out an application form and submitting documents. Gyanberry has partnered with many Polish universities offering M Pharm studies. You have a greater chance of acceptance if you apply via Gyanberry Gyanberry. For the convenience of students, we also offer visa services to more than 20 countries. Our experienced team members are here to help you get admission to the college of your choice.
Scholarships to Study Pharmacy in Poland
There are numerous scholarships available to study in Poland. The mostly Polish government, foreign country (partnered) governments, and global organizations fund these scholarships. The scholarship amount varies and it can either cover tuition fees and/or living costs. The following is a list of scholarships for international students wishing to study pharmacy in Poland. 
Lane Kirkland Scholarship Program

Visegrad Scholarship Programme

Fulbright Program

Programme of Fellowships under the Polish National Commission for UNESCO

Scholarships for citizens from developing countries

Erasmus+

Polish National Agency for Academic Exchange program for students

CEEPUS exchange program with Central and Eastern Europe
Career Scope After Studying Pharmacy in Poland
Pharmacy is a noble profession. Hence a pharmacist has to follow legal and ethical regulations related to the pharmaceutical field. 
How to become a pharmacist in Poland?
Complete M Pharm degree plus 6 months of pre-registration training

Apply for registration with the Polish Pharmaceutical Chamber

Obtain a license to practice

Start looking for employment opportunities in the pharmaceutical sectors
With the knowledge about drugs, chemicals, and their effects, a pharmacy graduate is competent to work in the following sectors:
Public hospitals 

Private hospitals

Pharmaceutical industry

Pharmaceutical wholesalers

Private pharmacy stores

Research facilities

Cosmetic industry

Chemical industry
The pharmacist license from Poland is accepted in all EU nations. Hence, Polish pharmacists can work in all EU countries. Pharmacists in Poland get paid a salary of 26,634 USD per year (Salaryexplorer). 
*Note: The tuition and other costs fees are converted based on the current exchange rate, i.e., 1 Polish Zloty = 0.23 USD. Exchange rates are subject to periodic change. 
Conclusion
Poland offers pharmacy education as a long-cycle degree program called M Pharm. The course consists of 11 semesters, i.e., 5.5 years in duration, which includes 6 months of pre-registration training. High school or secondary education (10+2) is the minimum eligibility criterion to apply to a pharmacy college in Poland, although this is not the only criterion; there are others too. There are two universities that offer M Pharm courses in English. Since both Polish universities follow ECTS credits as per the Bologna process, their Polish pharmacy degree is valid in the entire EU region. For more information on pharmacy education in Poland, contact Gyanberry. Our Gyanberry platform is designed to make university admissions easier by providing end-to-end support.